There are plenty of grocery stores in the Emirates today that are not only dedicated to bringing shoppers fresh produce but are also increasingly seeking out local foods as an option for a growing number of conscious consumers.
While the UAE still imports around 85 per cent of the food it consumes, efforts have been made to sustain a viable agriculture industry in the emirates, with the number of farms growing from 4,000 farms in the early 1970s to 30,000 farms today.
This radical increase in farms means it's becoming easier for residents to shop local thereby cutting food miles and reducing their carbon footprint. Plus, with around 30 percent of nutrients lost within three days of harvest, shopping local means better quality food, too.
And when shopping local isn't possible, there are plenty of organisations sourcing from family-run farms with sustainability at the heart of their business, as well as focusing on cutting waste when it comes to produce and packaging.
From farm-fresh fruit to organic veg and locally grown produce, here are eight food companies, markets and grocery stores in the UAE championing sustainability, making it easier to shop more consciously in Dubai, Abu Dhabi and the northern Emirates.
The Best for Vegan: BiOrganic
If you're looking to whip up a delicious vegan meal at home, there's plenty of fresh, yummy and organic produce to be found at this Dubai grocery store. Committed to securing the future for generations to come, you'll find a huge dairy-free range including a large selection of vegan cheese – from mature cheddar to Greek white, grated, coconut mozzarella, Parmesan, edam-style and gouda-style, plus dairy-free yoghurts, milk, ice creams, cakes, desserts and chocolate – as well as vegan protein powder and healthy snacks. And for when all the cooking is done, there's also a range of cleaning products including bamboo kitchen towel, cellulose sponges and natural degreaser.
biorganicstore.com.
The Best for Fresh: Emirates Bio Farm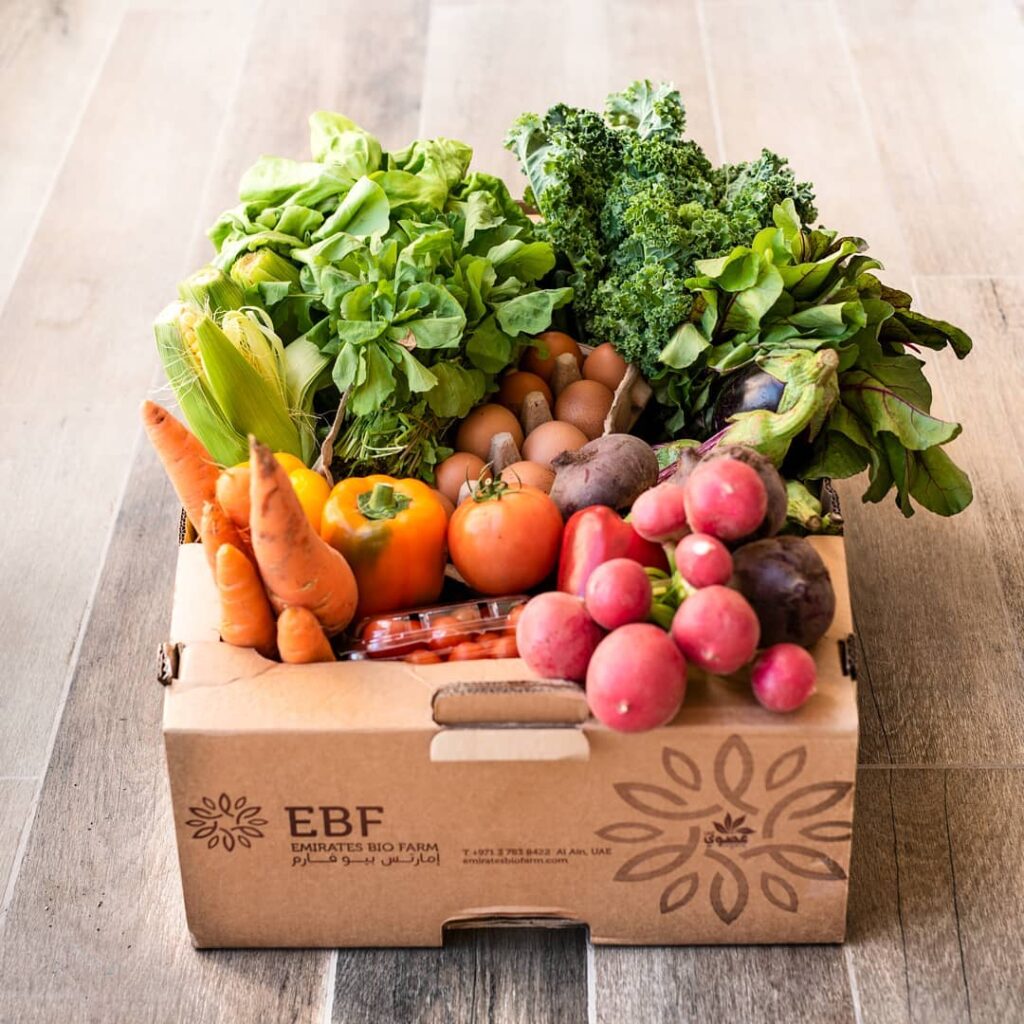 Found in Al Ain, Emirates Bio Farm was set up in 2016 and is the largest bio farm in the UAE. It specialises in producing certified organic fruit, veg and eggs, and uses sustainable farming practices to grow more than 60 varieties of produce in the desert. All their produce is hand-picked and grown in a chemical-free environment, using crop rotation, companion planting and natural pesticides. There's the option to get monthly subscription boxes of fruit and veg or eggs and you can also order locally grown kale, squash, cucumbers, tomatoes and more. All their goods reach customers within 24 hours of being harvested, while all home deliveries are free of plastic packaging.
Emirates Bio Farm also offers tours, so customers can witness the growing process. The tractor tour travels around the fields and greenhouses while the sustainable and organic farming methods are explained.
emiratesbiofarm.com
Best for Businesses: Fresh on Table
Fresh on Table is a digital marketplace that promotes locally-sourced food by bringing buyers and local sellers together. Working with the likes of Hilton, Jumeirah, Rotana and Pullman hotels, they link up with local farms to provide fresh, seasonal and organic produce to top restaurants, hotels and chefs that are committed to supporting sustainability by decreasing food miles. The website even has a food miles carbon emissions calculator, showing how many kilograms of carbon emission have been saved from their work.
freshontable.com.
Best for Local: Greenheart Organic Farms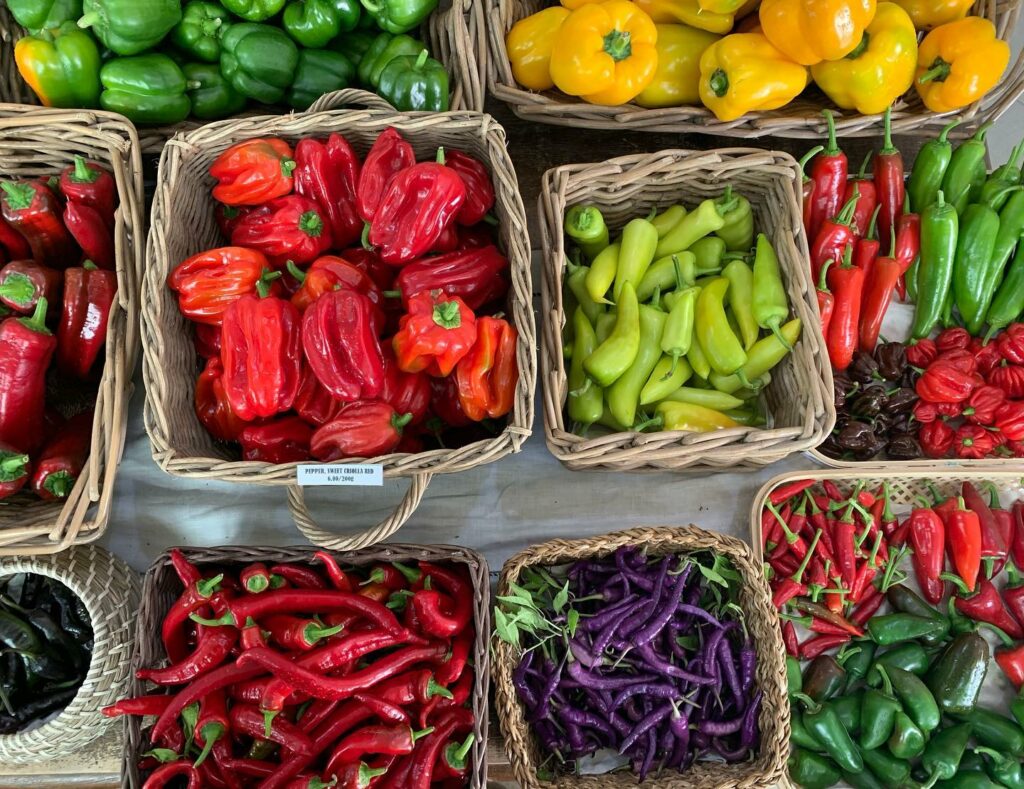 Greenheart Organic Farm was set up around 20 years ago on an apartment balcony in Bur Dubai by Elena Kinane, who wanted to eat only the freshest organic greens during her recovery from illness. Since then it's grown from a small farm just serving Arabian Ranches, to a massive organisation delivering around the UAE. Greenheart believes that they don't need to 'abuse, pollute or poison the soil, water or atmosphere' to feed the population and 'respect people, animals, nature and the circle of life'. There's everything from organic fruit, vegetables and herbs to vegan products and grocery store staples, while there's the option to buy hampers and meal kits to make life easier.
greenheartuae.com
Best for Food Delivery: Kibsons
Promising to deliver fresh ingredients from farm to kitchen, home-grown company Kibsons is one of the most popular food deliveries in the UAE. Set up over 40 years ago with the aim of making healthy food options available and affordable for families across the UAE, Kibsons stands out from other food delivery services due to its ethical, sustainable and responsible sourcing. The company offers eco-friendly products, saves 25 percent on electricity by using solar power, 75 percent of their water is reused, 90 percent of their plastic is recycled and biofuel gives them 20 percent more milage per litre. There are sections for organic, vegan and imperfect produce – meaning that the 'ugly but tasty' fruit and veg don't go to waste.
kibsons.com
Best for Grocery Store Staples: Organic Foods & Café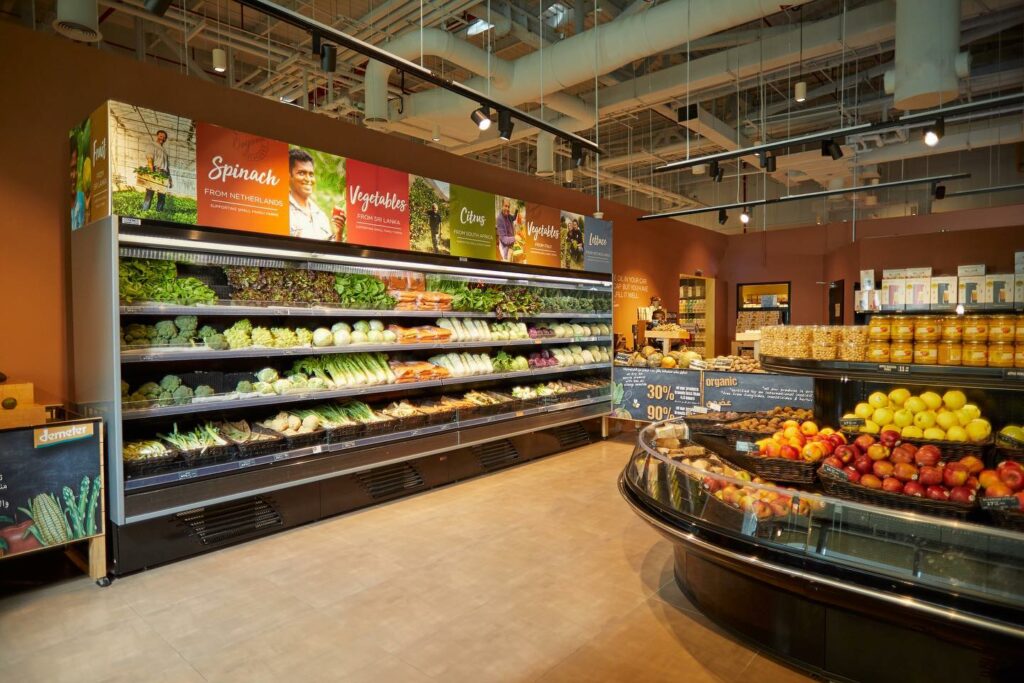 Organic Foods & Café is not just organic it's biodynamic – a holistic and ethical approach to farming. The company says it sources produce only from selected family farmers that share their ethics and beliefs, they are also conscious of air miles and carbon footprint – meaning a lot of product comes from Egypt, Uganda and India rather than from further afield. It was set up in 2004 in Satwa, and now delivers across Dubai and Abu Dhabi, supplying more than 10,000 different chemical-free products from family-run farms, all of which are handpicked and visited regularly. Everything from groceries, cleaning products and dairy to fruit and veg including Romanesco cauliflower, purple artichoke, wild wonder cherry tomatoes and more.
organicfoodsandcafe.com
Best for Organic: Let's Organic
This organic store, which delivers only in Dubai, promotes healthy organic living and by promising affordable, high-quality produce, while practicing environmental sustainability. Let's Organic provides fresh fruit and veg with everything from pineapples and pears to chillis, lettuces, herbs and more, as well as store cupboard staples including organic pasta, free range eggs and vegan cheese. There's even organic vegan nail polish and a range of organic baby foods. What's more, they only use recycled and bio-degradable packaging.
letsorganic.com
Best for Market Days: Ripe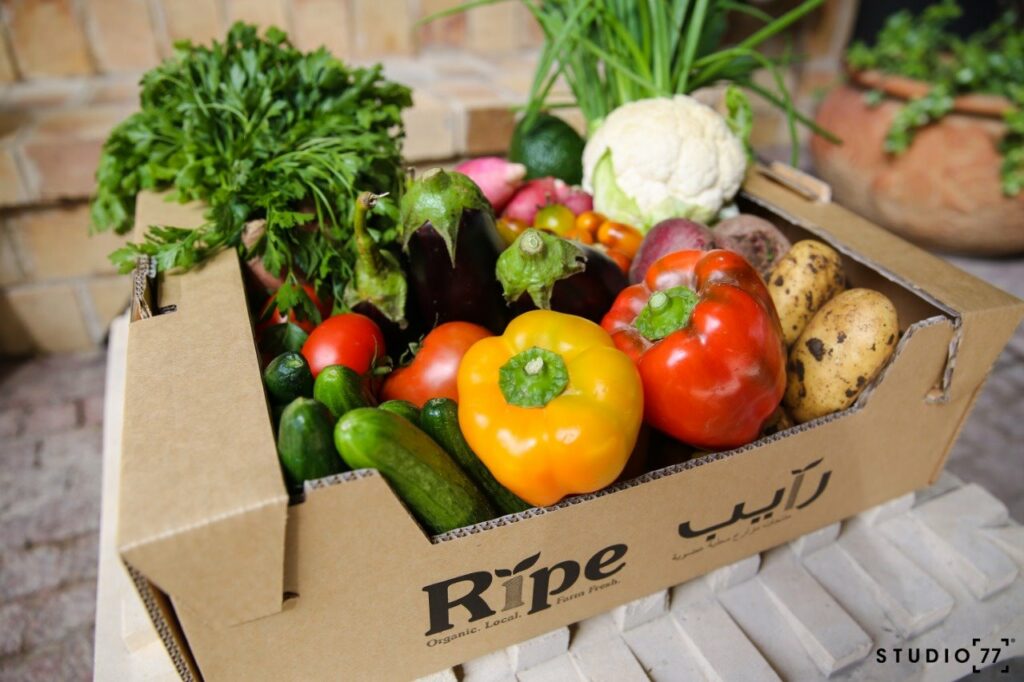 With the tagline 'organic, local, farm fresh', you can be sure you're getting quality produce from Ripe. As well as next-day home delivery in Dubai, there's also Ripe Organic Shop in Al Manara and the super-popular Ripe Markets held in both Dubai and Abu Dhabi. Organic fruit and veg is hand-picked daily from local UAE farms too, so there's a smaller carbon footprint, too. Ripe stocks fruit, vegetables, raw-honey, locally baked bread and eggs, as well as a dairy-free and vegan range of produce. At the Market, you'll also find products from home-grown local businesses with everything from arts and crafts to beauty.
ripeme.com