The jeep's wheels kick up dust that sparkles in the early morning light while the rising sun casts a soft blanket of pink and gold over the flat fragmented forest that sprawls infinitely into the distance. White Sindhi cows, some wearing colourful belled collars, graze at clumps of grass kerbside. We pass the occasional villager, striding purposefully to an unknown destination. Nearby signs warn of wild animals in the vicinity.
'It's OK to walk along these roads in daylight,' our accompanying naturalist Soulin informs us. 'But once the sun goes down, locals know not to walk here. Sometimes though, they don't have a choice.'
This is the road leading to Ranthambore National Park in Sawai Madhopur, in the north-western Indian state of Rajasthan, home to around 80 endangered Bengal Tigers.
The park, where 40 mammal species including tigers, leopards, and striped hyenas roam, sprawls some 1,700 sq kms of scenic deciduous forest, open grassy lands, lakes, and rivers. It's also just across the road from where the cattle graze and villagers walk, separated only by a six-foot wall.
Increased human-animal conflict is an unwanted by-product of the country's conservation achievements but despite this, steps continue to be made to secure the future of the country's endangered national animal.
A Local Perspective
From a local perspective, conservation efforts in Ranthambhore, one of the oldest tiger reserves in India, have reaped remarkable results.
In 2005 tiger numbers in the park had been decimated by rampant poaching for wild tiger body parts. Predominantly these were for Chinese medicine, which uses the nose, mistakenly believed to treat epilepsy, to the tail for skin conditions and almost everything in between as a faux cure for various illnesses. Some would even sell the carcass for tiger bone wine – where the bones are steeped in a container of rice wine and consumed to show status by an elite who will pay as much as $300 a bottle believing the elixir will give them the tiger's strength.
'There were only 18 tigers lift in Ranthambore because of extensive poaching by the Mogya tribe,' explains Divya Khandal founder of Dhonk, a cooperative crafts enterprise named after the local tree, that employs the wives of ex-poachers in the area, providing them with an alternative income so family members will no longer engage in illegal wildlife activities.
'They were excellent at tracking and hunting, and it took a lot of work by the Tiger Watch Foundation and the Police Department of Rajasthan to rein in their operation. To date they have arrested more than 130 poachers and that has brought stability to our tiger population.'
Record Breaking Tiger Toils
While the illegal wildlife trade has wiped out 97 per cent of the world's wild tiger population, India has been hard at work bucking the global trend.
In 2018 the country's latest census revealed that there were 2,967 tigers in India, an increase of 30 per cent from 2014. Proving that not only had India upheld a global commitment made in 2010 to double tiger numbers by 2022 – as set out by the WWF backed global campaign TX2 'Tigers times Two' in 2010, but they had achieved this feat four years earlier than anticipated. Something no other member country has so far managed to accomplish.
'There are multiple reasons for the increase in tiger numbers here' Anish Andheria, President and CEO of India's Wildlife Conservation Trust tells The Ethicalist. 'Firstly, since 2006 tiger densities have been estimated every four years using camera traps over an enormous 320,000km2 area so we have scientific data that gives us a clear picture of where there are gains and losses.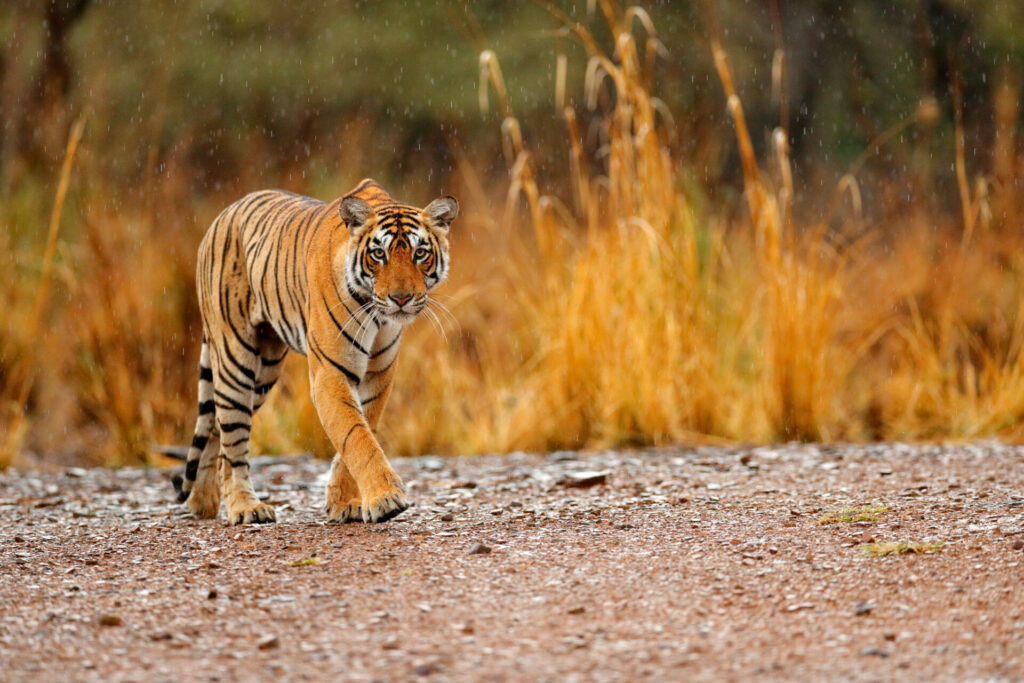 'We also have MEE (management effectiveness evaluation), carried out every four years,' he continues, 'where a team of officials visit all the tiger reserves and mark them on various management practices. It's a process that's relatively unheard of in large landscape conservation and it creates a form of competition between the reserves.'
Unified management and extensive assessment of the country's 52 reserves are certainly a driving force behind tiger growth in India. Their exhaustive tiger estimation efforts were even recognised by the Guinness World Records who lauded them for carrying out the world's largest wildlife camera trap [outdoor cameras fitted with motion sensors that record whenever an animal passes] survey for their 2018 census.
To give an idea of just how wide-ranging that survey was, a team of 44,000 officials worked the equivalent of 14.9 million hours over 15 months, placing camera traps in just under 27,000 locations. The project captured almost 35 million photographs of wildlife; 76,651 of which were tigers and 2,461 of those were individual tigers identified using stripe-pattern-recognition software.
While keeping a scientific track of numbers is undoubtedly crucial, the multiple threats from poaching, habitat loss and forest fragmentation – the breaking up of large forest areas into smaller pieces of forest – and conflict with humans cannot be ignored. Increased tiger numbers do not mean threats have gone away.
'If the government takes its foot off the peddle,' says Anish, 'tiger populations can collapse in no time.'
Tiger Territory
India has a total of 18 tiger states with eight of them, Madhya Pradesh, Uttarakhand, Karnataka, Tamil Nadu, Maharashtra, Assam, Kerala and Uttar Pradesh having the most significant populations.
'Most of India's tigers are found in only seven or eight out of the 18 tiger states,' explains Anish, 'such as Karnataka and Madhya Pradesh who have around 560 and 565 tigers respectively in their reserves. The efforts from this handful of states in protecting their habitats is the reason that tiger numbers have grown.'
But issues remain. Fragmentation leading to habitat loss is a big concern for tiger populations even within the most successful states. Tiger territory is increasingly being encroached by developing linear infrastructure projects such as roads, railways, canals and electricity lines.
'In my eyes it's the biggest threat,' says Anish. 'In India road construction is rampant, more than 27 km of four and six-lane highways are being built every single day and it's going up to 44km. When that happens, you can imagine the impediment it will have on tiger movement; there will be no emigration or immigration. As for canals, they have very steep walls, it's impossible for an animal to climb out once they fall in.'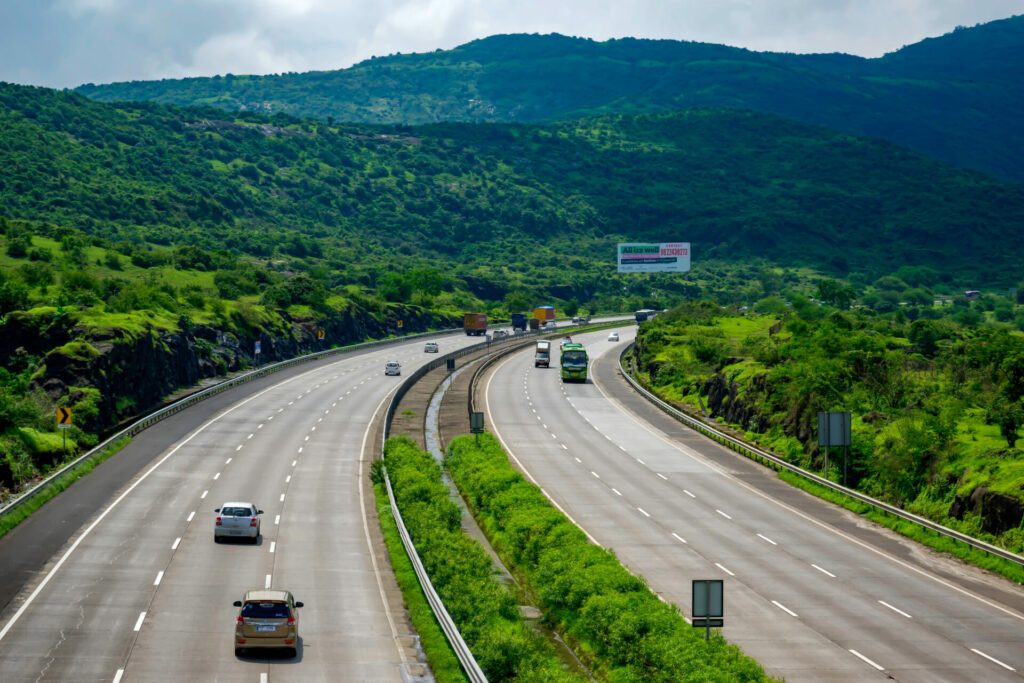 Forest degradation is another serious concern. Tigers have lost an estimated 95 per cent of their global territory with their habitats destroyed, degraded, and fragmented by urban development. While India is setting the example, allocating over 70,000 square kilometres of protected land for tiger habitats, it can't be ignored that in a country of over 1 billion people, many people use those lands to survive.
'More than 100 million people are dependent on the country's 52 tiger reserves for their daily subsistence,' says Anish. 'Perhaps not for 100 per cent of their needs, but for at least 40 per cent. That varies from collecting minor forest produce, collecting firewood for cooking and grazing their cattle. That puts a huge amount of pressure on the land.'
'There are also manmade fires and due to climate change altering humidity levels in the soil and the wood bark, these fires are far more serious than they were in the past. They can devastate large chunks of land, and in many areas, the forests burn twice a year.'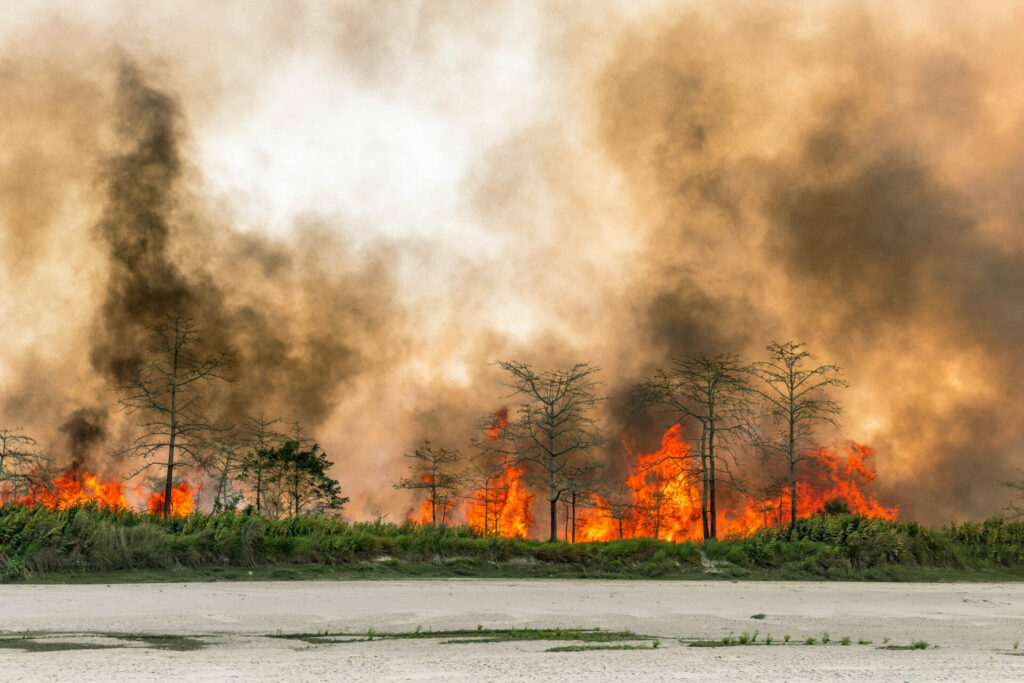 The threats don't stop there. Increasing tiger numbers coupled with land being lost and habitats being encroached, the big cats venture out to find new territory causing an off-shoot issue: human-wildlife conflict.
Not Enough Room
Success breeds its own issues, and this is also the case for tiger conservation. In some cases, tiger population increases have been so positive that there is now not enough room for the tigers to roam naturally in their allocated territory.
It's believed for example that six tigers, including two cubs, who went missing last year from Ranthambore National Park, may have migrated to other areas due to a lack of sufficient territory.
'There is no territory left for new tigers, which is why the tigers are migrating,' Tikam Chandra Verma, field director of the Ranthambore Tiger Project, told The Print at the time.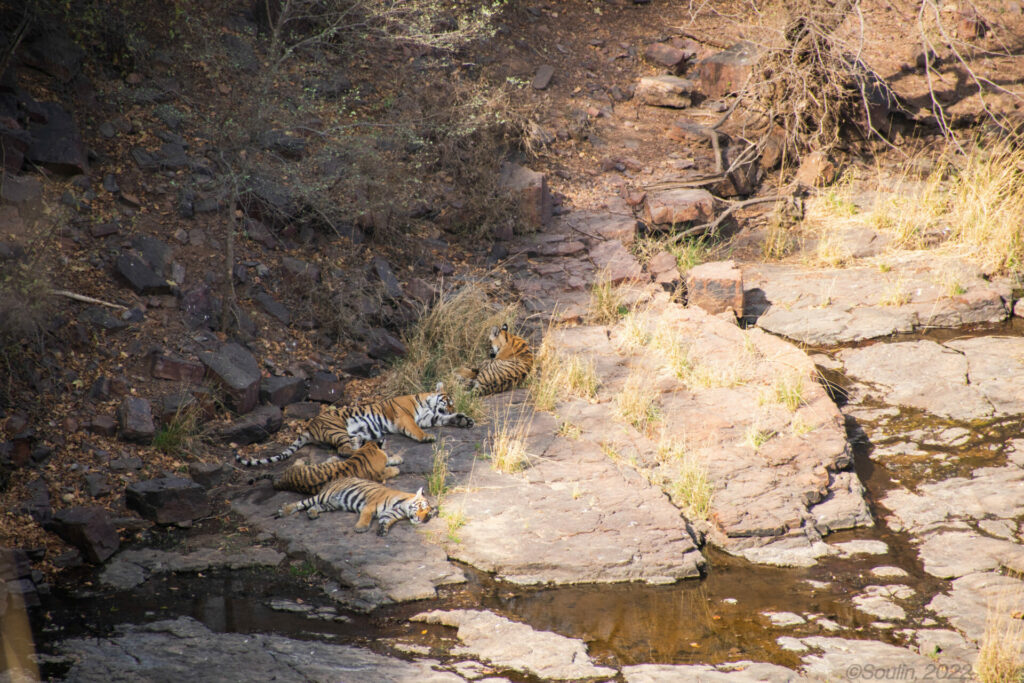 As solitary animals, tigers require between 20 to 100 square km of home range to themselves. When an over population of tigers occurs in a reserve, they are likely to move in search of other land eventually inhabiting the fringes – or buffer zones – that separate wildlife from human activity. This proximity to villages increases the chances of human animal conflict, or 'human animal interaction' a terminology Anish prefers.
While Bengal tigers do not under normal circumstances kill or eat humans – they are more likely to change direction than look for confrontation – they nonetheless are held accountable for up to 50 deaths a year in India.
Villagers are in turn using methods at their disposal to protect themselves. In recent years, forest officials have seen spates of electrocutions along the forest borders. Farmers and villagers living in their outskirts have fenced their fields with live wires by tapping into local power lines, creating fatal traps for meandering hyenas, leopards, and tigers. While often these traps are put up by subsistence farmers as a way of protecting their crops from wild herbivores such as nilgai (a large Asian antelope) and wild deer, wires do not differentiate between herbivores and carnivores.
If human-tiger incidents are already high, the situation will likely only worsen as tiger populations increases unless changes are implemented.
Natural Corridors
To stop encroachment on villages, connectivity needs to be improved by way of natural wildlife corridors, an area that joins one reserve forest to another and does not bypass human settlements or linear infrastructure.
'Male tigers on the move can cover 200 to 300 kilometres and in exceptional cases up to 750 kilometres,' explains Anish. 'So, they need connectivity. Our forests in India are not large – on average, a tiger reserve will be about 700 to 800km2 of core, and another 500 to 600km2 of buffer which is not enough when you compare it to the Serengeti in Africa, which is 20,000-25,000km2.'
Experts have discovered that to maintain a stable population of tigers, at least 20 breeding females in one population are required.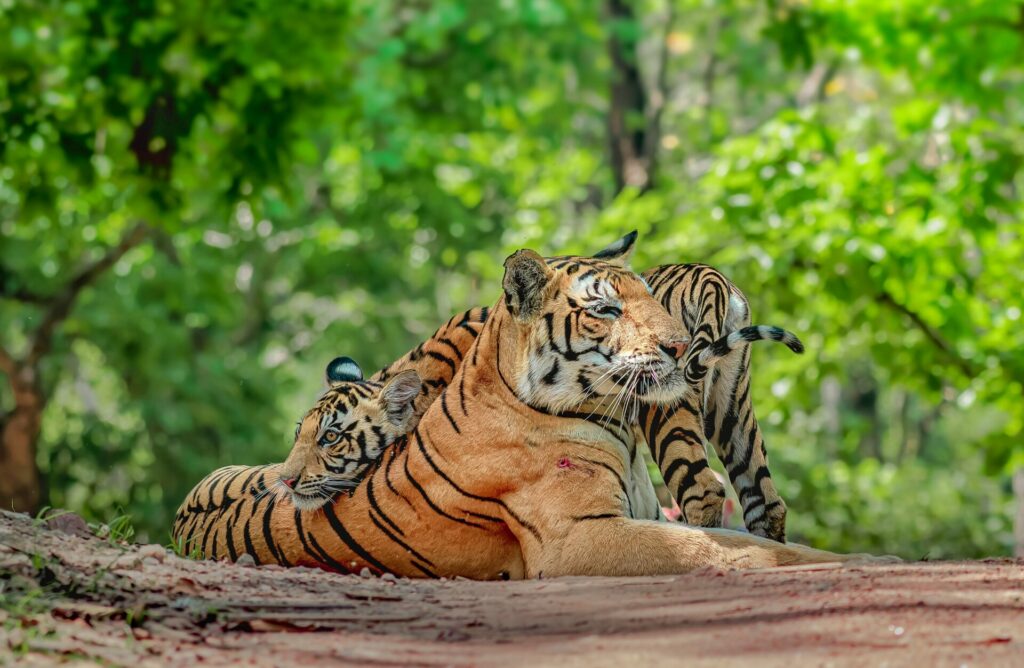 'However, forests in India are not equipped to hold 20 breeding females', says Anish. 'Therefore, the only way to sustain tiger populations over a long period of time is via connectivity from one park to another, so that that the population acts like one and it meets the criteria to maintain stable numbers. To achieve this, there is a lot of work that needs to be done.'
And work is being done. Later this year the new four year National Tiger Census Report will be released with many hoping that the efforts of the government, NGOs (non governmental organisations), forest rangers and conservationists will have yet again surpassed expectations. But the spirit of the people of India must also be acknowledged, as despite the odds they mostly live patiently side by side with tigers.
'Some 4,000 cattle are lost every year to tigers and yet their numbers are still able to thrive, ' Anish.
'In our culture we are very accommodating. We don't think of nature as something separate from us, a commodity, we consider it a part of us. I know of a landscape in Maharashtra where there are 50 tigers living within a landscape that supports 605 villages. And there are tigers that kill cattle, so if the villagers were getting annoyed with them, trust me, we wouldn't have any tigers left.'