Who doesn't love going out for lunch? The idea of having an array of foods to choose from, a change of scenery and someone else to do the cooking and cleaning? It's no wonder heading to a leisurely lunch spot is such a popular pastime.
But research shows that, thanks to the popularity of remote working post pandemic, we are spending an average of 48.5 minutes more at our desks each day, attending more meetings, and navigating more emails. The lunch hour is being replaced by eating at our screens. In fact, in the US, studies show that four out of five Americans eat lunch at their desks.
But did you know that unshackling yourself from your work space and picking up a menu mid-day is not only fun but also great for both your physical and mental well-being?
Taking a break from work and heading out with colleagues for a bite to eat can not only help reduce stress but in fact has been shown to increase job satisfaction and increases productivity. There's also the added bonus of connecting with colleagues of course.
Add to that the fact that hitting a new lunch spot gives you a deserved day off from preparing a lunchbox every morning – as you juggle the school run, letting the dog out, all while trying to look presentable – and it's not hard to see why occasionally nipping out for a bite should be high on your priority list.
So, next time you're planning to eat mindlessly at your laptop remember, heading to a little lunch spot near or far, will boost your mood and provide a well-deserved break from the demands of daily life. With this in mind we decided to scout around Dubai for some lovely lunch eateries that offer an array of plant based options, a calm environment, and a chance to rebalance from the daily grind.
Put your voicemail on, leave your emails unattended for an hour and try out these lunch spots. We promise it's worth it.
Philotimos Meze & Grill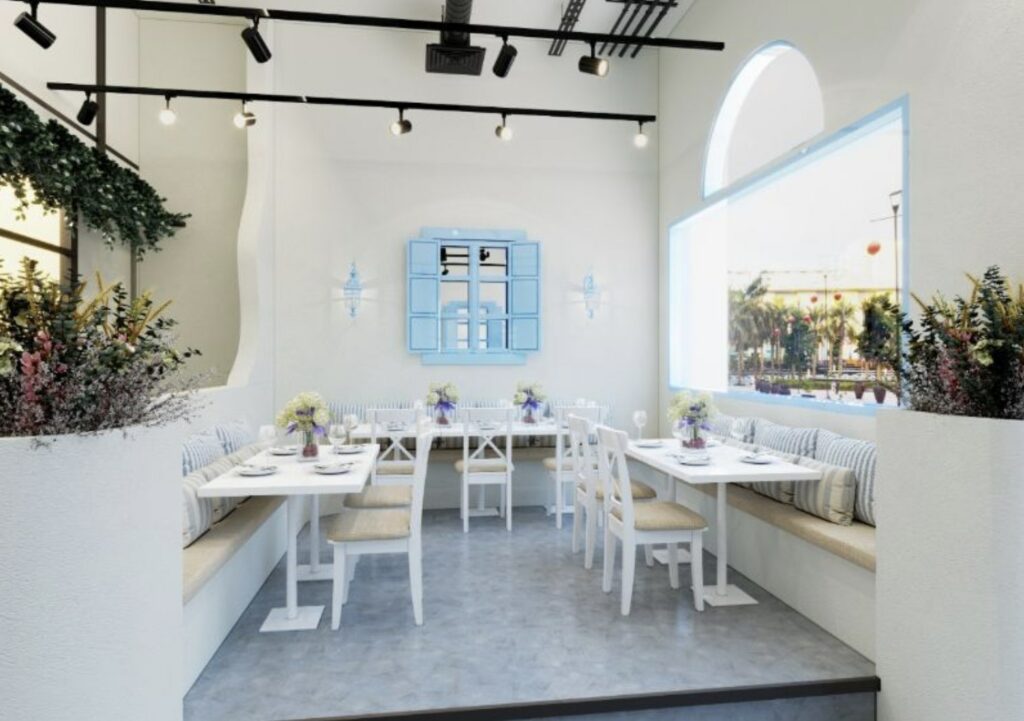 Philotimos – which translates as 'respect for others' in Greek – is a new restaurant brought to you by the team behind popular BB's restaurant in DIFC. This little Jumeirah gem that's already making its mark, has a seasonal menu focused on local UAE produce and an authentic range of plant-based, vegetarian and gluten-free options. With white washed walls, blue painted windowsill, dried native flowers and authentic greek oils bedecking the walls, it's easy to imagine the aegean sea is on their doorstep in this small slice of Greece. And the food won't disappoint either.
From meze to main dishes there's a size for all appetites at this charming lunch spot. Try the trio of dips including tzatziki, melitzanosalata (eggplant, garlic, and lemon), and tirokafteri (feta, red peppers, olive oil, and chili) and larger dishes such as spanakopita – savoury pastry made with spinach and feta or gemista – a traditional dish of stuffed tomatoes filled with rice and herbs. And do not leave without trying the dolamades. No standard serving of stuffed vine leaves filled with rice and herbs here, Philotimos have their own unique take on the traditional dish, frying the finished rolls then serving them up like crunchy (vegan) sushi. Trust us, they'll be gone before you can say Kalí óreksi! (Bon appetit)
It wouldn't be fair not to mention the service too! The friendly and informed waiters seem to be fully on board with the welcoming Greek tradition of 'guest friendship' making it a truly great casual lunch spot.
Dar al Wasl Mall, Al Wasl/ @Iamphilotimos
Lapa Eatery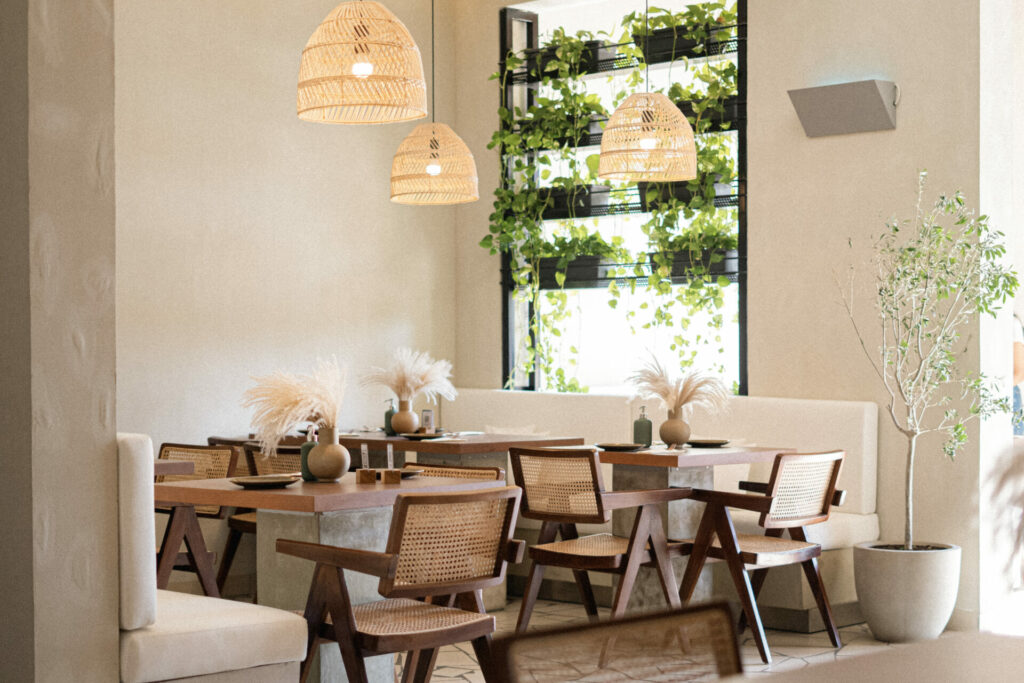 If you're serious about clean eating, then this is the right lunch spot for you! New to the Jumeirah scene, Lapa serves up wholesome, delicious, fresh and often local produce to its already faithful clientele. It's a favourite spot for the health conscious and the growing Dubai vegan scene with plenty of guilt-free options for your waistline and your environmental conscience.
Choose from delicious healthy starters – we recommend the roasted butternut humous served with vegan coconut tapioca bread and topped with a shake of super fruit pomegranate seeds. While a lot of non-vegan main courses are available, the cauliflower risotto rice with beetroot and mixed mushrooms is a winner served with a gentle drizzle of truffle oil. If you're a sweet-toothed diner, then there are plenty of deserts to choose from too. Lapa's clean eating ethos also extends to their sweets so think nut bases and cashew cream which allow you to have all of the sweetness and none of the guilt!
Jumeirah Beach Rd – Umm Suqeim –Lapa.ae
Ella's Eatery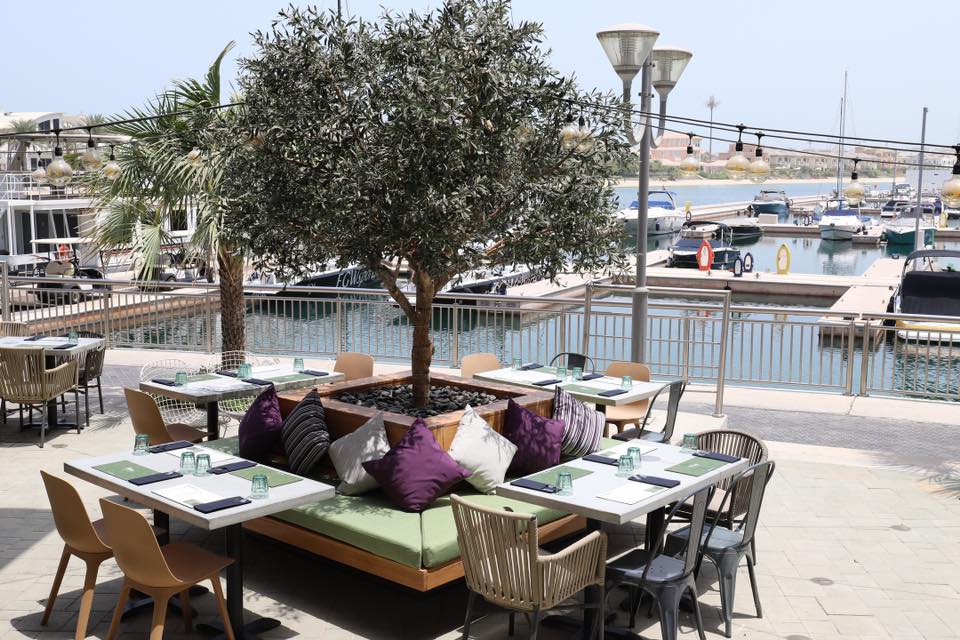 Stamped firmly on the map of any foodie palm resident or worker, Ella's Eatery is a laid back and licensed locale with plenty on the menu to keep plant-based diners more than happy. With views sweeping out over the Palm Jumeirah marina and its many moored yachts, an instagrammable entrance – you'll see what we mean – and a cosy interior that makes you want to stay all day, it's easy to see why this little neighbourhood eatery is so loved.
If you're in need of a little family friendly, comfort food then look no further than this lunch spot. From gorgeously good guacamole to veggie flatbreads that are almost the size of a pizza, you're spoilt for choice when it comes to options. Follow that with the likes of vegetarian pastas to Ella's signature fried rice (whose meat additions can be supplemented with your choice of vegetables) and a healthy choice of salads.
Put all those calls and emails behind you while you sit and sip on the deck overlooking the water and remember a little time for you, goes a long way.
The Palm Jumeirah, Palm Views East, @Ellaseatery
Heal
Serving a host of healthy dishes and drinks with plenty of vegan and vegetarian options, it's not hard to see why this cool coffee shop is also a lunch spot favourite.
With an huge courtyard and equally expansive interior, diners can enjoy lunch al fresco or when the summer weather sets in, the calming minimalistic interior. The friendly service and relaxed environment will have you forgetting your zooms and emails in no time. Although it is also a popular haunt for the freelancers.
Choose from healthy drinks such as the healing potion (orange, celery, spinach and ginger) alongisde healthy lunch listings including the falafal salad bowl, loaded pita wrap or penne brocoli pasta to get your zest for work back up and running!
Al Manara Road, Jumeirah @heal.ae
The Farm
If you're lucky enough to work close to Al Barari then you've probably already swapped the noise of the office for the sound of birds and water at The Farm. This is a botanical lunch spot dedicated to high-quality, wholesome food where you can seriously switch off and reconnect both with yourself and with nature.
Surrounded by lush greenery, a waterfall and a cacophony of plants, swap your desk for a table al fresco on their terrace overlooking the verdant surroundings. It's hard to know where to start with their menu's veggie options as there are simply so many. Start with light Vietnamese summer rolls or tempura beans served a mild spice Siracha aioli followed by an array of options from their asian corner, artisan pizzas or 'around the globe' menu sections. The herby grains mixed leaf salad with couscous and grilled halloumi will have returning to work with a feeling of zen but you'll be healthier for the break too.
Al Barari, thefarmdubai.ae
Neat Burger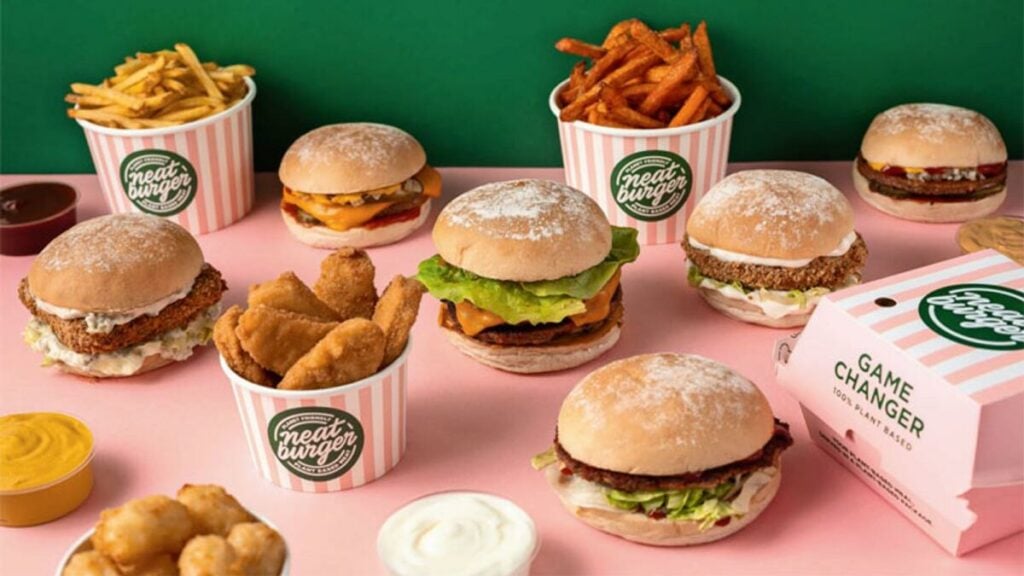 While most of us don't have an office close enough to Dubai mall to nip in to Neat Buger for a quick lunch, we wanted to include this gorgeous addition to the sprawling fast food court. Beautifully decorated and a 100 per cent guilt free menu positively brimming with options for the hungry, this small but mighty fast-food chain is just getting started.
Owned by vegan Formula One driver Lewis Hamilton, with funding from Leonardo DiCaprio, this chain of animal-free fast food is spreading across the globe with lightning speed. Including a little lunch spot in our very own Dubai.
Unlike other fast-food outlets who offer your typical vegan meat burgers, Neat does things differently. Their burgers have their very own recipe, and you wouldn't believe how much a pea can taste like the real deal! We were #impressed. Choose from a range of vegan burgers and additions including fries, rings, and 'cheese' nuggets washed down with a coconut milkshake. Trust us after leaving here it will only be your expanding waistline on your conscience.
Dubai Mall Food Court, Neat-Burger.com
For more articles on vegan restaurants head over to our Life section