A zoo in Pakistan's second largest city Lahore is auctioning off 12 lions to private buyers this week even though campaigners have called for the animals to be moved to other zoos.
Officials say the sale is to free up space for the zoo's remaining 17 big cats while also allowing them to raise money and cut down on rising overheads.
Lahore Safari Zoo is facing a population problem with lions breeding so often that the current 29 big cats are only allowed access to their designated paddocks in shifts.
Tanvir Ahmed Janjua, the zoo's deputy director told AFP: 'Not only will we free up more space here, but our expenses for meat to feed them will also decrease.'
The sale of the cubs – aged between two and five – plans to take place tomorrow, on August 11th, one day after World Lion Day.
It's believed zoo officials have placed a reserve of AED2,500 (£550) per lion but hope to get as much as AED32,000 (£7000) for each of the dozen big cats.
Among the animals up for sale, are three lionesses which can be sold off to breeding houses or husbandry enthusiasts at a premium.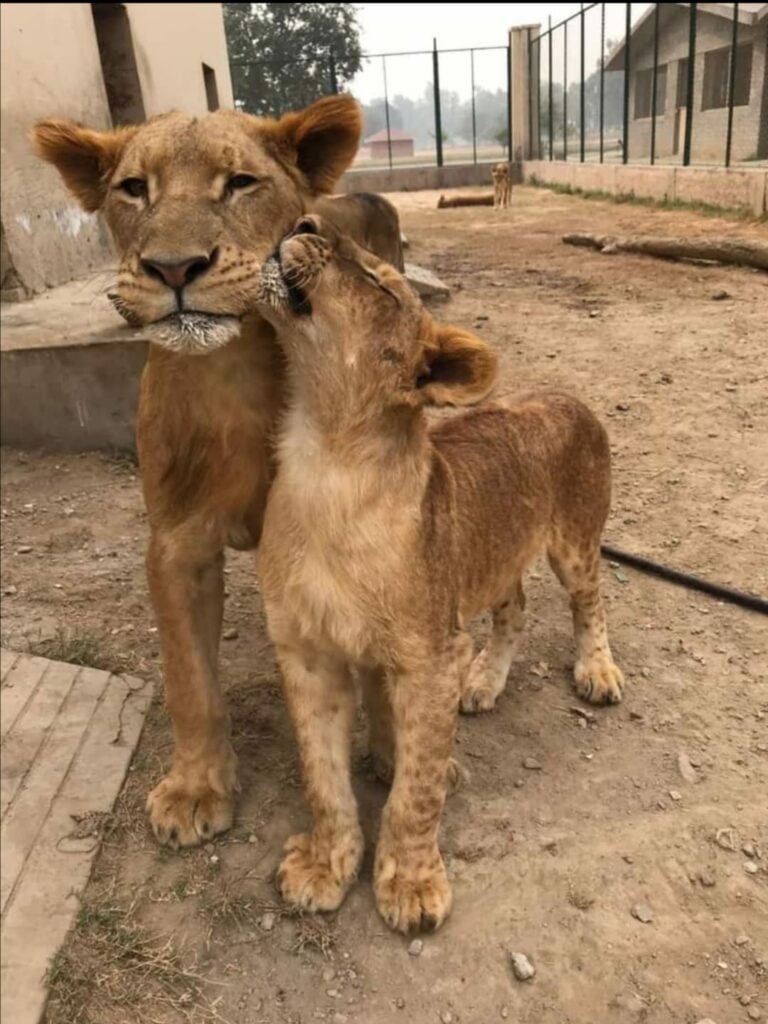 Animal welfare organisations including the World Wildlife Fund (WWF) say the private sale goes against conservation efforts, and are demanding that the cats be moved to other zoos, or breeding females be given contraceptives or sterilised.
'Animal exchanges and donations between zoos are a widely accepted practice,' WWF's Conservation Programme Manager Uzma Khan told AFP.
'Once an institution such as a zoo places a price tag on a wildlife species it is promoting trade, which is counterproductive to conservation.'
Status Symbol
A man who owns a lion in Pakistan is often regarded as someone worth revering for their power and status. Popular politicians are often referred to as lions – Sher – of their constituencies or districts.
As the ultimate status symbol, it has become increasingly fashionable for wealthy Pakistanis to collect young lion and tiger cubs, flouting rules and regulations for their care. These big cats are seen in gardens, rooftop cages, out for walks on leads, or seated in the front of SUVs as their owners drive through city centres.
While it is legal to import big cats into Pakistan, importers must obtain the necessary licenses and permits. The law requires that they be provided an environment similar to their natural habitat however once in the country, there is little regulation in place.
On this occasion the auction in Lahore is not open to the public, with all registered bidders requiring permission from local authorities and evidence they can provide proper care for the big cats.
What adequate care amounts to is questionable when one considers that the territory of a lion in the wild can range anywhere from 20 to 400 square kilometres.
Zoo veterinary officer Muhammad Rizwan Khan said last year attempts to auction off some lions fell through as buyers lacked the correct paperwork.
Nouman Hassan, a big cat collector, plans to take part. 'I will try to buy two to three lions for sure,' he told AFP, saying the auction was a good way to diversify the gene pool for private collectors who already own a big cat.
Hassan has already gained attention from authorities for walking his pet tiger on a lead in Lahore.
With little legislation for animal welfare across Pakistan, zoos are notorious for their poor facilities. Lahore Safari Zoo – one of the oldest zoos in the world – has been in the spotlight for poor animal management in the past.
In July 2009, a lion gave birth to two cubs there but killed them by eating their heads. Director Zafar Shah said at the time that the lion suffered from cannibalism – a disorder found in 5-6 per cent of lions worldwide – and had been killing her cubs for three years.