Throw another strawberry on the barbie, mate! It might not be what you're used to hearing at a barbecue but it's finally time to get used to it as vegan BBQ dishes are the hottest culinary trend right now.
OK, OK, so it might be a little too warm in the UAE for al fresco dining over the summer, but you can make these in the oven or save them until you're in a luxury villa in Europe for your holidays.
Either way these barbecue delights are easy, quick, delicious and guaranteed to impress your guests. Even better these plant-based dishes don't cost the Earth which makes them even more appetising. Enjoy!
Vegan Potato and Strawberry Skewers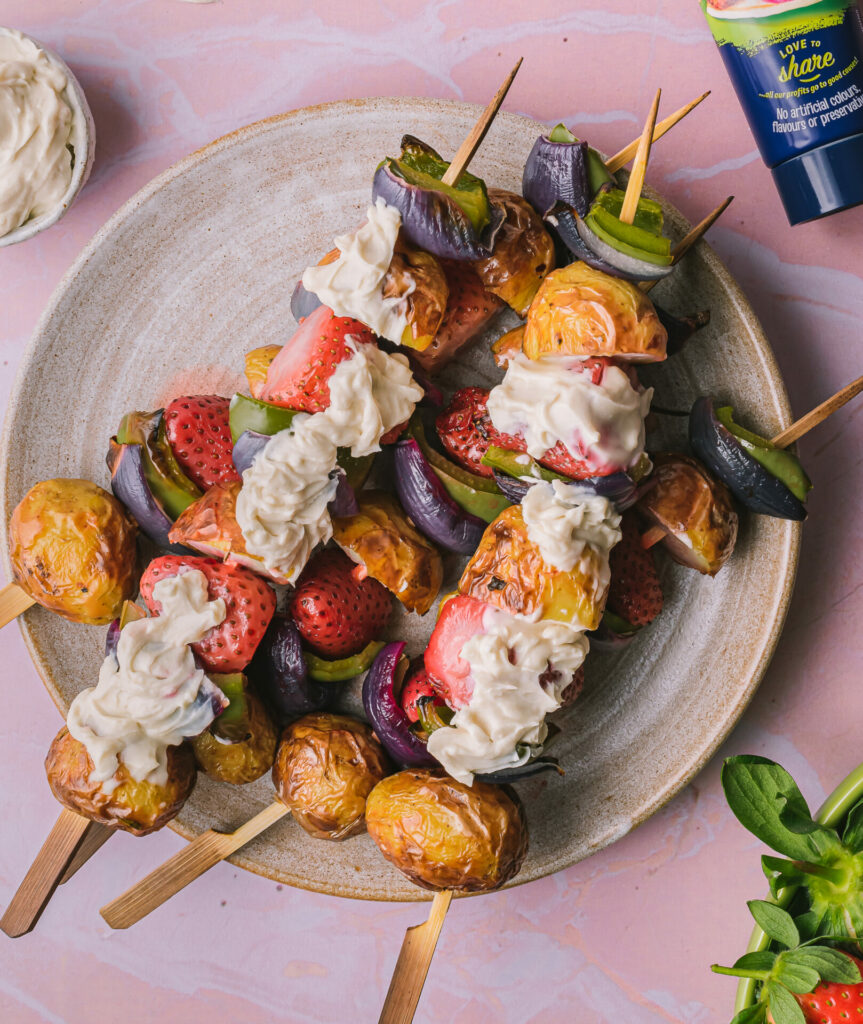 Some might say potatoes and strawberries are an unusual barbecue combination but prepare to be amazed as the sweet and savoury flavours delight your taste buds.
Prep time: 20 minutes Cooking time: 1 hour Serves: 4
750g baby potatoes, washed
1/4tsp salt
Pinch pepper
Pinch of chilli flakes
2 rosemary sprigs
2 thyme sprigs
3tbsp olive oil
4 sage leaves
1 garlic clove, peeled
2tbsp water
1 red onion, sliced
1 green pepper, sliced
400g strawberries, trimmed
1 Primula Perfectly Plant tube
Preheat the oven to 200C fan. Combine potatoes, salt, pepper, chilli flakes, rosemary, thyme, and olive oil in a bowl. Toss until potatoes are covered. Transfer to a rimmed baking tray.
Add sage and garlic to the potatoes and bake on the bottom rack of the preheated oven. Add the water to prevent burning and bake for 40 minutes, turning the tray halfway after 20 minutes.
When the potatoes are ready, add the onion, pepper and strawberries onto the skewers (8 in total).
Bake at 180C fan for 10 minutes. Then, switch to grill mode and cook for another 10 minutes.
Take the skewers out of the oven, let them rest for a few minutes and top them with Primula Perfectly Plant.
Easy Beany Burgers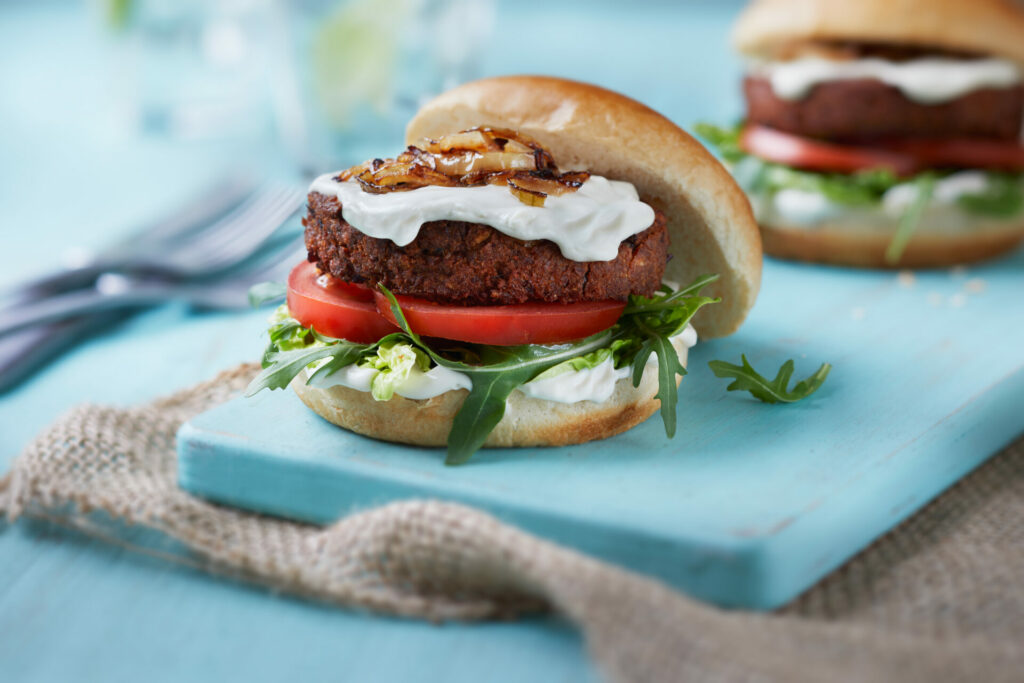 Prep Time: 30 mins plus 30 mins chilling time Cooking Time: 15 mins Serves: 4
We love a good vegan burger and this one tops the barbecue taste charts! Burger night just got even better.
50g pine nuts 
1 large onion 
Oil for frying  
425g can kidney beans, drained and rinsed 
198g can sweetcorn, drained 
140g Primula Perfectly Plant 
85g fresh breadcrumbs 
1 tablespoon chopped parsley 
Black pepper 
Vegan burger buns 
Salad leaves, to serve 
1 large tomato, sliced, to serve 
Heat a frying pan over medium heat and lightly toast the pine nuts for 2-3 minutes or until golden. Remove from the pan onto a plate and set aside to cool.
Finely chop half of the onion, then slice the remaining half and put to one side for later. Heat 1 tablespoon of oil in the frying pan and add the finely chopped onion. Fry gently until soft and just starting to brown.
Meanwhile, empty the kidney beans into a large bowl and mash well with a potato masher or fork. Add the pine nuts, drained sweetcorn and fried onion. Then stir in 4 tablespoons of Primula Perfectly Plant, half of the breadcrumbs and the parsley. Season to taste with black pepper and mix well.
Shape the mixture into 4 burgers and coat the outside of each burger with the remaining breadcrumbs. Cover and chill in the fridge for at least 30 minutes.
Heat 1 tablespoon of oil in a frying pan and gently fry the remaining sliced onion until it is caramelised and golden. Remove from the pan and keep on one side to serve with the cooked burgers.
Heat 1-2 tablespoons of oil in the same frying pan and fry the beany burgers for 3-4 minutes on each side until crisp and golden.
Serve the beany burgers in buns with salad leaves and a slice of tomato. Top with a generous squeeze of Primula Perfectly Plant and crispy fried onion slices.
You could also divide the mixture into 8 smaller burgers and serve in pitta bread with salad leaves and a generous squeeze of Primula Perfectly Plant.
Herby Polenta Fries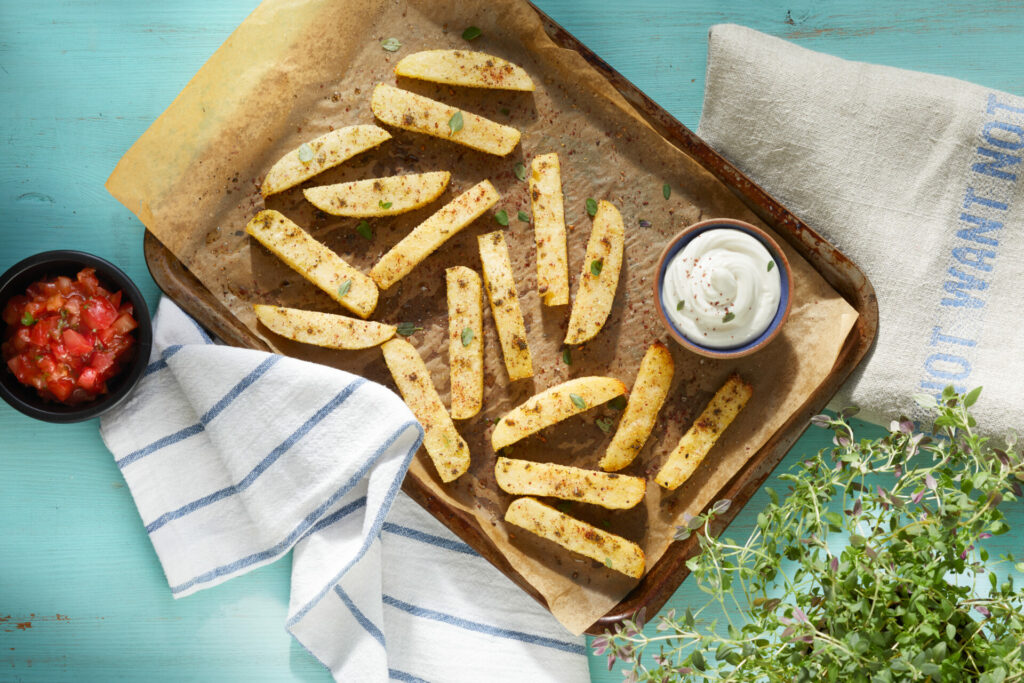 Move over potatoes, barbecue polenta chips are in town. These golden bites are crispy on the outside yet soft on the inside and seriously scrumptious!
Prep time: 5 mins Cooking time: 25 mins Serves: 2
500g pack ready-made polenta 
Olive oil 
1-2 teaspoons Za'atar seasoning 
1 teaspoon paprika, if like
Sea salt 
Freshly ground black pepper 
Fresh thyme, to garnish 
140g Primula Perfectly Plant
1 pot tomato salsa, to serve 
Preheat the oven to 200C, 180C fan, Gas 6. Slice the polenta into 1cm slices and cut in half again lengthways to make chip shapes.
Place on a baking tray lined with baking paper and brush each polenta chip with olive oil. Sprinkle with Za'atar and paprika if using, and season with salt and black pepper.
Bake in a preheated oven for 20-25 minutes until heated through and starting to brown at the edges. Sprinkle over thyme leaves as a garnish.
Squeeze Primula Perfectly Plant into a bowl and serve alongside the salsa as dipping sauces for the polenta fries. Happy dunking!
For more delicious vegan, vegetarian and plant-based recipes visit our FOOD section