For around nine months of the year, the UAE provides the ideal climate for playing sport or exercising in the fresh air.
However, during the hot summer season, any kind of outdoor cardio suddenly turns into an extreme endurance test.
Even the most dedicated runners and cyclists are tempted to switch to treadmills or static bikes, and we suddenly need to become more creative about how we fit in our endorphin-boosting cardio sessions.
Fortunately, the UAE is brimming with fabulous gyms that offer all kinds of enjoyable (and air conditioned) ways to sweat out our worries.
Indeed, studies by global data platform Ken Research show that the UAE has more than 800 gyms, and that the local fitness industry is predicted to be worth a massive $600 million by 2025.
Whether you are into running, cycling, HIIT, boxing or walking, you will find plenty of engaging ways to get your cardio fix during the UAE summer.
Below are nine of our favourites…
Spinning
CRANK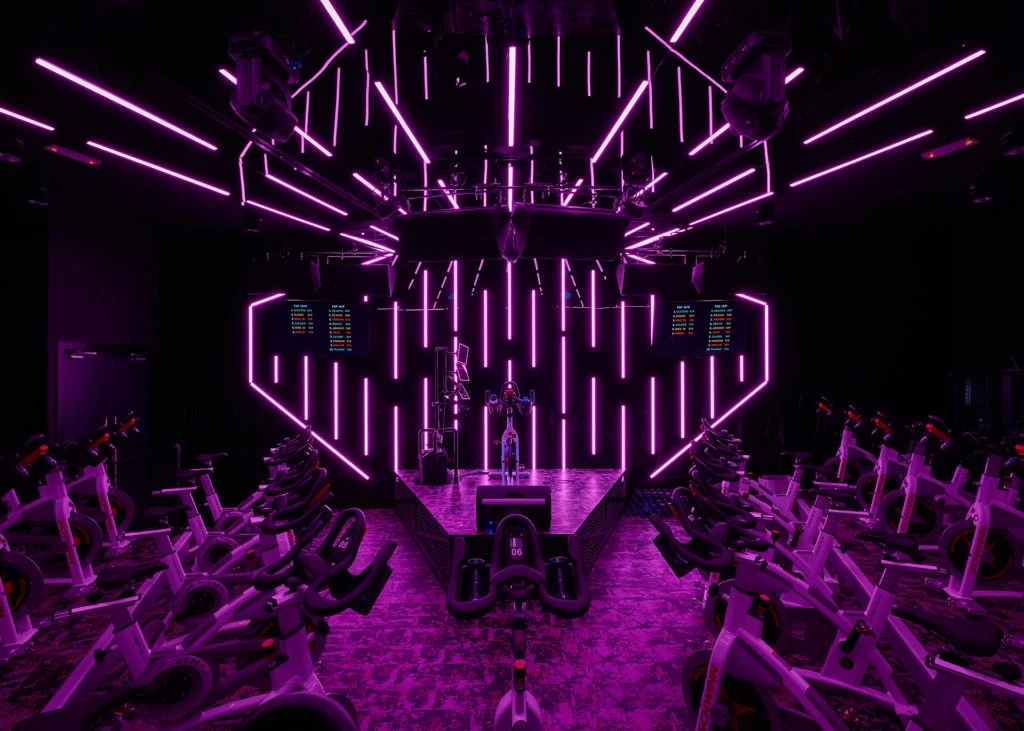 Arguably the UAE's trendiest and most addictive indoor cycling brand, homegrown studio CRANK is a force to be reckoned with. The energetic and likeable instructors know how to push you beyond your limits, while the amazing music and incredible lighting make it feel more like a party than a workout. Upper-body strength work is added in with small dumbbells, and the regular themed events are tonnes of fun. As you race for a place on the scoreboard, you'll be amazed at the unbelievable number of calories you can burn in just 45 minutes. A step above every other spin class, CRANK is truly one of a kind.
Trial sessions are available for AED60. @crank.uae.
Sheikha Fatima Park, Abu Dhabi and Alserkal Avenue, Dubai.
STRYD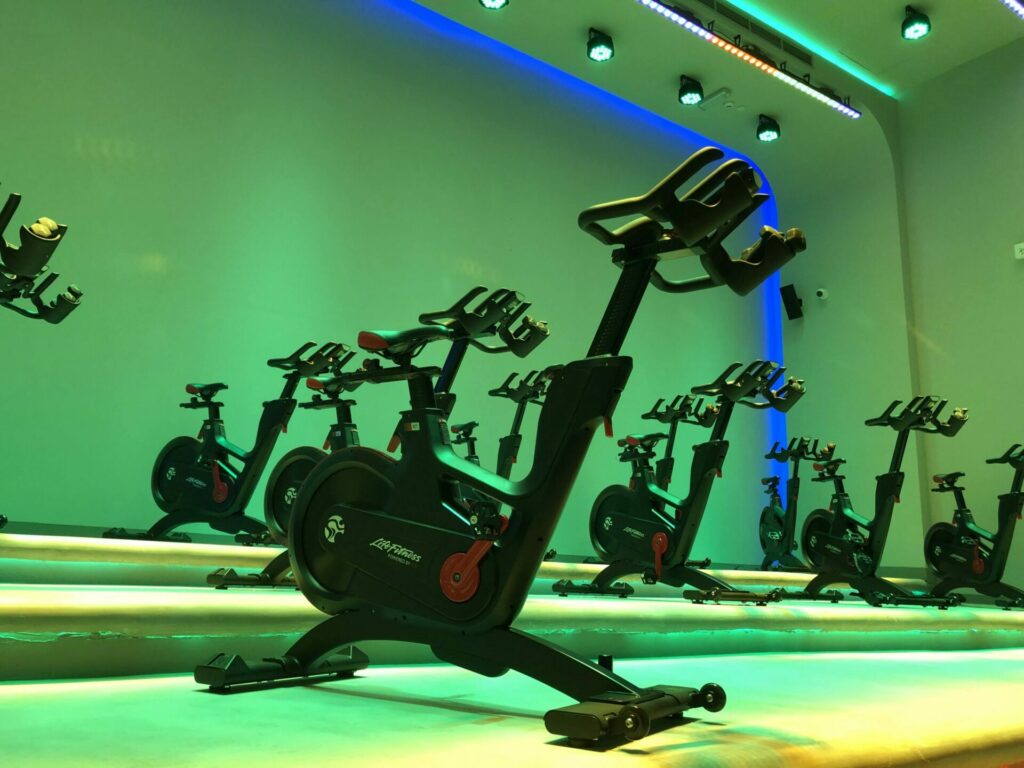 Positioned on the ever-buzzing Mamsha Al Saadiyat boardwalk, just metres from the white sands of Soul Beach, STRYD has bagged one of the most idyllic locations in the UAE. Small and friendly, the high-energy spin classes are enhanced with atmospheric luminous lighting, while the bikes track your calories and tell you when you are reaching green, amber and red levels of intensity.
Providing a warm welcome for people and animals, the cheerful staff are happy to watch your pooch for you while you go for a spin. Refreshingly affordable when compared to some of the UAE's other cycling studios, the 'Monday Funday' class is also buy-one, get-one-free when you bring a friend. It even offers yoga classes for a post-cardio stretch, and with ethical cafe Alkalime, juice bar Feels and many more awesome eateries just a short walk away, you're spoilt for choice with options for a healthy refuel.
Classes are priced AED110. @strydcycling.
Saadiyat Island, Abu Dhabi
Treadmill
Barry's Bootcamp
Barry's Bootcamp proves that running on the treadmill doesn't have to be a monotonous or boring chore. While plenty of UAE studios offer cardio fixes in the form of bootcamps, Zumba or circuit-style training, the famous 'Red Room' sessions at Barry's are unique because they bring HIIT to the treadmill. Alternating fast sprints with slower jogs, the half treadmill, and half strength and cardio floor work sessions offer an immensely efficient way of burning calories and upping your fitness levels. Sprinting as fast as you can is an incredible thrill, while being able to up your speed with each passing week is a super satisfying feeling.
Intro classes are priced AED85. @barrysuae.
The Galleria Mall, Abu Dhabi and DIFC and the Marina, Dubai.
1Rebel DIFC
Since opening last October, chic London-born studio 1Rebel has become one of the most coveted gyms in Dubai. Dynamic and impossibly cool, most of us know someone who is already hooked on its slick, polished and infectiously upbeat classes. Kitted out with a nightclub-esque sound system and stunning LED lights, it provides just the motivation you need to reach new levels of strength and fitness. The ultra-sweaty 'Reshape' classes intertwine treadmill sprints and dumbbell work, while the high-octane cycling classes have a legion of fans. Already a big hit in Australia, Saudi Arabia and Israel, 1Rebel is rapidly becoming one of the hottest new name's on the UAE fitness scene.
The first class is free, then from AED115. @1rebel_uae.  
DIFC, Dubai
HIIT
F45 Training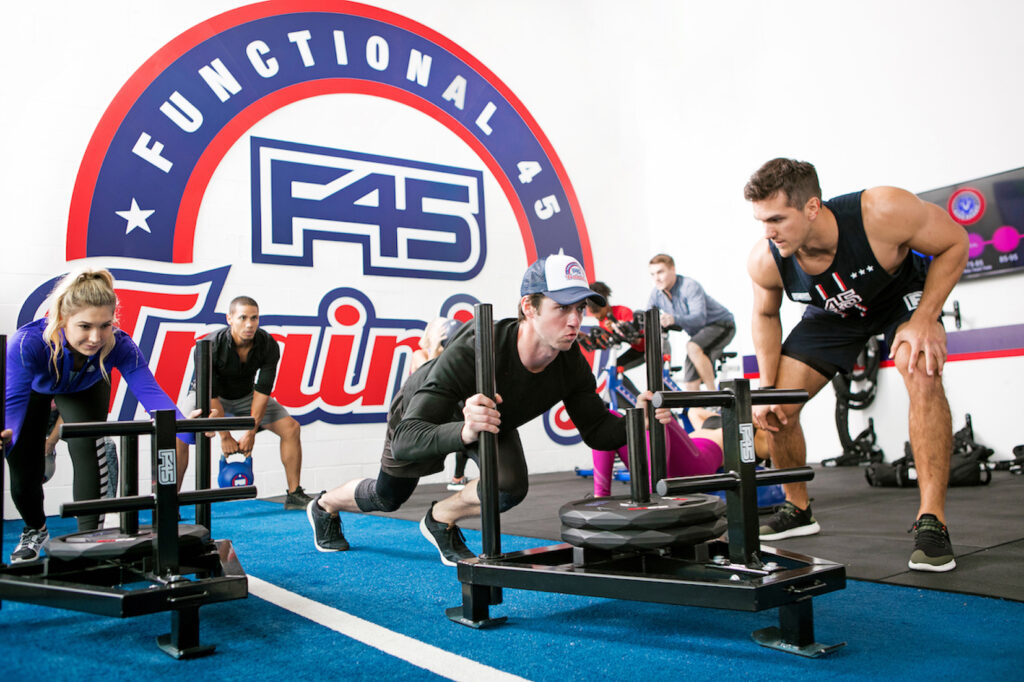 Few gyms have achieved the same level of worldwide fame as Australian-born F45. Loved by Mark Wahlberg, David Beckham and many other celebrities, the UAE's F45 scene has grown from just a couple of studios in 2018, to 12 in 2023. With 5,000 different moves incorporated into the weekly schedule, none of the dedicated cardio classes are ever the same. A circuit style workout that involves spending a certain length of time at each station, you're free to work at your own pace and there's no racing or competitive scoreboards involved at all. 
Designed to test stamina and endurance, the plyometric movements burn fat, build muscle and boost your metabolism. If you really want to use this summer to undergo a fitness overhaul, the 45-day fitness challenges are renowned for achieving incredible results.
Free trials are available for first timers. Single classes are priced AED120. @f45_training.
Various locations in Abu Dhabi and Dubai
Chalk Training Ground
If slogging away on the treadmill isn't really doing it for you, the varied classes at Chalk Training Ground are sure to reignite your enthusiasm for fitness. For a pure cardio blitz, the EMOM (Every Minute on the Minute) functional classes challenge you to work as hard and as fast as you can to earn precious recovery seconds. Although tough and grueling at the time, every minute is filled with positive and infectious energy. You'll be left riding an incredibly happy wave for the rest of the day.
Classes are priced AED150. @chalktrainingground.
The Palm, Dubai
Boxing
Boxica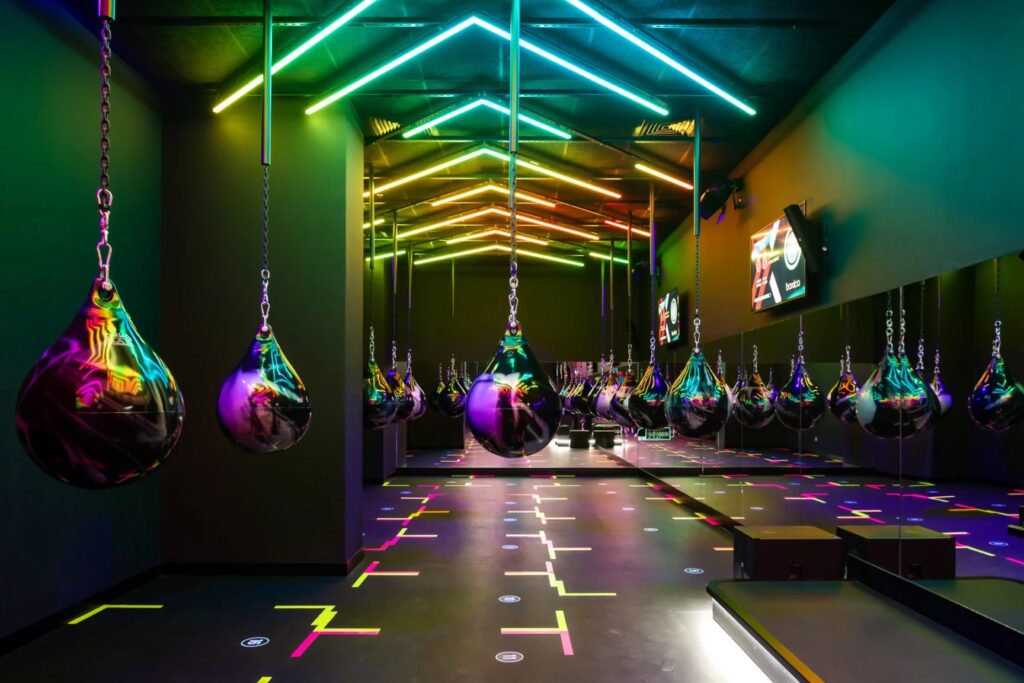 Making boxing friendly and accessible, Boxica lets you enjoy all the physical and mental health benefits of boxing, without facing the intimidation of entering a ring. The boxing/full body workouts and the high-intensity 'Sweat' cardio classes are just the thing after a stressful day at work, and it's easy to see why 'Boxing is therapy' was chosen as the brand's tagline. Home to a growing and inclusive community, it hosts regular member events such as boat parties, hikes and barbecues, and it's a great place to meet new people.
All in all, it's got everything you need to breeze through the summer feeling happy, healthy and like the best version of yourself.
Monthly memberships are AED949. Single classes are priced AED125. @boxica.
Studio City, Dubai
PUNCH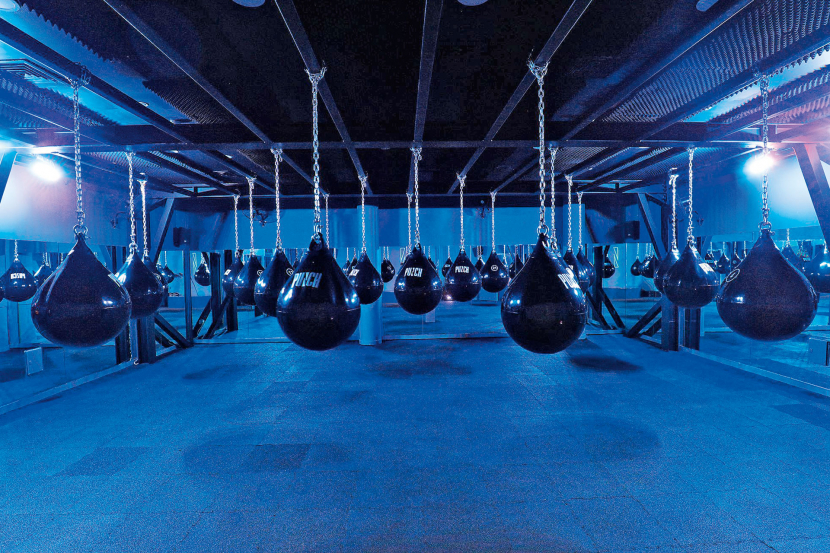 The dark and atmospheric ambiance of PUNCH invites you to lose yourself to the music and let out all your frustrations on the bag in front of you. With an instructor and screens to guide you through the routines, it's ideal for total boxing novices as well as super fit and experienced boxers. The PUNCH HIIT classes intersperse boxing with bodyweight moves such as burpees and squats, while the PUNCH Classic involves more in-depth technical work that is sure to improve your fitness and agility. Whichever session you choose, you'll be left feeling in the best possible mood.
2-for-1 first-timer packages are priced AED155. @punch.uae.
Zayed Sports City, Abu Dhabi
Walking
Let's Walk
If you prefer a good old-fashioned walk over group classes and slick gym equipment, the Let's Walk sessions at The Galleria Mall on Al Maryah Island are just the thing for you. Letting you stretch your legs around Abu Dhabi's most glamorous mall, all whilst making friends and meeting your daily step goals, the guided walks are the next best thing to a stroll out in the fresh air. Each entrant is automatically entered into a weekly prize draw, and best of all, every session is impletely free of charge.
Mon, Wed and Fri from 8.30am. Free. Register HERE.
The Galleria Mall, Abu Dhabi