The festival dream conjures up scenes of friends crowding to watch Coldplay give an award-worthy eco-performance, powered by 60 fans on bicycles, followed by a feast of vegan tacos and brownies, washed down with a glass of something cold and bubbly, before retiring into a shared yurt tent – made of felt, of course.
The reality is sipping tepid drinks out of single-use plastic, 250,000 plus people creating 106 tons of waste per day – the equivalent weight of a fully-loaded Boeing 757 aeroplane or Space Shuttle – 80 per cent of which goes to landfill, temporary toilets, the contents of which poison the earth, and hundreds of thousands of tents which can't be recycled.
From the Summer of Love in 1967 when 100,000 young people in kaftans and flares descended on San Francisco's Haight-Ashbury district for an impromptu festival to listen to hippie music and declare they were anti-war and pro free-love, these gatherings have evoked images of the ultimate eco sharing, caring idyll.
But far from being a conscious music-lovers' delight, the impact of tens of millions attending festivals such as Coachella and Glastonbury annually around the world, is inflicting maximum damage on our planet with the huge spike in energy consumption, waste, and emissions.
And while many festival organisers are genuinely making changes to mitigate their environmental impact – Glastonbury has planted over 10,000 native trees and hedge plants since 2000 to enhance the local environment – and the music industry is encouraging all aspects to make their productions more sustainable, some are simply focusing on the money; after all, the live music industry is said to be worth $31billion globally.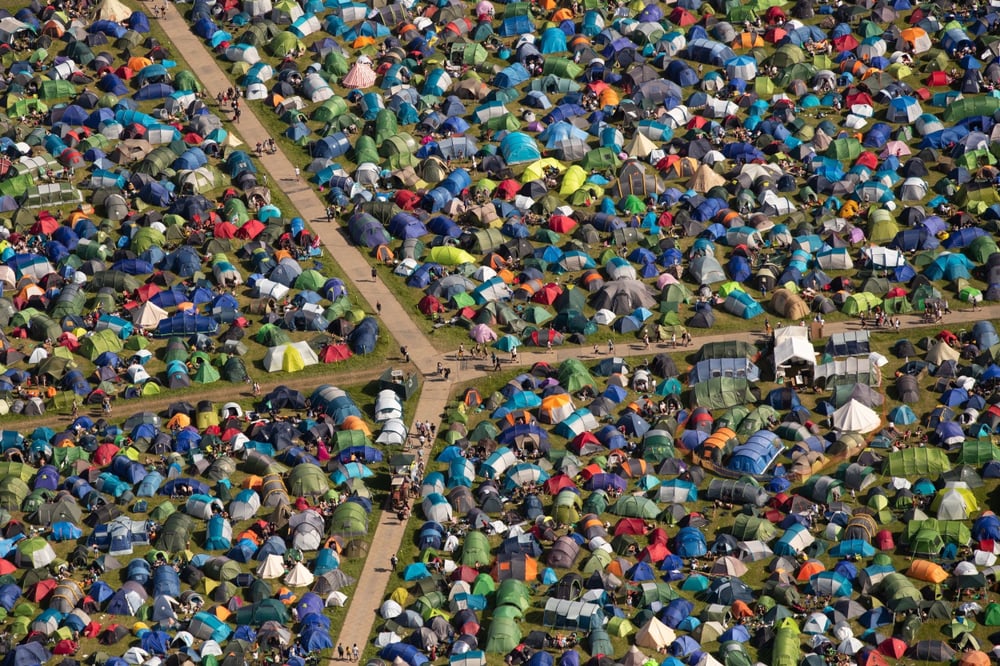 'Festivals need to focus on sustainability efforts that may not help their bottom line,' Dogan Gursoy, author or Festival and Event Tourism Impacts, told The Washington Post. 'They need to provide actual data on their environmental practices. The end goal should be zero carbon emissions, zero carbon footprint.
'Many companies are just greenwashing or paying lip service, only focusing on the activities that can help generate more revenue.'
After a break during the pandemic, there are now a staggering 241 festivals in the UK alone each year while tickets to the world's top festivals sell out at a premium as soon as they go on sale (have you ever tried to get a ticket to Glastonbury?!)
Festival Rubbish
Arctic Monkeys, Guns N' Roses and Elton John headlined Glastonbury last month where more than 210,000 attendees squeezed into 1.5 square miles of land in Pilton, Somerset.
Organisers banned single-use plastic, disposable vapes and started using compostable or reusable plates and cutlery, and went fossil-fuel-free this year, using renewable energy, and renewable fuels across the festival.
All generators, even those that power the Pyramid Stage ran on sustainable, renewable palm oil-free HVO fuel, made from waste cooking oil, helping to reduce lifecycle CO2e emissions by up to 90 percent. Arcadia's giant fire-breathing spider ran entirely off recycled biofuels.
A temporary new wind turbine in Williams Green provided clean sustainable power to some market stalls, while clean energy from the festival's own solar panels and anaerobic biogas plant, provided energy for the farm and festival offices.
'And since 2019 over 99 per cent of all tents and camping equipment has been taken home after the festival,' the Glastonbury website claimed.
But despite the five-day festival's 'love the Farm, leave no trace' policy, a mountain of rubbish, including plastic bags, food containers, cans and those pesky hard to recycle tents was left strewn across Worthy Farm.
Around 1,000 volunteers sifted through the waste to separate what could be composted, but only a third of that is expected to be materials that can be recycled and it still might not be enough.
Almost 50 years after music history was made at Woodstock, in Bethel, outside New York in the Catskill Mountains, where 400,000 music fans gathered in 1969, their legacy of rubbish has left an environmental scar that is still visible now.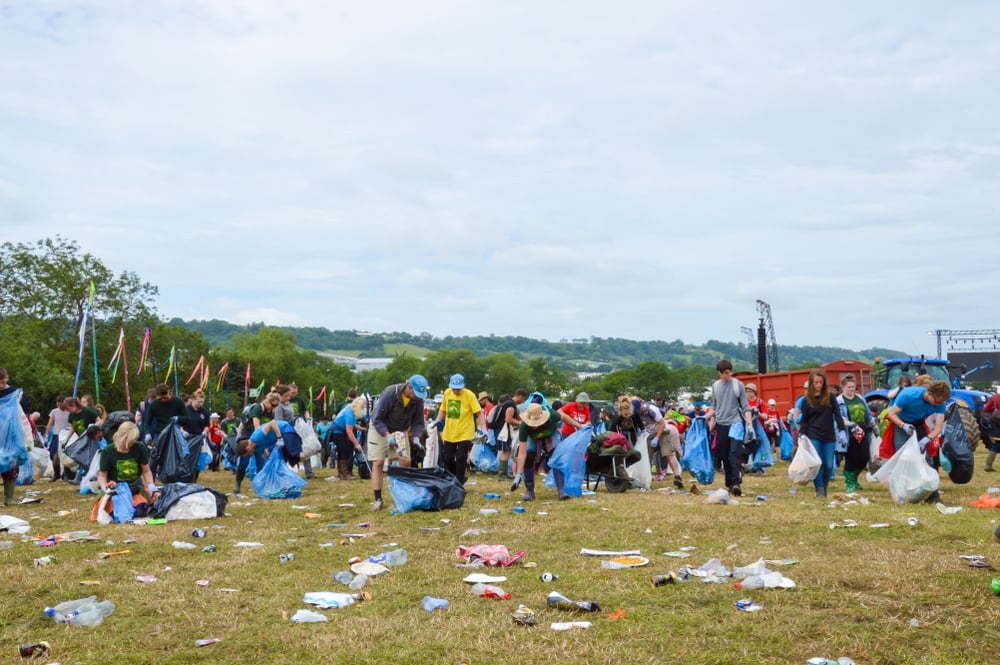 'After three days of rain and mud, many just walked off and left clothing, sleeping bags and other items,' says Maria O'Donovan, an archaeologist at Binghamton University in New York who has led an excavation project on the site. She found soil patterns typically expected from an industrial-scale removal using heavy equipment.
A modern problem that doesn't seem to be going away any time soon is the mountain of tents left behind at festivals – an incredible 44 per cent. Most of these end up in landfill as tents are complicated to recycle.
Toxic Toilets
Many festivals have chemical-based porter-loos which are taken away at the end of the event and carted off to landfills where the chemicals poison the land. If organisers install a long-drop toilet, the contents can be treated and then used in agriculture to grow crops.
Emissions
Travelling to the festival is the largest source of emissions from music festivals – a whopping 80 per cent of the total. Many organisers try to encourage using public transport but many locations are remote and only accessible by car. In November 2019 – just before the global outbreak of Covid – it was calculated that in the UK emissions from festival goers totalled 78,000 metric tons of CO2. That's the equivalent of a round-trip visit to the sun or for driving a car at 60mph non-stop for 354 years.
Desperate to try and make their festivals carbon neutral, many organisers now propose an additional carbon offset charge for visitors using cars. Some organisers give ticket buyers an opportunity to add an amount to their ticket price as a carbon offset charge.
Energy Consumption at Festivals
Most festival sites are off-grid so power has to be imported which means trucking in diesel-powered generators to provide electricity for sound systems, stage lights, vendor stores, and everything that needs power at the site. As most festivals go on for days, that entails running these gas guzzling generators non-stop for the entire time.
A shocking 380m litres of diesel is used to power UK festivals annually which releases 1.2m tonnes of carbon dioxide equivalent, the unit used to express the impact of each greenhouse gas in relation to CO2. That's the same level of emissions as the Malta, an entire island in Europe, releases per year and has the environmental impact of adding 220,000 more cars to the roads every day.
Research carried out by Oxford University showed UK festivals produce 84,000 tonnes of CO2 from the generators and trucks bringing scaffolding to build the stages, water, and toilets to and from the site.
Festival organisers are waking up to the problem with many, like Glastonbury,opting for biofuel generators, but the more environmentally-friendly options include wind and solar power but they are expensive to install and don't provide enough power.
The Power of the Bands
Musicians are increasingly aware of the negative impacts festivals have on our environment with bands like Coldplay refusing to tour until they found a green solution. Now they've added kenetic dance floors and energy-storing stationary bikes to their latest world tour so fans help power show jumping up and dance, dancing or cycling. The band have pledged to be as sustainable as possibly hoping to cut their C02 emissions by half. Each bike generates around 200 watts of energy, which is capured in batteries to run elements of the show.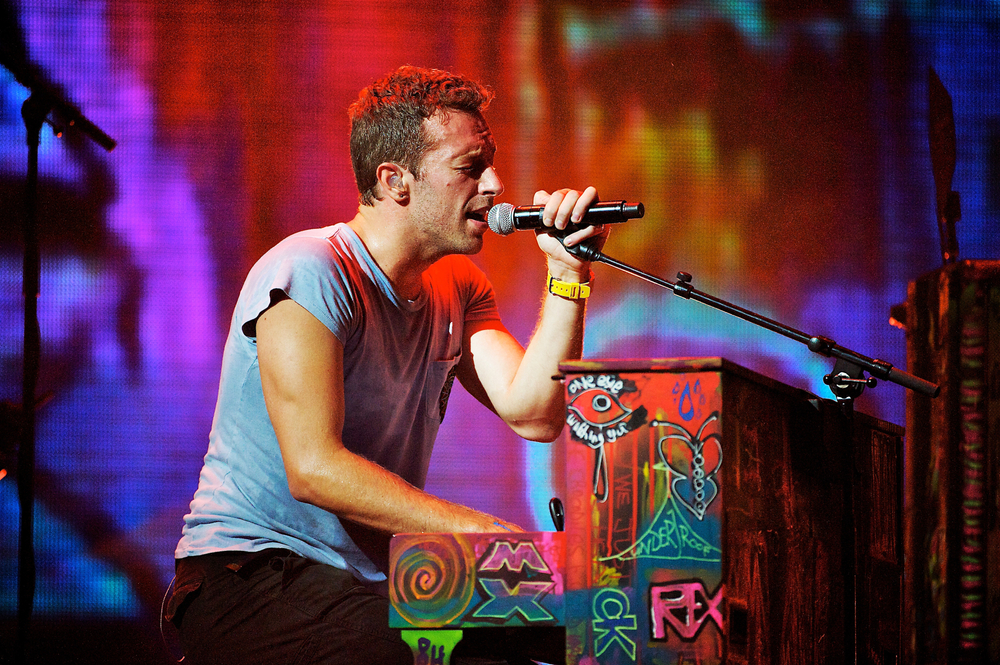 Coldplay also plans to minimise air travel, and opt for commercial flights over charter, and use trains and electric vehicles whenever possible. Trucks will use alternative fuels like hydrotreated vegetable oil.
'Being green is not a charitable sort of self-flagellating, holier-than-thou exercise. It's a good business model. That's what we'd like to show,' said Coldplay lead singer Chris Martin. 'We're trying to do this in a way that's quite pragmatic and businesslike so that we don't get written off as kind of left-wing nutcases. But it's quite centrist and practical.'
Other artists including Shawn Menes, Billie Eilish, Harry Styles, and The 1975 are all working to reduce their carbon footprint. Eilish has pledged to eliminate single-use water bottles from her tour and only serve vegetarian food backstage. Massive Attack is touring by train and Mendez is reducing his environmental impact and emissions by 50 per cent per show.
As well as eliminating plastic, he's using sustainable fabric in tour hoodies and T-shirts, staying at hotels committed to net zero emissions, and using sustainable aviation fuel. Their actions will no doubt influence and inspire fans.
'The relationship that musicians have with millions of their fans is unlike any other relationship of any other public figure. It can be a walking, talking example, says Adam Gardener, founder of Reverb, a nonprofit organisation that has 'greened' around 250 tours for acts like Eilish, Dave Matthews Band and Tame Impala.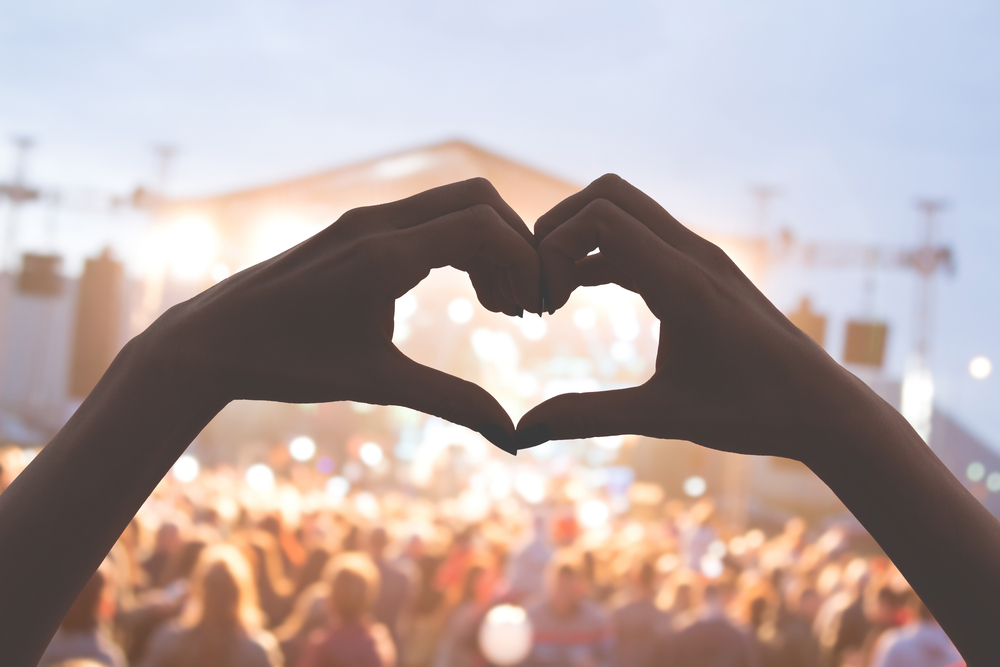 Its efforts include distributing ­reusable water bottles and setting up refill stations, recycling, establishing composting systems, and donating unused items such as toiletries and batteries. The goal is to eventually make all tours 'climate positive,' meaning events eliminate more greenhouse gas pollution than they create.
'Festivals are in a unique position because they're often building from scratch. And there's an opportunity to effect change by engaging all those fans,' he says.
Festivals are pledging to improve with Live Nation (the largest concert promoter in the world) eliminating all single-use plastics at its festivals meaning in the UK Leeds, Reading, Wireless, Latitude and Download festivals should be plastic-free.
But we can all do our bit whether we're heading to Coachella, Glastonbury or here in the UAE. That means eschewing plastic glitter (there's plenty of biodegradable options), glow sticks, taking our tents and rubbish home and only going to festivals who are doing their upmost to reduce their environmental impact.
That way we'll all enjoy a summer of eco love for years to come – and won't that be Groovy, Baby.