Summer is drawing to a close, and the winter months of pleasant weather are on the horizon.
Across the country, our favourite outdoor experiences are readying themselves to reopen their doors and welcome us back for another memorable season of fun and special memories.
From eco-friendly camping sites, to hiking trips and whitewater rafting, it's time to get ready for winter and rediscover some of the nation's most exciting outdoor experiences that are already open – or about to reopen – for business.
Al Ain Adventure, Jebel Hafeet, Al Ain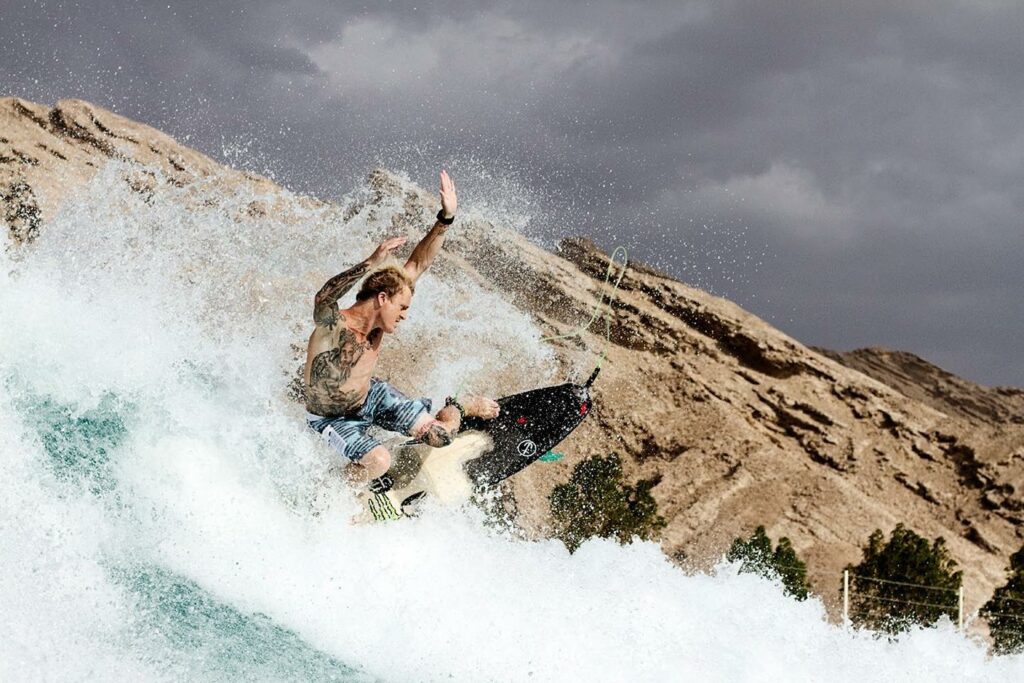 Located at the base of Al Ain's imposing Jebel Hafeet mountain, Al Ain Adventure is an all-year-round destination that offers a tonne of invigorating water-based activities. Providing fun options for kids and big kids of all abilities, you can scream yourself silly rafting or kayaking down the foaming, 1,100m-long whitewater channels, take on towering three metre waves at the surfing wall, or experience your first time on a surfboard under the care of expert instructors. As if that wasn't enough, there's also a floating obstacle course, a huge wave pool and pedal boats.
But don't worry, it's not all active and energetic. After all the excitement is over, you can always relax at the pool bar or unwind in one of the jacuzzis. Ladies' nights are held twice a month, and it even has its own outdoor adventure store. Reachable from Dubai and Abu Dhabi in under two hours, we suggest combining your visit with a stroll around Jebel Hafeet's impressive rocky slopes, or a visit to the lush, green and peaceful Al Ain Oasis.
Open all year round
@alainadventure.
Banan Beach, Al Marjan Island, Ras Al Khaimah
Refreshingly boho, rustic and delightfully unpolished, Ras Al Khaimah's Banan Beach campground is an invigorating breath of fresh air. Welcoming and unpretentious, it provides a welcome break from the UAE's flashy shopping malls and glamorous hotels. Offering simple yet comfortable tents and chalets, all handcrafted by founder Banan and his friends out of scaffolding, railroad sleepers, old blankets and unwanted furniture, it's a lovely example of how unwanted materials can be repurposed into something beautiful.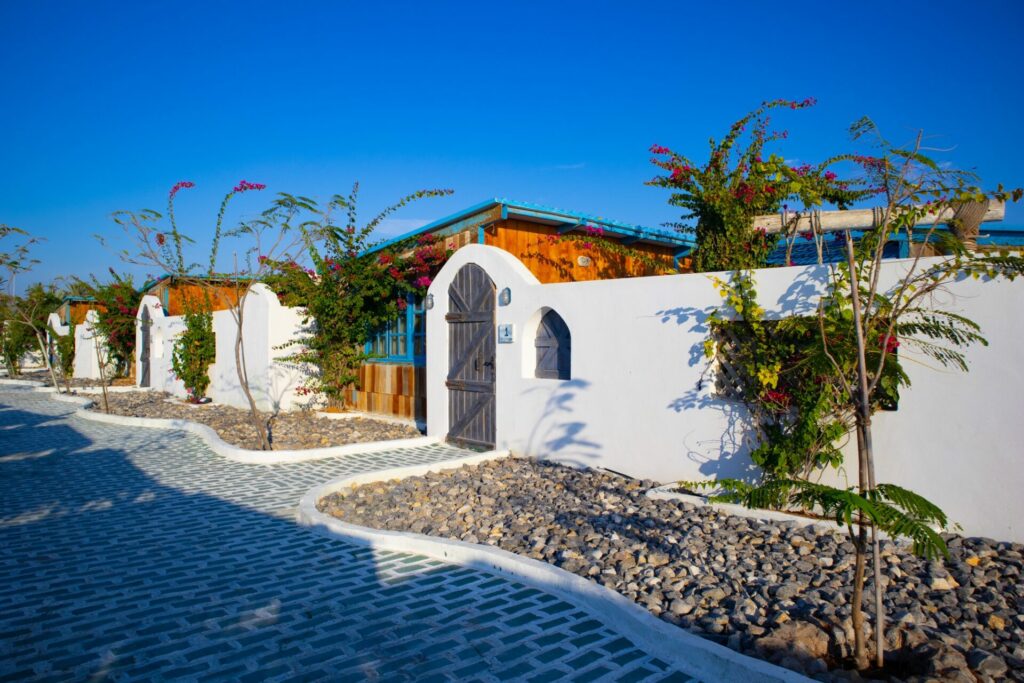 Set to reopen this weekend (October 6th), the eco-friendly campground is located on its own stretch of wild coastline, and every corner is decorated with striking street art, hammocks, bean bags and interesting artefacts. Completed with a mini library, a fashion boutique stocking local brands and adults and family pools, it's a masterclass in rustic chic.
The 'Loft' tents come with air conditioning and private bathrooms, plus garden areas complete with private jacuzzis and outdoor kitchens and elevated balconies that offer spectacular sunset views. Dogs are welcome, and the restaurant uses heaps of locally sourced ingredients. Inspired by the idyllic blue and white buildings of the Greek Islands, make sure you add this wonderfully laid-back hideaway to your winter bucket list.
Reopening October 6
@bananbeach.
ECC adventures, Across the UAE and beyond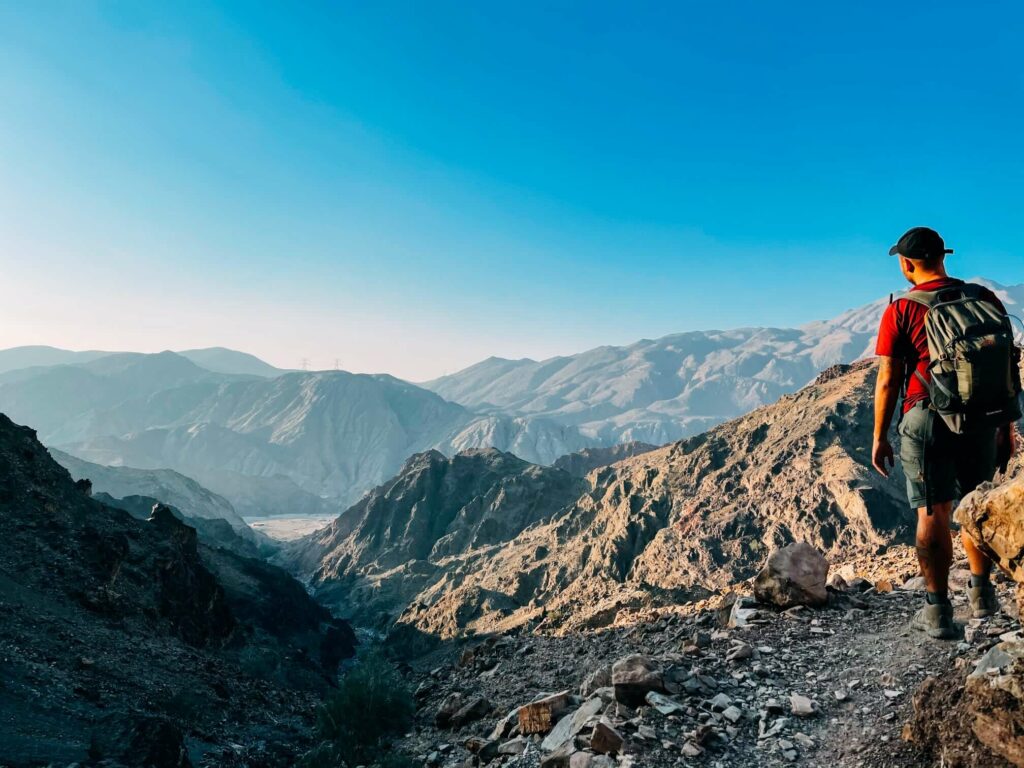 After taking a break during the hottest months, outdoor recreation company ECC Adventures is ready to hit the trails once again now winter is almost here. The organisation's regular weekly schedule of group guided hikes starts from the end of September, and there are routes and activities to suit all levels of fitness and experience. Inviting you to get out there and explore the jagged mountains, gorgeous milky blue pools and amazing geology of Fujairah and Ras Al Khaimah, and even all the way over to the canvenous wadis of Oman, hiking with this friendly bunch is always a pleasure.
A far more enjoyable way of working out than being stuck inside in the gym, you don't have to worry about planning the route or getting lost and all the logistics are arranged by the team. Very sensibly, all the trips begin early or at sunset to avoid the heat of the day.
Hikes resumed from September 16
@eccadventuresuae.
Hatta Wadi Hub and Hatta Resorts Hatta, Dubai
Just a 90-minute drive from Dubai, Hatta is the ultimate hotspot for weekend adventures and outdoor pursuits. Now, after closing for the season in May, the wild, green and naturally stunning area's vast array of adrenaline-fuelled activities and chic glamping accommodation options are about to reopen for business. While Hatta Wadi Hub's ziplines, axe throwing, archery, zorbing and 'slip 'n' slid' experiences are ideal for those who want to get their heart rates pumping, the rental bikes and clearly marked hiking routes provide an invigorating way of exploring the surrounding landscape.
Surrounded by towering-jagged mountains, remote farms and fascinating wildlife, Hatta is an ultra-relaxing place for a nature-infused staycation. The cozy lodges provide a luxurious way of going back to basics with Wi-Fi, AC and private balconies, while the retro trailers, spacious caravans and plush domes come with BBQs and fire pits. Conveniently close to the water sports and amazing blue waters of Hatta Dam, this unique and exciting destination remains the ultimate place to be this winter.
Open from September 15
@visit.hatta.
PURA Eco Retreat, Jubail Island, Abu Dhabi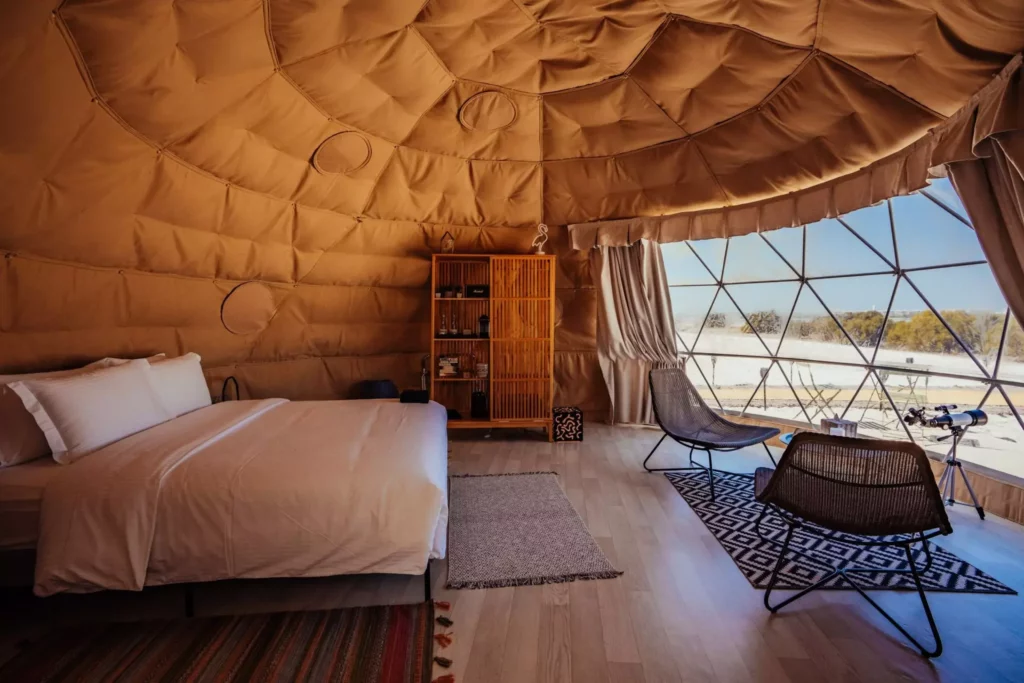 The UAE's pretty glamping spots aren't just limited to the Northern Emirates. Located within the lush, protected mangrove forests of Jubail Island, located just minutes from Saadiyat Island and 15 minutes from the Abu Dhabi Corniche, PURA Eco Retreat is a calm, tranquil and exceptionally special place. Designed to have minimal impact on the surrounding environment, it's an eco-friendly wilderness escape infused with a subtly luxurious touch.
Each state-of-the-art dome tent comes with an ensuite bathroom, king-sized bed, private firepit and stunning views out over the surrounding blue waters and dense greenery. Adults-only, immensely private and totally car-free, guests are invited to enjoy the freedom of leaving their car at the entrance ,and cycling or walking around instead. Offering kayaking, biking and beach yoga, plus a healthy restaurant and a super-cool beach bar decked out with upcycled tables and chairs, it's the kind of place you never want to leave.
Reopened late September
@staypura.
Ripe Market, Academy Park, Dubai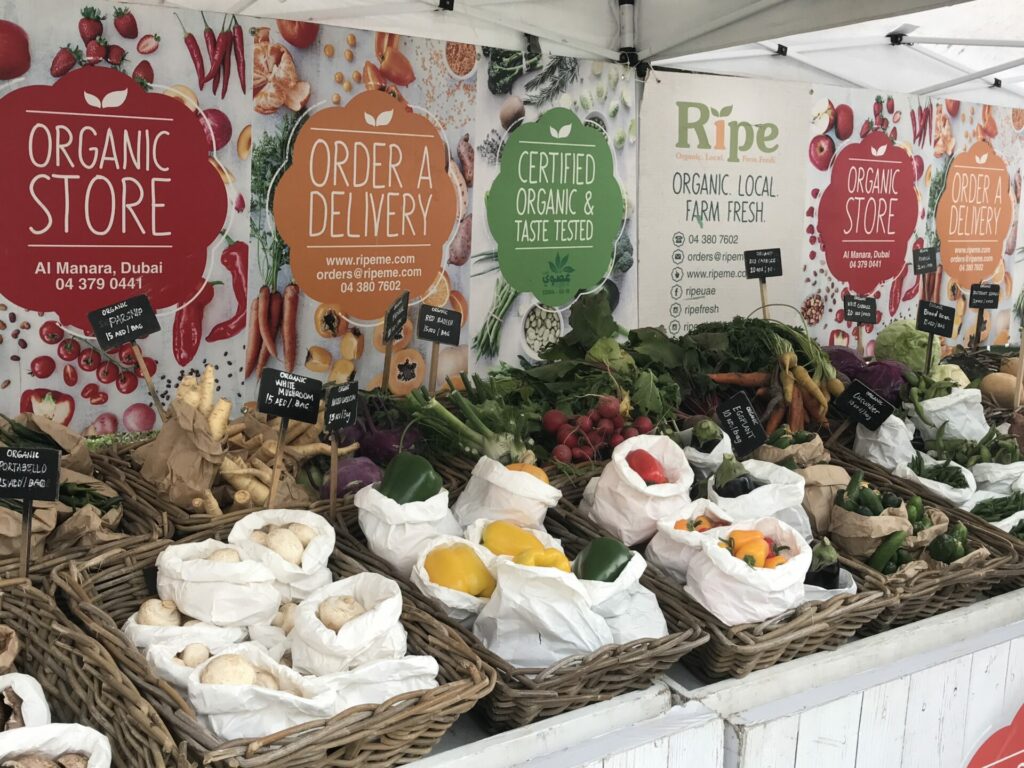 The UAE's most popular weekend market is back in October, and we can barely contain our excitement. Coming back with a bang, the Academy Park edition is bigger and better than ever before. Alongside the usual, ultra-tempting array of organic produce, healthy snacks, pre-loved clothes and gorgeous homegrown fashion, homeware and beauty brands, this season's Ripe Market features a special wellness series, monthly mum and baby mornings and other interesting new editions.
Providing the perfect opportunity to shop local and support small businesses, it's also a great day out for all the family. There's crafts and games for little ones such as baking, face painting, tote-bag decorating and pop-up cinemas, and even horse riding and petting zoos for the animal lovers. Yogis will adore the free yoga classes, while the live music adds to the upbeat vibe. Keep an eye on the Instagram page for updates on the return of the other Dubai and Abu Dhabi locations.
From October 14 onwards, Sat 9am to 9pm and Sun 9am to 7pm.
@ripemarket
Yas Waterworld, Yas Island, Abu Dhabi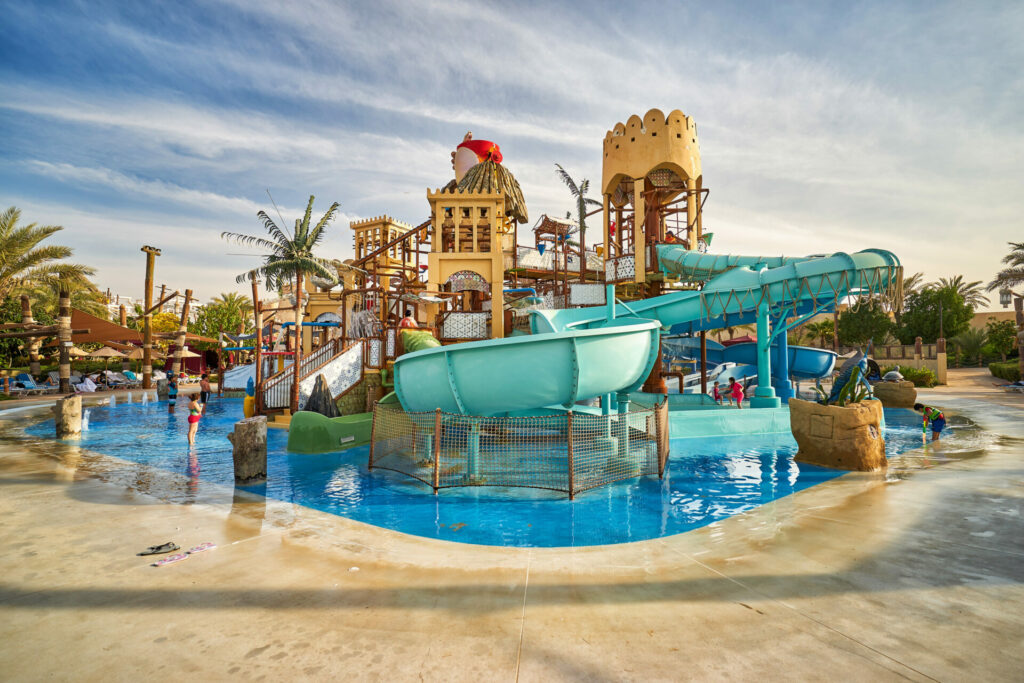 As we wait for the cool winter weather to set in, Yas Waterworld provides the ideal place to beat the heat during the remaining warmer months. After all, there are few things in life more exciting than a day at a water park, and Yas Waterworld lets you relive your childhood holiday memories over 40 fun and thrilling slides, rides and attractions. While the rather terrifying Liwa Loop will provide some of the tensest moments of your life, every member of the family will love plunging through the giant snakes on the 'Slither Sliders' ride, conquering the Bandit Bomber roller coaster, and playing in the enormous wave pool.
Toddlers are free to explore their own infant pool and slide complex, and there's even an immersive 5D cinema (expect to get wet even in here) and a pearl diving experience. Add in bodyboarding and surfing the world's largest surfing sheet wave, and you have an adventurous and exciting day out to remember forever.
Open daily
@yaswaterworldyasisland.