Augmented reality (AR) is an immersive technology that blends the physical and digital worlds by overlaying digital information over a real environment, and it's already seeping into our lives by transforming the way we shop.
Attitudes toward AR in the retail industry are shifting. It was common for people to believe it was designed for the gaming industry and too expensive to implement in the world of fashion, but the COVID-19 pandemic fast tracked what would otherwise have been a long and possibly arduous process. Faced with shop closures globally, retailers were forced to adopt new technologies that provided customers with digitised experiences, increasing demand for the technology and driving down the price.
Retailers, e-commerce players and fashion designers are now experimenting with AR in unique ways; holding digital runway shows and allowing customers to try on clothes and accessories in a virtual world before making an online purchase.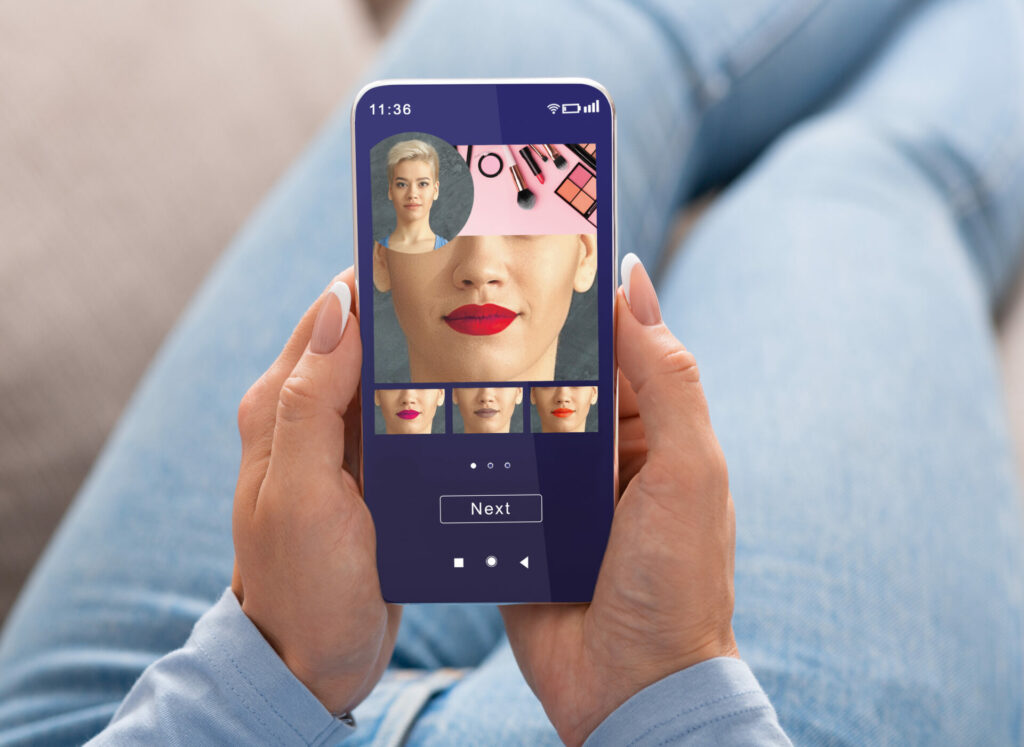 But this shift towards AR is not just helping the customer, it's good news for the planet too. The fashion industry is a leading global polluter with studies from the Yale Center for Business and the Environment revealing that the retail sector surpasses the Oil & Gas and Automotive industries by producing more than 50 per cent of industrial carbon emissions. No wonder when you take into account that in the US alone, people discard up to 11.3 million tons of textile waste – equating to over 2,000 pieces of clothing every second.
If AR can reduce the amount of clothing reaching people's closest by allowing them to try on at home first, we could see a significant decrease in textile waste. Such a move would be welcomed by members of Gen Z who say they would pay up to 15 per cent more for ethically manufactured products and environmentally friendly fashion.
So, with players in the retail scene trying to be more sustainable to reach the emerging customer market how can AR play a role in making fashion more ethical?
Is AR the future of retail?
AR and other immersive technologies, such as virtual reality (VR), are currently entering the retail scene at a record pace. With increased availability and money flooding into technologies comes increasingly accurate digital representation of products. According to PR service provider, Deloitte, these new, high spec technologies are used for three standard shopping experiences; trying on clothing, trying out items such as furniture and vehicles, and interacting with gaming consoles and electronics.
Using a camera and an AR technology devices, customers can overlay clothing items onto their bodies and brands such as Nike are already using this type of tech to help customers visualise products in real-life scenarios. It's hoped this will cut down on unnecessary purchases and reduce returns.
Jumping onto the trend, clothing retailer Gap developed an AR app – DressingRoom – that creates a customer's approximate digital model. Shoppers choose from one of five body types and enter their height and weight to guide the AR technology. Once the model is developed, customers can digitally outfit themselves without ever stepping foot in a brick-and-mortar store.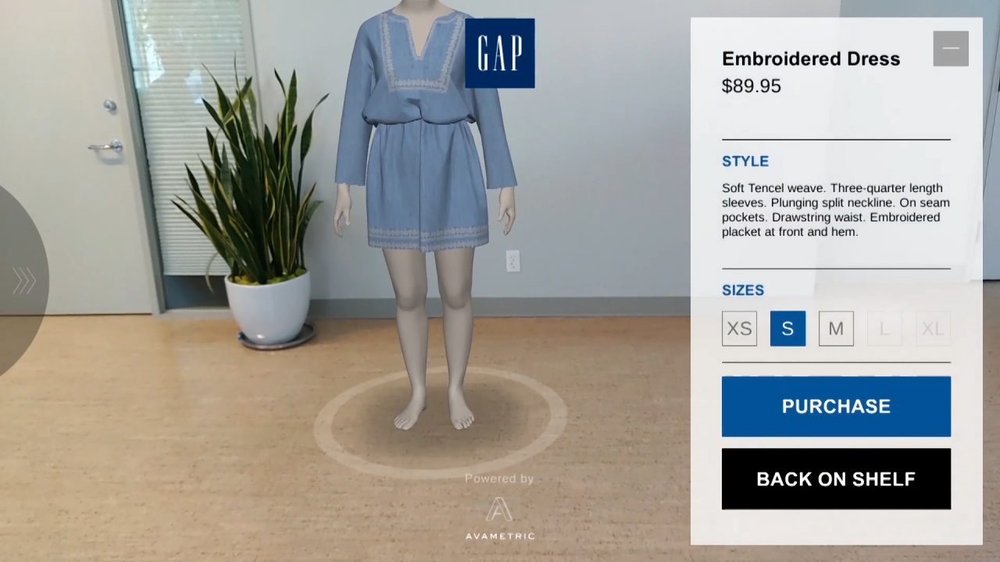 In 2022, the U.S. Statista Global Consumer Survey found that 26 per cent of respondents when asked: 'Which kind of items have you sent back after an online purchase in the last 12 months?' answered 'clothing.' With the e-commerce boom, it's expected that return rates will continue to rise, but AR tech may help to counteract this trend.
These new shopping experiences are fun and high-tech, but the issue of waste in the retail industry is still present and ever pressing. So can AR significantly reduce the retail industry's carbon footprint? Evidence suggests the answer is, yes.
From samples to runways
Because retail companies must take time to design their clothing, there's no tried and tested way around creating samples yet. However, it is possible to supplement real-life samples with digital versions. Major retailer Target recently used AR for sampling, and reported that the brand reduced physical samples by as much as 65 per cent thanks to digital design technologies.
The trend has also hit the runways. In 2021, Summa Fashion College in the Netherlands leveraged AR to host their Summa Fashion Collection that was led by students and overseen by designer Marlou Breuls, who has worked with names including SIA and Björk. Their sustainable event was watched from far and wide with no planes, trains or cars used to attend.
They are not alone. During the global pandemic, at Milan Fashion Week Giorgio Armani's Women's Fall Winter 2020-2021 show was forced to be live streamed last minute from an empty theatre. While it wasn't entirely run on AR like the Marlou Breuls show, with more forward planning the show could easily have been viewed by virtual attendees using AR.
Challenges With Using AR for Sustainability
A few challenges that the industry may face in light of these changes, include the high cost of AR implementation and a lack of technical know-how to integrate AR into retail operations.
A 2019 report from WBR Insights found that, in a survey of 100 retail executives, 52 per cent of respondents said they were unprepared for the next wave of tech, including artificial intelligence (AI), chatbots, and AR. Some of the biggest challenges, according to these respondents, in adopting these technologies, were a lack of internal resources, budget, and a lack of buy-in from executives.
Another potential challenge is that retailers may hesitate to adopt AR because it could turn away older consumers. While research shows 92 per cent of Gen Z wants AR to exist in their shopping experiences, what does that mean for other generations that may lack technical skills to engage with AR?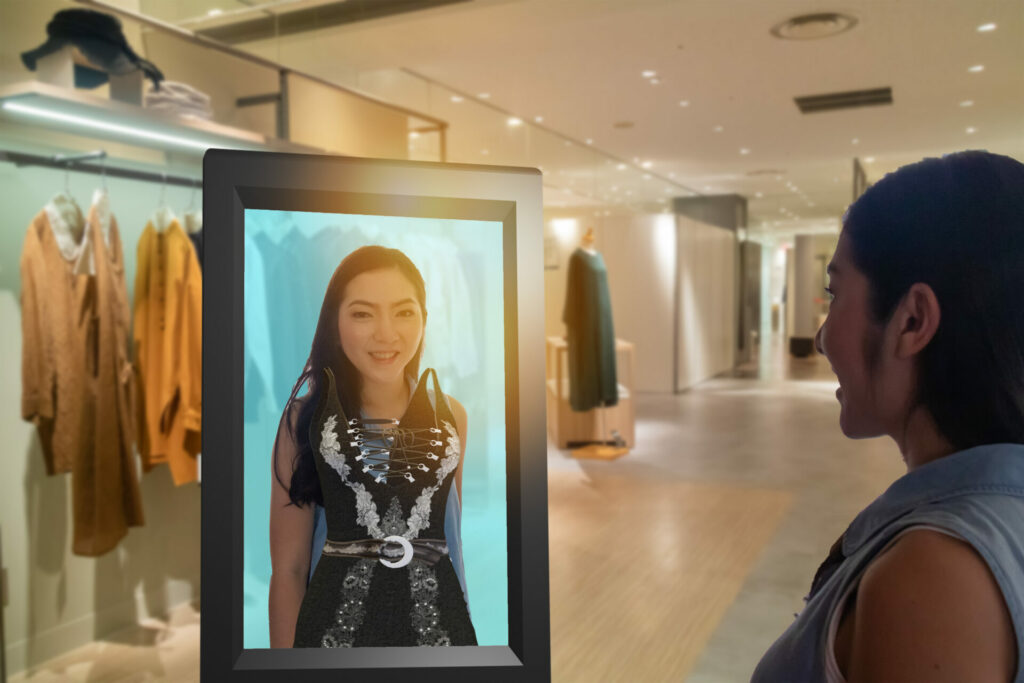 Finally, is it possible that AR headsets may contribute to more waste or pollution? Some seem to think so. One AR startup, DigiLens, plans on using plastic for its future consumer devices. We're already discarding almost 360 million tons of plastic annually, so it's questionable whether or not AR will positively or negatively impact the environment.
Based on consumer trends, it's likely AR will become more prevalent in the retail and fashion industries and it's possible that the adoption of AR may help make the industry more sustainable, but only time will tell.