A troop of squirrel monkeys feverishly snack on caterpillar larvae above our heads while the rattling call of a ringed kingfisher diverts our gaze towards the inky creek, stained the colour of black tea by natural tannins released by decaying vegetation.
It's one of hundreds that thread through Yasuní National Park: a megadiverse swathe of tropical lowland forest roughly the size of Bahamas, lying at the intersection of the Ecuadorian Amazon, the Andes and the Equator.
Pronounced 'yah-soo-NEE', it's the single largest protected area on mainland Ecuador. Boasting off-the-charts biodiversity, there are said to be more species of fauna and flora in one hectare of Yasuní than the entire European continent.
Yasuní has been an indigenous community long before it earned national park status in 1979. Named after the industrious leafcutter ant ­– known for their collective intelligence and cooperation ­– the Kichwa-speaking Añangu people continue to protect more than 82 square miles of the park's rainforest.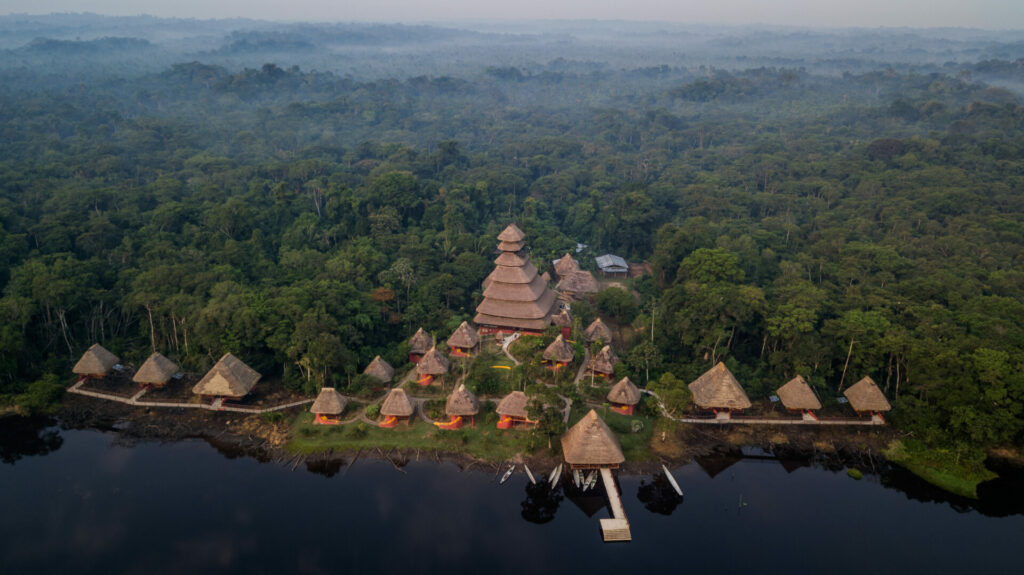 Much like the black creek we've been navigating by dugout canoe for the last hour-and-a-half, they wholly own Napo Wildlife Centre – the only lodge located within the National Park's boundaries. Its' 20 upscale thatched-roofed cabins skirt the shores of a surreally still, cloud-reflecting lagoon where four species of caiman (alligators' smaller and less-aggressive cousins) lurk.
Guardians of the Forest
After clambering onto Napo's inconspicuous pier, I refresh with a freshly-squeezed guanabana juice from the centre's 130ft tiered tower, where you can admire the Andes Mountains on a clear day, Fredi Yumbo tells me. He's one of the experiential eco lodge's native-guides-slash-guardians of the forest.
Later that afternoon, Fred sharpens his superhuman senses on a canoe adventure, one of the many guided group excursions that include rainforest trail walks, a visit to parrot clay licks and nocturnal nature hikes.
As tangerine-coloured butterflies dance around the dugout, Fred imitates the bark of a woolly monkey (one of 12 monkey species that call Yasuní home), simultaneously spying a cormorant-like anhinga bird emerging like a snake from the water.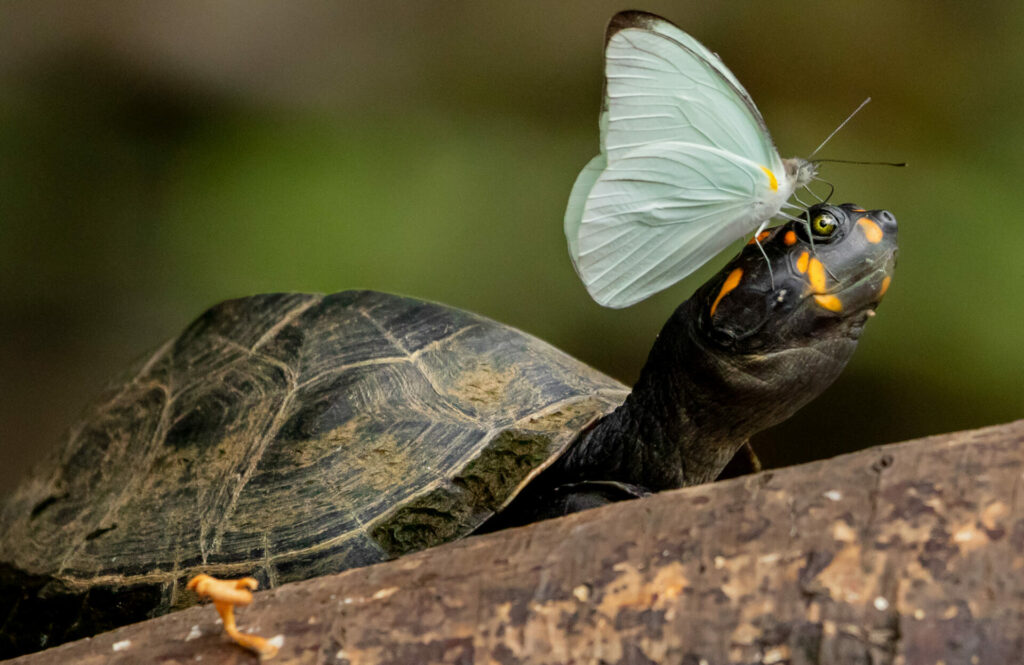 A natural opening into the canopy, Yasuní's mysterious waterways lure our group of four deeper into the jungle, where we encounter Napo's resident raft of critically-endangered giant river otters, a species driven dangerously close toextinction by the pelt trade until it was made illegal in the 1970s. Powered by rudder-like tails, we watch in awe as these 'Olympians of the Amazonian Rivers' fish for piranha, periodically periscoping their chests to reveal the unique white throat markings that they use to identify one another.
Chasing the last few hours of daylight, we change up our perspective by scaling Napo's 120ft-high observation tower, reached via one of the 16 trails that snake through the forest. This leafy eyrie brings guests eye-to-eye with some of Yasuní's 600 species of birds, like the many–banded aracari, which flashes its bumble-bee-style vivid yellow and black banded breast for us.
Back at the lodge, I'm revived with an evening meal of Ecuadorian cazuela (a mouth-watering seafood stew) and ceviche, before retreating to my lake-facing cabin, complete with hammock-strung terrace where I'm serenaded by 'bopping' tree frogs! Most luxurious are Napo's eight shore-skimming jacuzzi suites, vaunting a glass-bottomed panoramic lounge to continue your immersion in nature.
Parrot Clay Licks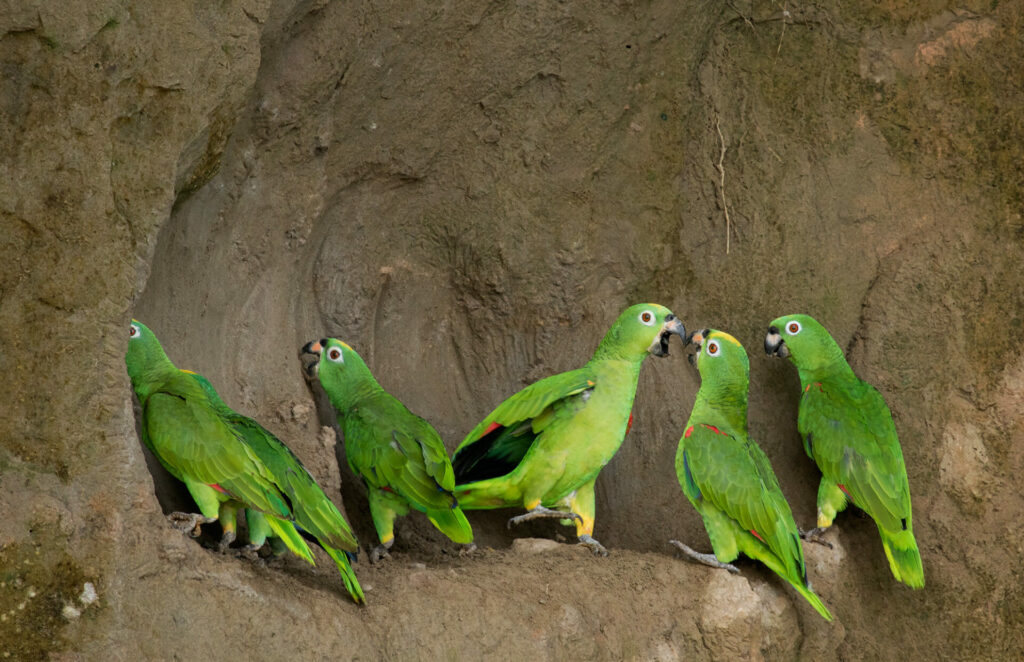 The next morning promises plenty of avian and acoustic drama as I join a crack-of-dawn, canoe-bound excursion to two of Yasuní's celebrated clay licks. Colourful parrots descend in their thousands to these vast natural mineral deposits to lick the cleansing clay which neutralises their toxin-laden fruit and nut diet.
After a half-hour gambol through the forest, we watch the theatricalspectacle from the comforts of a covered observation deck. Scarlet macaws, cobalt-winged parakeets and orange-cheeked parrots gradually descend from the treetops to a ground-level lick for a feeding frenzy. Act Two unfolds on the banks of the Napo River (one of the Ecuadorian Amazon's largest tributaries), where a lick is painted fifty shades of green with dusky-headed parakeets and mealy amazon parrots, whose deafening cries drown out any attempt at a conversation.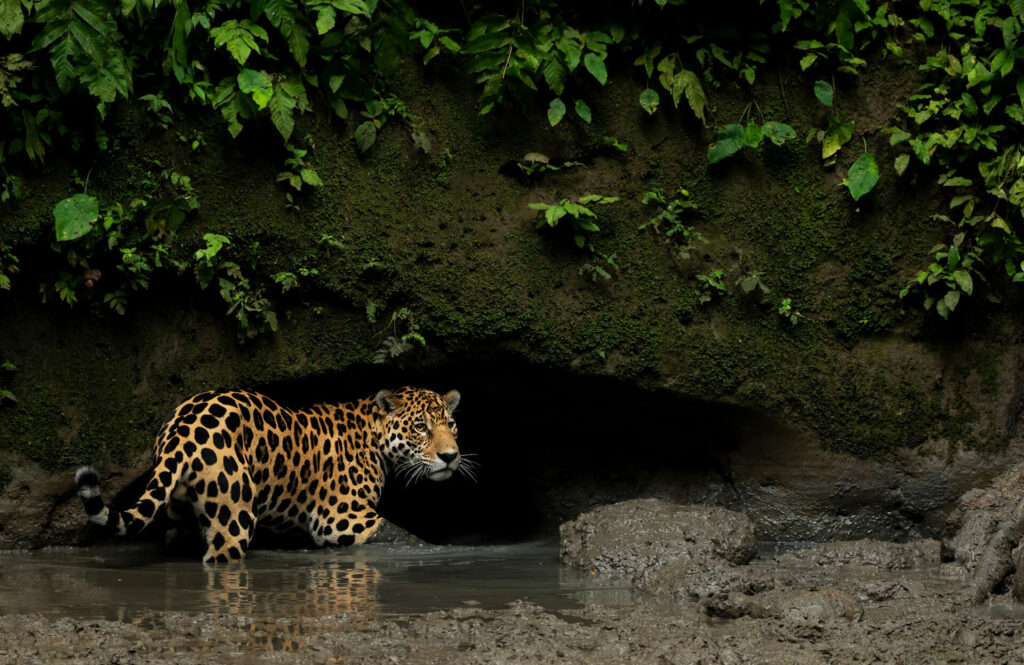 Ten minutes downstream nestles Napo Lodge's more rustic sister: The Napo Cultural Centre. Early pioneers in eco-tourism and conservation in this region, together they have safeguarded their ancestral land from the oil drilling, illegal logging and gold mining that has devastated parts of the Ecuadorian Amazon.Also indigenous-owned and managed, a stay or visit to carbon-negative Napo Cultural Centre promises more interaction with the community, since its 16 corner-cabins are integrated into the Añangu Kichwa village.
Ecuadorian Amazon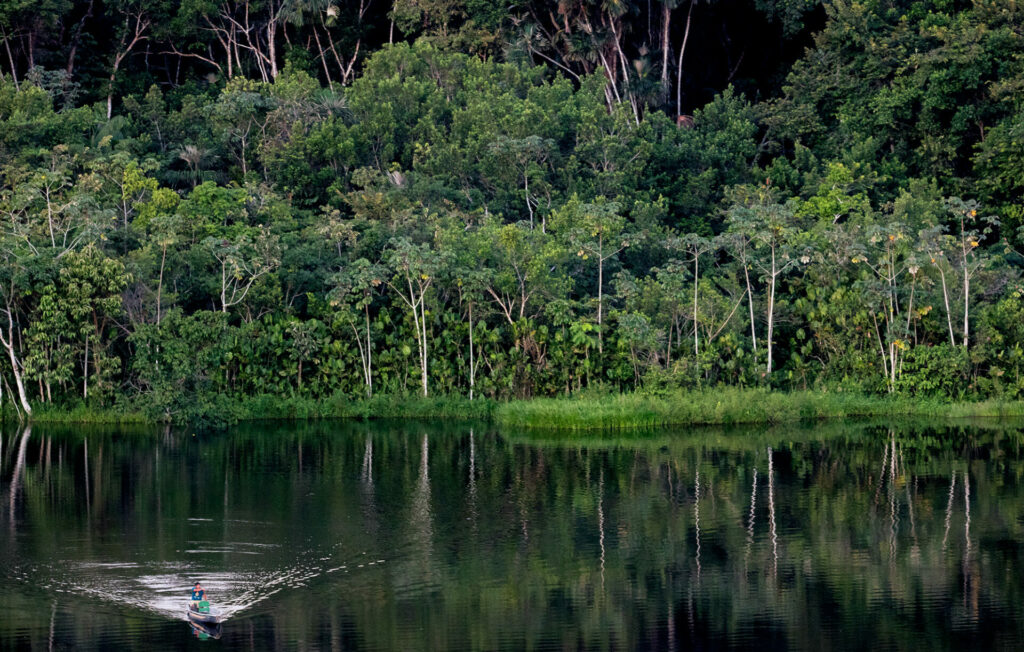 Our arrival coincides with a spirited Sunday football match; a surreal site to watch play out in the middle of a rainforest. The proceeds from guest stays are reinvested into community projects such as the school and health centre explains María Yumbo, one of the centre's ten-strong, all-women team.
That afternoon, I partake in a cultural ceremony, which gives guests a rare glimpse into the Añanga's extraordinary 500-year-old culture. Hosted inside a traditional thatched circular dwelling, the mamakunas (elder women of the community) play ancestral music around an open central fire that's symbolically propped up on rocks representing family and harmony.
The local brew isguayasu: a herbal tea made with the leaves of a sacred tree, which I slurp out of an Amazonian hollowed-out seed. 'Guayasu tea is like jungle red bull,' guide Venancio Shiguango exclaims, adding 'it gives good positive energy.' The same could be said for Yasuní; a place you have to not only see, but feel to believe…
The Details: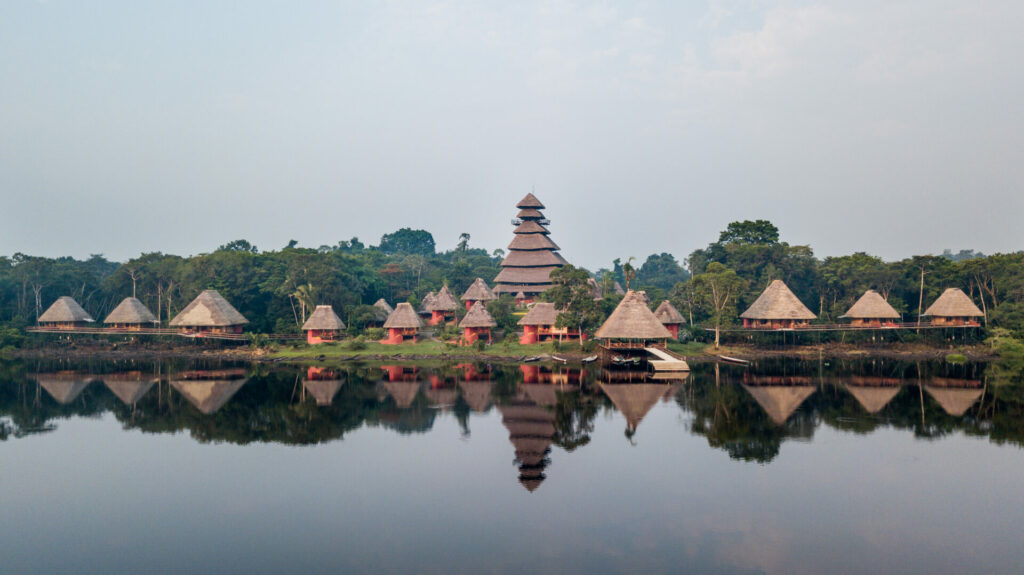 How to get here: As part of your stay, Napo Wildlife Lodge or Metropolitan Touring can arrange transport here. It involves a 40-minute flight from Ecuador's capital of Quito to Coca, aka the gateway to the Ecuadorian amazon Amazon, followed by a three-hour motorised longboat journey up the Napo River and a 90-minute dugout canoe ride to Napo Wildlife Centre.
Eco credentials: Despite its remote setting, partially-solar-powered Napo Wildlife Lodge uses a state-of-the-art wetland wastewater treatment system. A biodigester turns organic kitchen waste into gas for cooking, while sustainably-harvested hardwoods were used in its construction.
Best time to visit for wildlife spotting: April to November.
Yasuni's impressive inventory of species: Referred to as 'an ecological bull's-eye,' 650 tree species, 400 fish species, 4,000 different plant species, nine different species of toucan, and some 100,000 different insect species (per hectare), all call Yasuní home.
A 7-day stay starts from 16,280 AED all inclusive from Dubai and from £3,100 from the UK including both international and domestic flights.
All photographs: Lucas Bustamante
To read more sustainable travel features on The Ethicalist visit our Life section