Michelin Star Chef Peeter Pihel has a highly accoladed background. Having led the kitchen of Pädaste Manor – awarded best restaurant in Estonia four years in a row – Peeter took his skills on to Fäviken Magasinet – a restaurant that was placed in The World's 50 Best Restaurants in 2012, and named as one of the top ten restaurants in the world in 2013.
Peeter is now back to his roots in Estonia where he founded Fotografiska Tallinn, a restaurant within an international photography museum with a sustainable leaf-to-root philosophy, committed to providing good food according to the seasons, and with zero waste. What little is left becomes compost overnight, which circulates back into the fields and allotments around the museum.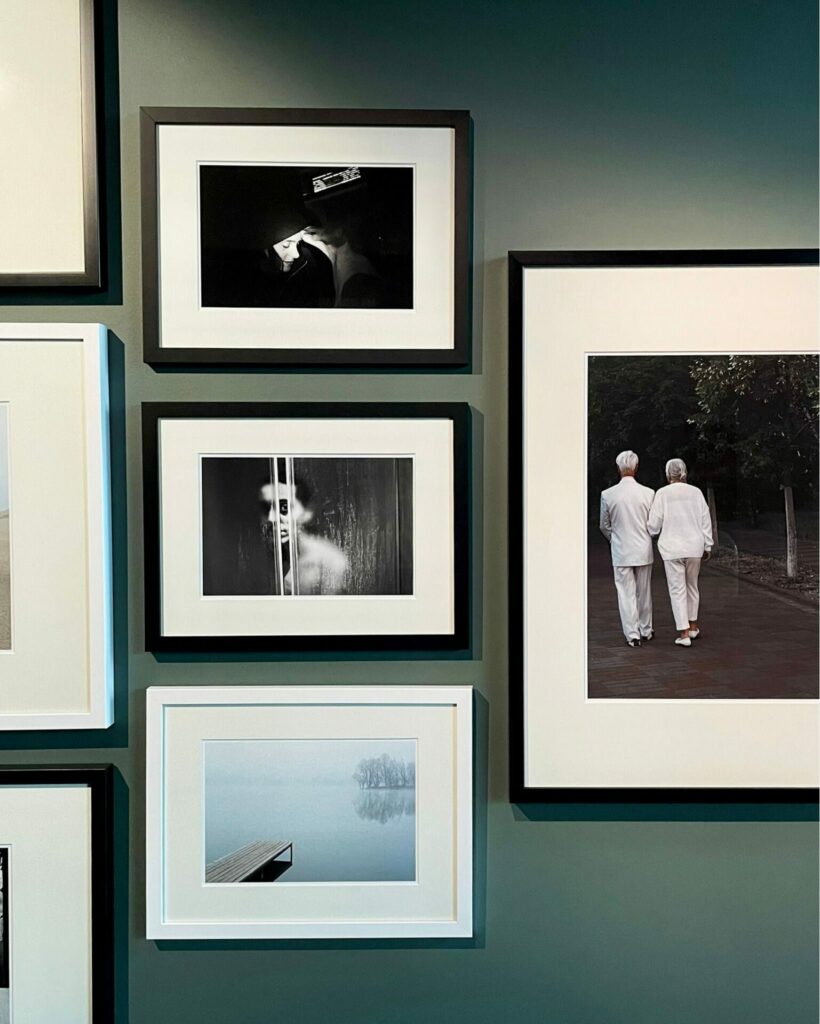 'Good, sustainable food not only delights people it also delights our planet', says Chef Peeter Pihel.
The Ethicalist took the time to ask Peeter on the sidelines of Gulf Food Festival in Dubai to share some of his personal anecdotes and recipes for success.
TE: Your food motto is…. 
Peeter Pihel: Follow your own concept and intuition. Create your own 'rulebook', follow it well and be passionate about what you do.
TE: What ingredient would you take to a desert island?
PP: An onion. It's such an underrated ingredient. Once you start peeling back the layers, it's always a pleasant surprise how much flavor a humble onion has.
TE: If you could invite anyone round for dinner, living or deceased, who would it be and what would you cook?  
PP: If I could have such an opportunity, I'd like to have dinner with any of the world-famous TV chefs, the stars who we see on screens of reality TV cookery shows. I'd like to ask them if they realise quite how much damage they are doing by creating an image of the profession that isn't realistic? These self-indulgent chefs leave a really bad impression about what we as real chefs do and what values we have in our everyday kitchens.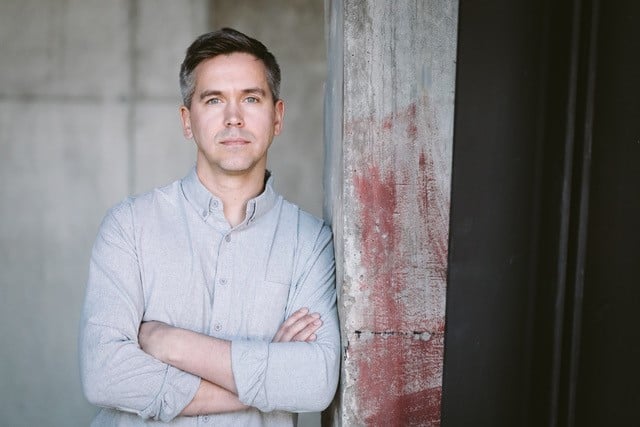 TE: What do you like eating at home? 
PP:Anything that my partner cooks! Yes, sometimes I struggle to watch her cook as her methods can be.. a little unusual.. and not something I'd practice in my restaurant. But cooking is a journey and an experience so I let her do her thing and just enjoy the process.
TE: What is your signature dish? 
PP: Compost baked onions and I'm happy to share this recipe with you (please see below).
TE: How did sustainability enter your food journey?
PP: When I was little, my family lived in the countryside with not much readily available in shops. We had to be smart with our food and waste as little as possible since we mostly lived off the land. So I think it comes from there. It's a very Estonian way of life to make the most of your produce. Cooking sparingly and not wastefully is the only way I know how to cook.
TE: Who is your food hero? 
PP: School cooks! For so many kids around the world, school lunch is the main meal of the day. I'm always in awe how they make simple but tasty lunches, usually on a small budget also.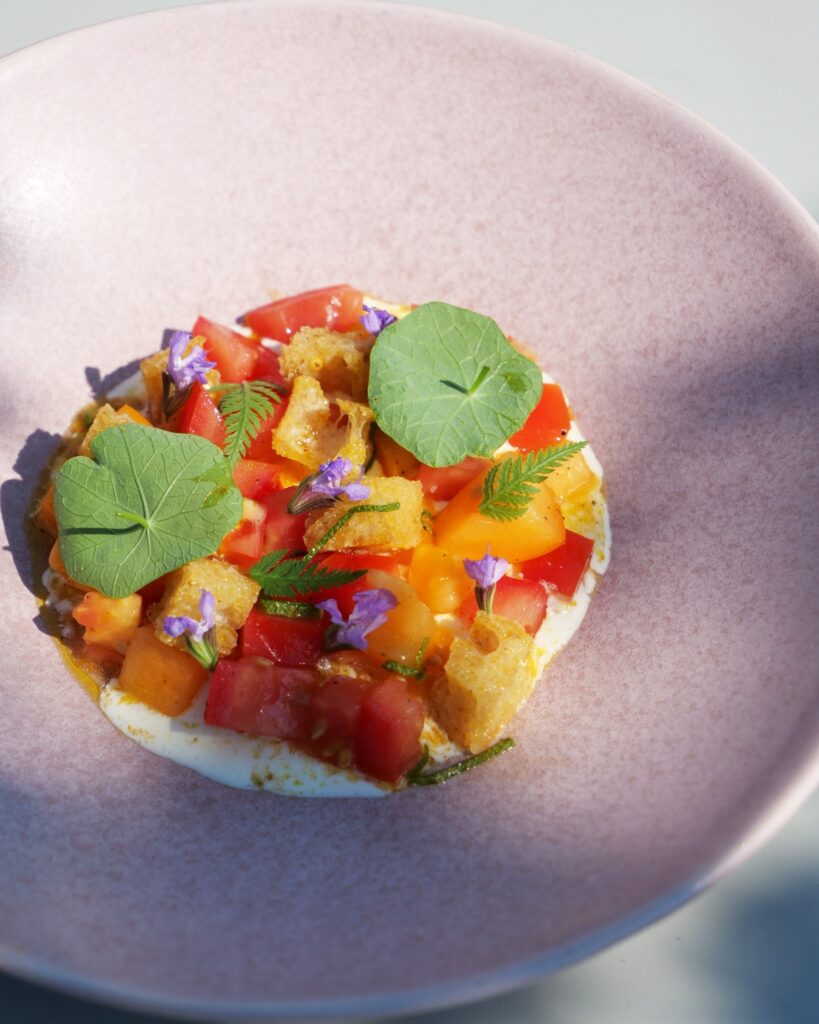 TE: What are you most proud of in your career? 
PP: I'm proud that I have managed to maintain a happy home and a healthy relationship with my family regardless of my profession. Being a chef is not easy – constant pressure, intense workload, long hours. I'm really grateful to my family and friends who support me and who have my back. It's not possible to run a successful restaurant without this kind of support. Somehow it became a norm that chefs work ridiculous hours and I'm a strong advocate for change in this regard.
TE: How did you get the green Michelin star and what are the sacrifices you had to make? 
PP: I can honestly say that we didn't make any sacrifices to achieve this recognition. We cook uncomplicated food, use traditional methods and pure local Estonian ingredients as much as we can. We thought, if it happens (the nomination), that's great! If not, we'll review our processes and try again next year. It was extremely important for me to stay true to myself and not force anything. I'm sure that Estonia will receive more Michelin Green Stars very soon since so many restaurants practice sustainable cooking and our Nordic food is simple but delicious.  
TE: What is the most popular dish at your restaurant?
PP:To be honest, veggies are most popular! Although we do offer meat, most customers come to us to try creative vegetable dishes and that truly is our bread and butter. By the looks of it, we might be focusing on vegan and vegetarian menus in the future if this is what the customers wants.
TE: Are you vegan?
PP:No, I'm not but I applaud the chefs around the world who don't see vegetables as just garnish or side dishes. Vegetarian and vegan options have become a norm and that's a big step forward. However, these days, whenever I do eat meat or fish, I like to know where the produce came from.  
TE: What are your plans for the future? 
PP: Something I've been looking forward to for a very long time has finally come true! Our restaurant has it's own veggie patch so spring/summer sees me getting my green thumbs on. I already envision Fotografiska staff there all together in summer, working in the garden, planting, harvesting, making compost etc… I think I'd be a gardener if I wasn't a chef. Growing something from scratch is so rewarding, I absolutely love it!
Peeter Pihel's Compost Baked Onions With Vegan Cheese- Fermented Celeriac Sauce and Crispy Black Garlic Rye Bread
Peeter Pihel: This dish has been on our menu from day one and this is it's third edition. It reflects Estonian cuisine and uses the ingredients that come from our pure nature and soil.'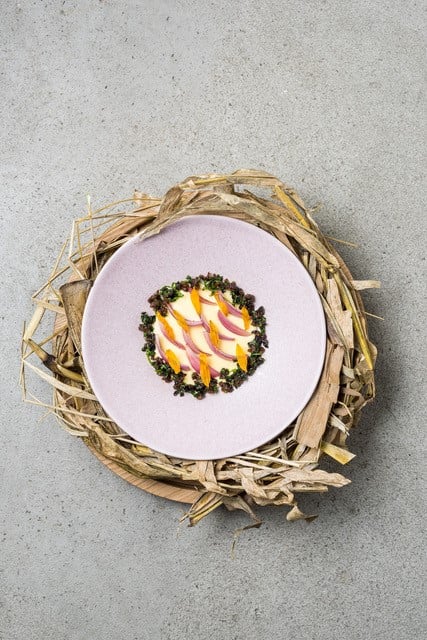 4 servings
Compost Baked Onions
Good amount of compost and coarse sea-salt
4 big onions
Burnt juniper vinegar
Olive oil
Handful of sea salt for seasoning
Use a good amount of fresh compost and a little sea salt for seasoning, or cover the onions with
coarse sea salt. Make sure that the onions are nicely covered and cook in the oven for about 4hours at 150 degrees. Before serving, brush away compost/sea salt and cut onion into 6 quarters. Season
onions with burnt juniper vinegar, salt and cold pressed olive oil.
Vegan cheese and fermented celeriac sauce
90g vegan cheese
70g oat milk
90g fermented celeriac
50g olive oil
50g fermentation liquid from celeriac
20g of boiled potato
Peel potato and boil. Add all other ingredients to Thermomix and heat up the mixture to 80 degrees.
Press through a fine sieve and season with salt.
Crispy rye bread with black garlic
Couple of slices of stale bread
1tsb black garlic powder
1tbsp olive oil
Crush the stale bread in Thermomix. Season breadcrumbs with black garlic powder and mix with
olive oil. Before serving add green onion to bread mix.
Serving
Add cheese and celeriac sauce on the bottom of the plate. Then add compost baked onion
quarters. After that, add crispy bread mix and for the last touch, add some pickled Jerusalem
artichoke petals to onions.