Women in Pakistan, just as in other parts of the world, are taking to the streets today in an Aurat March – Women's March – to demand the feminisation of climate justice.
They are specifically calling on the state to listen to women's voices and provide equal representation in addressing climate injustices and the climate crisis.
The Islamabad chapter of the march is particularly highlighting the plight of women affected by the record-breaking floods that hit Pakistan in June 2022, leaving almost 33 million people impacted – that's one in seven in the country.
Devastating Floods
Tragically, 1,700 people were killed, 7.9 million were displaced, and livelihoods were destroyed after 1.2 million livestock died in the floods caused by climate change. Record temperatures melted glaciers in the Himalayas and Hindu Kush region and baked the ground meaning it was almost impossible to absorb the two months of continuous rain and flash floods.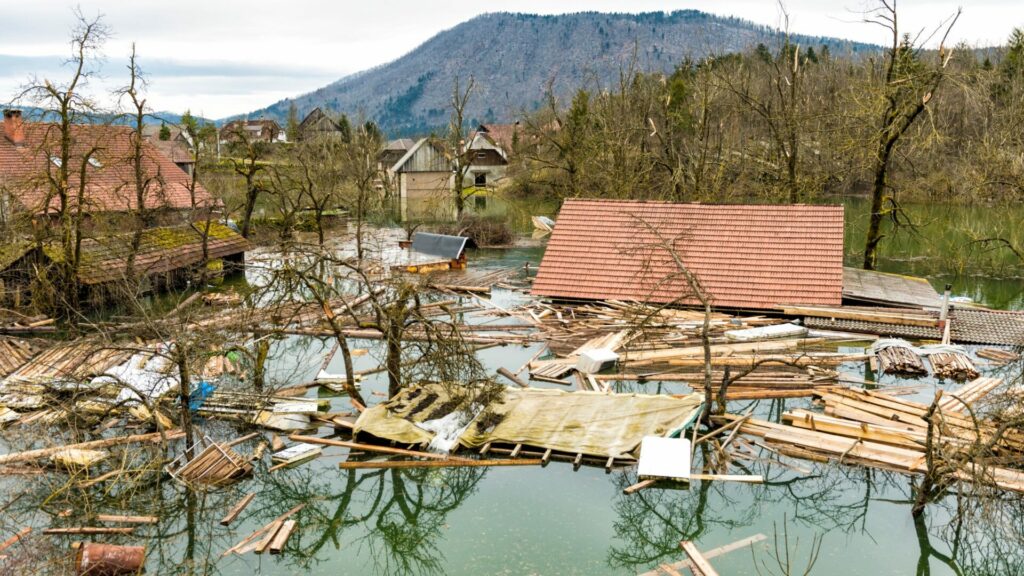 Women in rural and suburban areas, who are often the poorest and most vulnerable members of society, have been particularly affected by the floods, which have intensified the burden of patriarchy, capitalism, feudalism, and religious fundamentalism while exacerbating climate change.
Farzana Bari, a human rights activist, academic, and organizer of the Aurat March Islamabad chapter, said that in Pakistan, the impact of natural disasters on women increases due to their already weak social status in society.
Climate Justice
'We have noted that cases of sexual harassment, violence, and kidnapping against women have increased in the aftermath of the floods,' Farzana said. 'There were almost 6,500 pregnant women among the flood victims who did not have access to reproductive health facilities. Even sanitary pads were not included in the relief supplies for women. No one thought that they were important. We need to think of relief services through the gender lens.'
Women have taken part in the International Women's Day Aurat March since it began in Karachi in 2018. It has since expanded to several other cities including Lahore, Islamabad, Multan, Hyderabad, and Sukkur.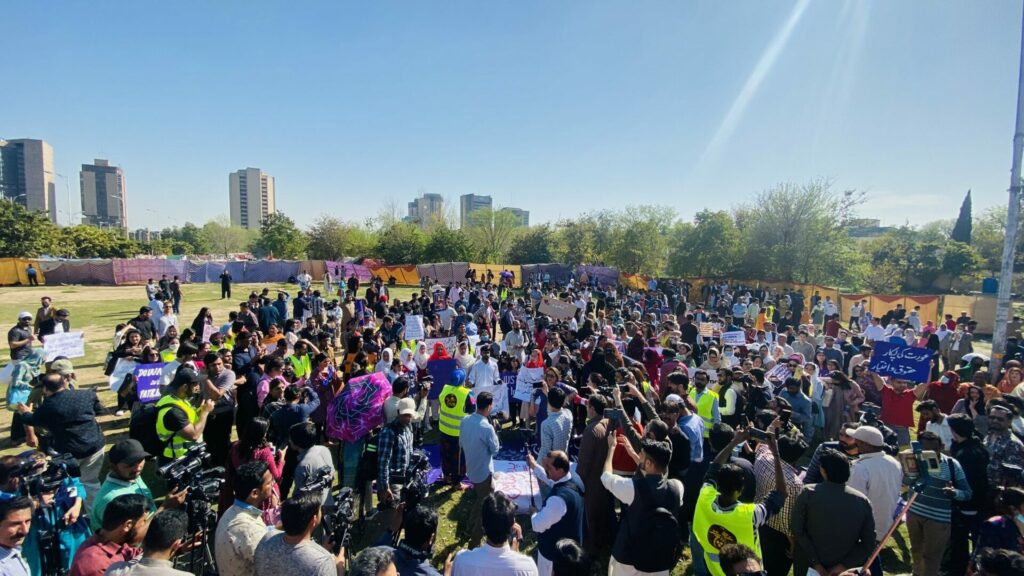 The march is organized under the anonymous banner of HumAuratien (We Women) – an independent collective of feminist women, gender and sexual minorities who stand against patriarchal structures that perpetuate sexual, economic, and structural exploitation of women. The march has given the country's women's rights movement a new momentum and a focus on equal rights when it comes to climate justice.
The women refuse outside funding for the event and carry out a host of activities before the march to finance it. This year, to promote the theme of the feminisation of climate justice, the organisers released a digital poster depicting a woman balancing all of her responsibilities amid the floods, without a roof over her head.
In her hands, she holds a broom and a ladle, representing her household chores, as well as tools and grains, showing the physical labour she has to do to make ends meet, while also being a mother.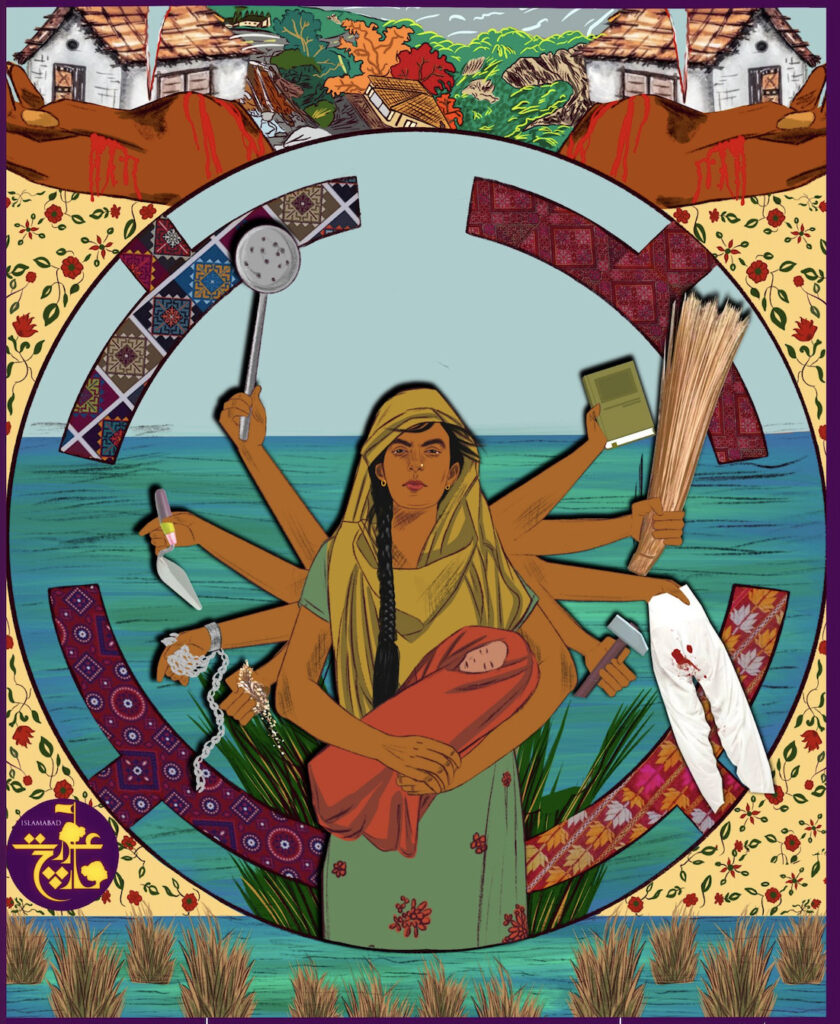 Another image shows her gripping a white shalwar stained with blood, representing the intense period poverty women suffer.
The women marchers are calling for immediate and sustainable action to address climate change. They are also demanding that the government abolish the luxury tax on sanitary pads as well as to provide access to reproductive health facilities for pregnant women affected by floods.
In Lahore, the Aurat March women are demanding sustained and transparent relief to be provided to communities vulnerable to climate disasters. They are also advocating for long-term support for climate resilience and preventive measures. They have specifically demanded immediate measures to improve dangerous levels of pollution that disproportionately impact the working classes. They are also advocating for climate-induced migration and internal displacement be recognized as a public emergency.
'Displaced communities, such as those impacted by the 2022 flooding, must be provided shelter as a fundamental right as guaranteed by the constitution of the country,'their charter of demands reads. It also asks that policies addressing climate change account for and actively involve indigenous communities, such as farming and fishing communities, who are disproportionately impacted.
A representative of Aurat March Lahore stated that climate change and efforts to combat it need to be viewed through a feminist lens. Instead of considering them as one-time crises, both the crisis and climate justice should be viewed in a more structured manner.
'Feminism views everything from the perspective of the most marginalized,' she said. 'Women are the most affected by climate change. Policymakers should focus on women while developing policies to address climate change.'
She further suggested that the government should establish climate disaster-resilient committees at the grassroots level with a feminist perspective.
Farzana said that they have met with the federal minister of climate change to present their demands and plan to take them to provincial governments as well.
Header image credit: Muhammad Salman Twitter
To read more stories like this about people making a difference head to our CHANGE section