Have you ever looked in your bulging wardrobe and thought, 'I have nothing to wear!'
Opened the doors and peered into a closet full to the brim of clothes, accessories, and shoes and despite the abundance still thought, 'I need to go shopping for a new ensemble.'
What if we told you, this is how many people feel. You are not alone.
So how can we gain a fresh perspective without the desire to hit the mall? How do we become more conscious about our clothes? And how do we shop our closet…without throwing anything out?
Faced with a problem, there's always a solution. So, we are going to let you in on some wardrobe refreshing secrets that will have you falling in love with your wardrobe all over again.
You can maximise the potential of your existing wardrobe by gaining a new outlook and discovering hidden gems. Read on to find out how:
If You Can't See it, You Won't Wear it
This is a fact; your wardrobe has mystery corners that seem to hide half of what you own. Try to shift around items in your wardrobe as much as you can. Be it a seasonal shift or every couple of months, move trousers to the back for example and skirts to the front. That way, items you haven't seen in a while or have subsequently forgotten about, will have their turn. Find different ways to see what you own.
Upcycle
Do you have a tailoring pile? That is a pile of clothes that need mending with the help of a needle and thread, or if sewing isn't your forte, a tailor. If you don't, start one now. Have you recently bought a dress that's shorter than you normally would buy? Then turn it into a top so it can still be worn with shorts and skirts. Upcycling is a fantastic means to shed some new light on existing clothes. Perhaps you're tired of a pair of denim jeans – why not turn them into shorts? Perhaps, the maxi-dress you bought for a wedding a few years ago, isn't practical to wear on the school-run. Why not turn it into a midi-dress and get the hem turned up? The possibilities are endless with an ounce of creativity. Its fun and your upcycled clothes will spark joy all over again.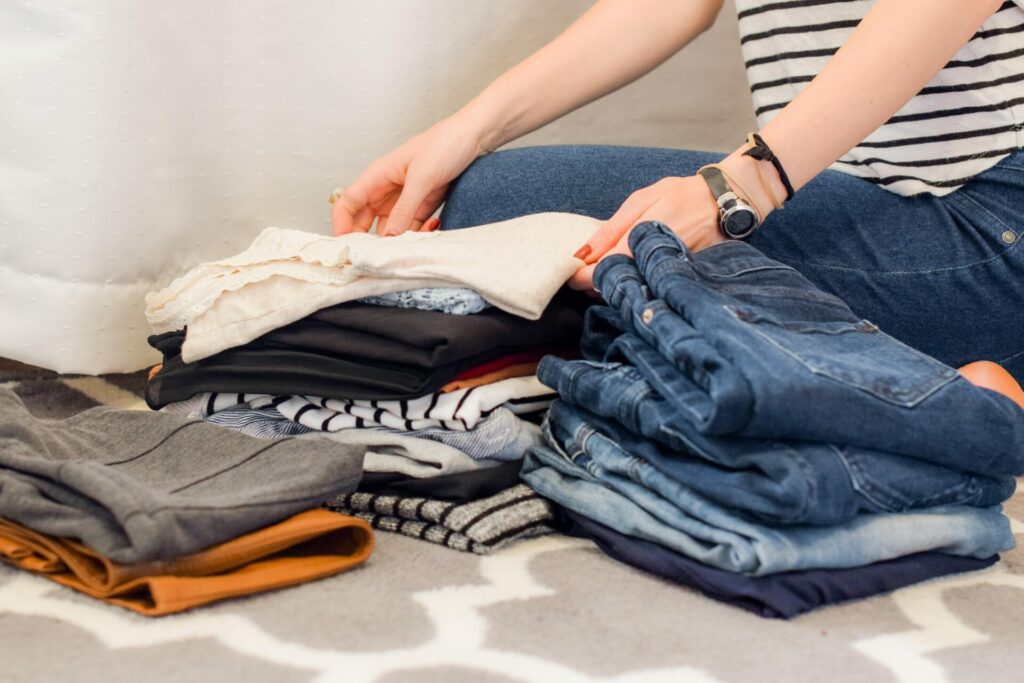 Call on Your Fashionable Friends
Sometimes we need our 'fashionable' friends to the rescue and sometimes we need an objective eye to help re-discover hidden gems and new outfit ideas. Invite some friends over to take a look at your wardrobe and in turn host a fun stylish session. Remember, staying in is still the new going out! Get them to go through your wardrobe and come up with different outfit options. You'll be inspired and surprised with your new ensembles and ideas.
Wear Your Sunday Best
This is one rule to live by. Do not keep your 'Sunday Best' just for Sundays. In other words, wear your 'fancy' clothes – don't just keep them for that 'event' that may never happen. That pretty dress you bought for a brunch or a night out that you haven't had the chance to wear yet, why not team it with a pair of white trainers for a cool but casual look? The silk blouse you bought for 'good wear,' why not wear it to work or team it with a pair of ripped jeans? Re-imagining items in a new light, will give them a new life.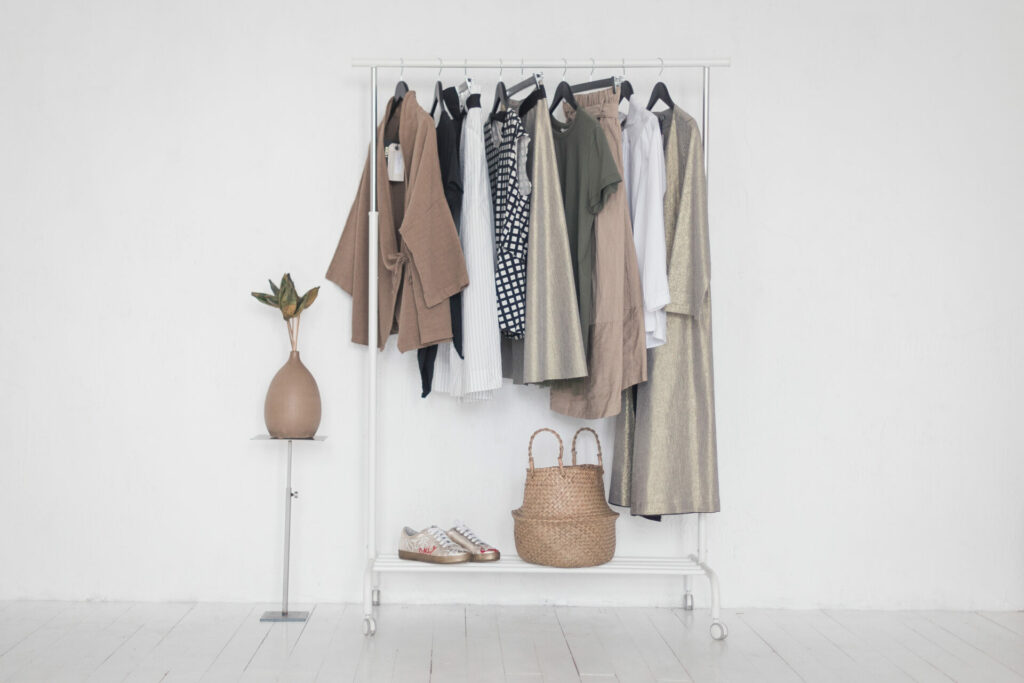 Set Up a Working Rail
Another functional and practical hack to enjoy and which makes shopping your wardrobe a fun challenge is; a working rail. A working rail means a rail where your weekly outfits are all styled and put together making the morning rush more feasible and less stressful instead of running around wondering what to wear to work that day. Try it out, it's a life-saviour all your weekly outfits will be organized in one place, and you will know what to wear each day. Set up a 'working' clothes rail in your bedroom or spare room and 'shop' your wardrobe before the start of each week, curating outfits that you may not usually put together. Challenge yourself for example by incorporating a particular colour into each outfit.
"The most sustainable garment is the one already in your wardrobe"
– Orsola de Castro