Travel has opened up the world to fascinating cultures, people and destinations. It has positively contributed to the economies of many countries while creating employment and incomes for local communities. However, tourism also has a lot to answer for. From the means of travel and accommodation booked, to the the meals and drinks consumed, souvenirs purchased and experiences chosen, there's a carbon footprint associated with every seemingly small choice. The industry is still far from being climate positive.
The trillion dollar tourism industry is today responsible for roughly 8 per cent of the world's carbon emissions and that's predicted to double by 2050, the year scientists have pinned as the tipping point for a host of environmental disasters.
Every year, a growing number of tourism dependent destinations including Madagascar and Thailand, are negatively impacted by climate change, in the form of rising sea levels, drought, wildfires, deforestation and biodiversity loss.
Concerned about diminishing natural resources, climate change and increasing social inequalities, several hundred companies have made pledges to do good and signed the Glasgow Declaration in 2021, but the gap between pledges and rigorous, accountable and transparent action remains vast.
However there is some good news, namely that global temperatures on earth will start to stabilise when global carbon emissions reach net zero or better – Climate Positive.
Conscious travellers with a radar for greenwashing are now voting with their wallets, and stricter regulations and incentives from governments, banks and insurance companies are encouraging – and also forcing – the much-needed change in behaviour.
The following hotel properties are leading the way and championing a Climate Positive future while still providing unforgettable experiences. They are taking responsibility for their total impacts on communities and the environment, and prioritizing the reduction of their Scope 1, 2 and 3 carbon emissions before offsetting.
Soneva, Maldives & Thailand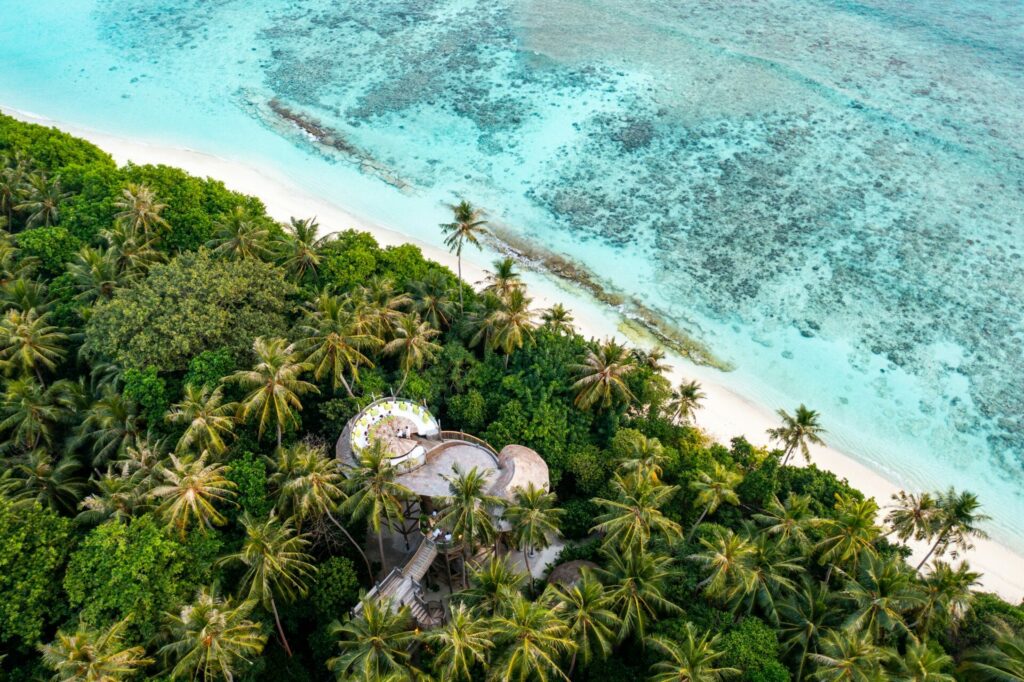 Sonu Shivdasani and Eva Malmström founded Soneva – which includes Soneva Jani and Soneva Fushi in the Maldives and Soneva Kiri in Thailand – in 1995 and pioneered inspiring sustainable luxury experiences that co-exist with care for the planet, its ecosystems and the people in the destinations in which they operate. Villas are constructed using wood from sustainable plantations and hand-woven interior fabrics are sourced ethically and crafted on-site by a team of skilled artisans.
In 2008 Soneva Fushi was the first resort in the Maldives to install a solar power facility. On site 90 per cent of solid waste is creatively recycled and upcycled – waste aluminium cans become door hooks or drawer handles, used glass bottles become art and unique glassware. On-site gardens grow the produce and flowers used in the resorts. They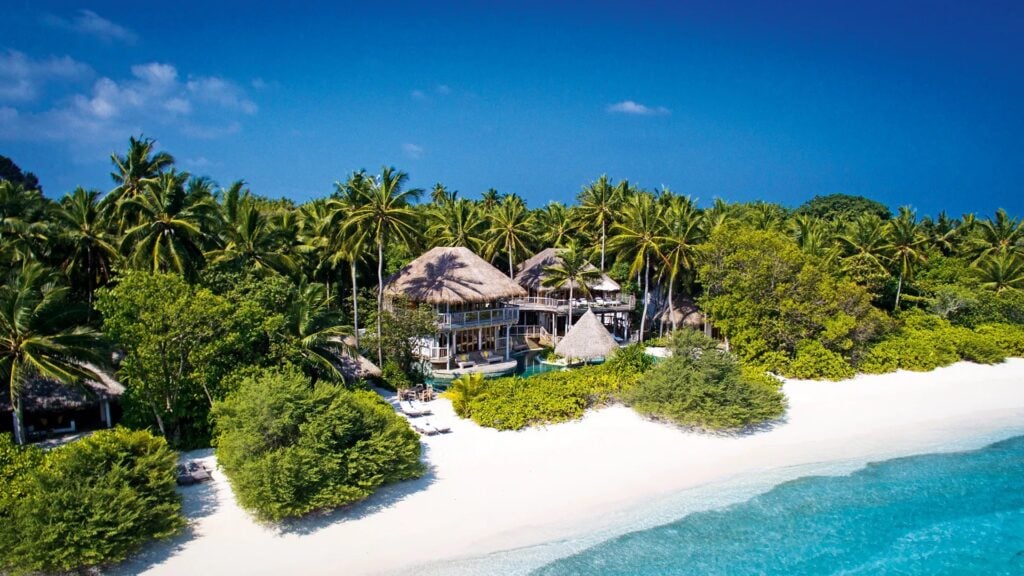 Soneva introduced a 2 per cent environmental levy on all stays in 2008 and this goes to the Soneva Foundation which provide grants to organisations working within education, environment, conservation, poverty prevention and health advancement. They partner with NGOs including Save Our Seas to propagate 150,000 corals annually to protect biodiversity around the resorts. They also run the Soneva Namoona project to phase out single-use plastics and introduce recycling to the Maldives
They invest in a variety of carbon mitigation projects that have a positive environmental, social and economic impact, and offset direct and indirect carbon emissions (such as resort activities and guest flights) and have mitigated an estimated 320,000 tons of CO2 over the last 20 years. Today, Soneva is Carbon Neutral and accelerating to Climate Positive in all properties before 2030.
The Alpina Gstaad, Switzerland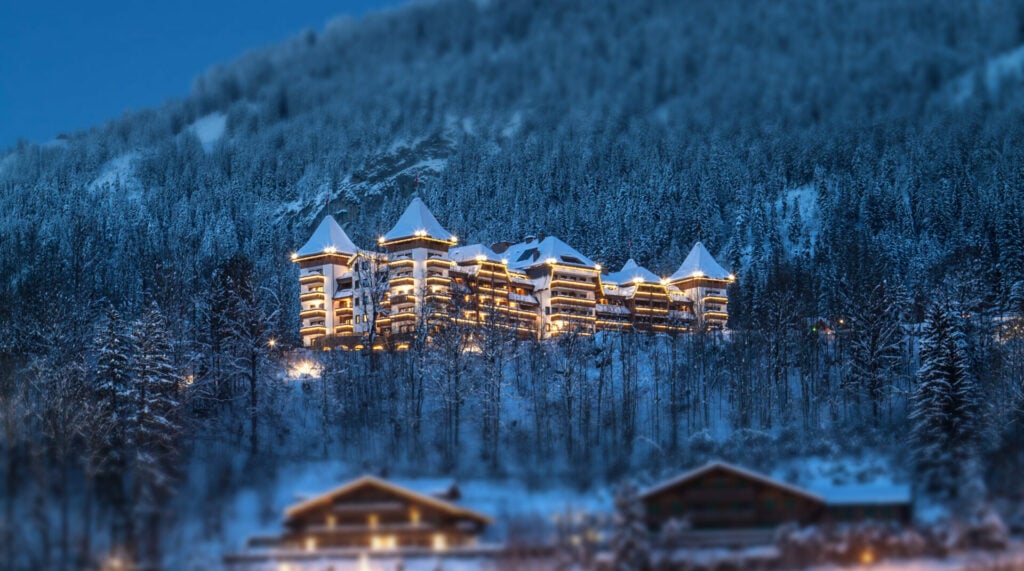 Located above an alpine village, the Alpina Gstaad believes that sustainability and luxury must go hand in hand and aims to reach Climate Positive before 2030.
They are delightfully innovative about reducing, reusing and recycling waste. Their zero-waste approach in the kitchen turns old bread into flour for pasta and pizza for the popular Waste Menu, damaged over-ripe fruits and berries become chutneys for pastry filling, and outer salad leaves, loose herbs or vegetable stems are used in pestos and basic sauces, and waste thrown away is turned into biogas. Preferred suppliers are within a 40km radius driving the shortest routes to deliver their order in returnable boxes.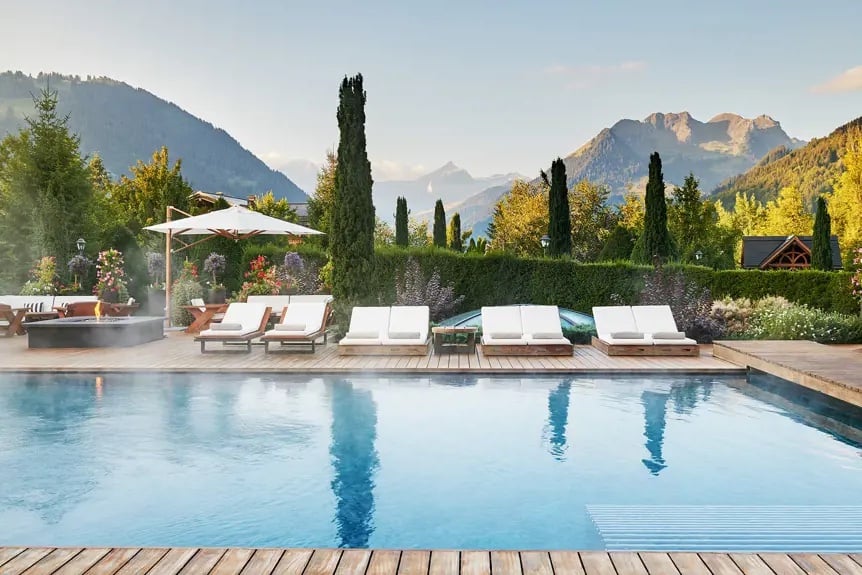 On-site water filtration and bottling eliminates single-use plastic bottles within the hotel. Electricity is from renewable energy, and various appliances sends reclaimed heat to the swimming pool. EV chargers are available and the hotel's electric vehicles provide pick up services.
Whatley Manor Hotel & Spa, UK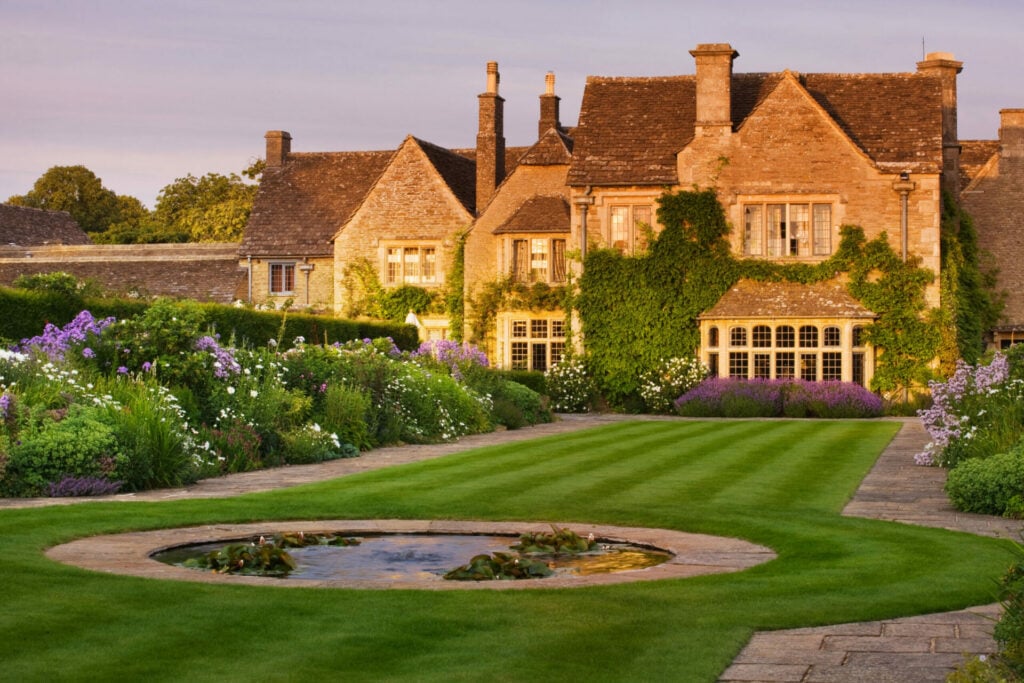 Less than 2 hours from London, Whatley Manor is situated in twelve acres of picturesque countryside on the edge of historic Malmsbury. Whatley's passionate GM, Sue Williams, and her inspired team embed sustainability in their culture: they make learning fun, support communities, try to be zero waste to landfill and aim to be Climate Positive before 2030.
100 per cent renewable energy powers the manor, all kitchen equipment is energy efficient and a biomass boiler supplies energy to staff housing. They work with a carbon neutral waste company that offsets all truck movements and the general waste that cannot be recycled is combusted at an OCO plant, where the smoke generated is neutralised with lime, creating carbon neutral building aggregates.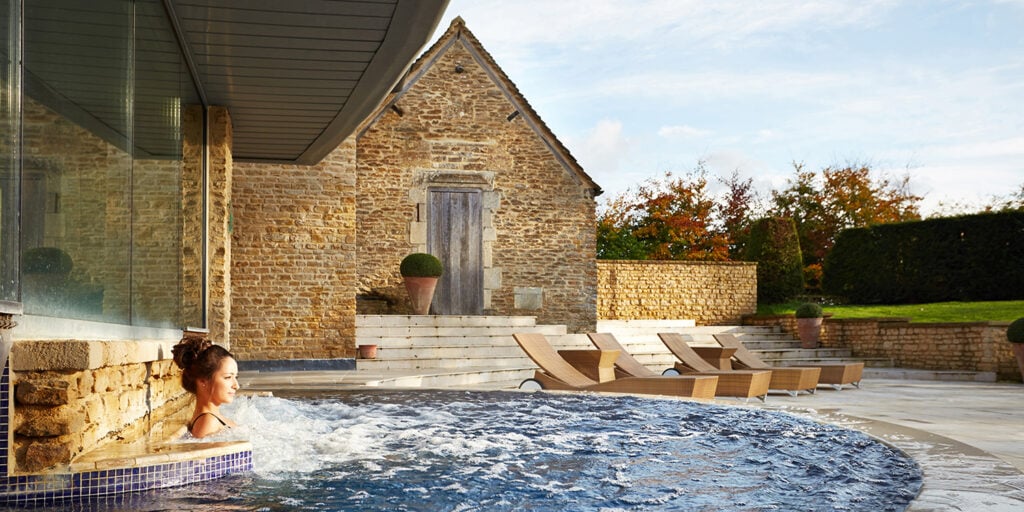 They have a garden bore hole that supplies their water needs and a water filtration and bottling system to eliminate the use of single-use plastic bottles. An on-site garden supplies the manor with produce, herbs and flowers.
Grand Hotel Huis ter Duin, The Netherlands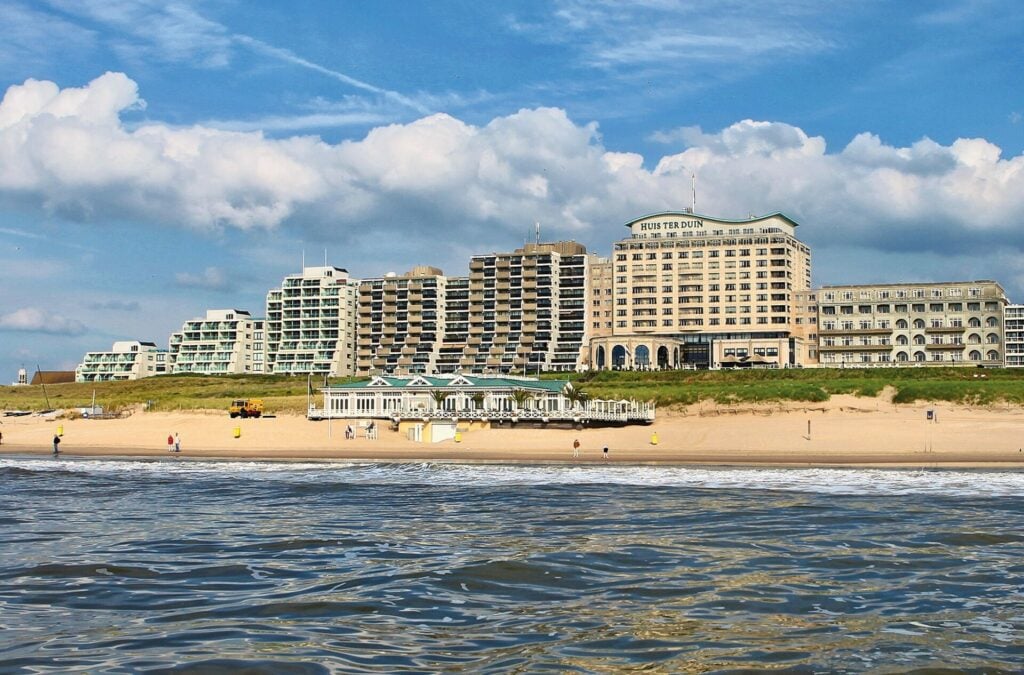 As an icon of the Dutch coast for over 130 years, the family owned and managed Grand Hotel Huis ter Duin in Noordwijk is committed to providing an eco luxury experience that cares about the uniqueness of the Dutch culture while making a positive difference to the local community and environment.
Noordwijk is part of the national park of Hollandse Duinen, a nature reserve with dunes and wild nature, and the hotel cleans and protects the beach and surrounding land. They promote local culture – art, concerts, plays, history and festivals. The hotel chefs cook for the community during the four-day Heerenloolands festival, which supports local people in need. The hotel supports organisations that provide caregivers to the elderly and 24 hour support to citizens with disabilities.
The hotel is conscious of their energy consumption, reduces food, packaging and water waste, produces compost from organic waste to share with the community and purchases locally whenever possible. It uses electric vehicles, provides eCharges, and aims to be Climate Positive by 2030.
*All the above Hotels are members of the NOW Force for Good Alliance and most have joined the NOW Climate Positive Program which offers to fully fund the EarthCheck Certified sustainability program that includes an independent expert audit for accountability, extensive training, sustainability reporting and communication tools for transparency, and access to high integrity carbon credits with capped pricing to control risks and help hotels to go beyond Net Zero to achieve Climate Positive.
Alexa Poortier is the Founder of It Must Be Now, a leadership platform and facilitator that exists to help hospitality companies, tourism facilities and educational establishments to advance sustainability and achieve Climate Positive with accountability and transparency.