These simple yet tasty vegetarian dishes are quick to make and are perfect for eating al fresco or inside whatever the weather
Whether you're entertaining and want to impress your guests or are dining at home with the family, these delicious vegetarian dishes are easy on the eye – and the taste buds. From Mexican-style tacos to a zesty chilli lime rice salad and barbecued halloumi there's plenty for everyone to enjoy this summer and all year round.
Crispy Baked Tacos With Refried Beans
Serves: 2 Prep Time: 15 mins Cooking Time: 20 mins
6 plain tortillas
2tbsp Olive oil
2 tsp smoked paprika
1 tsp ground cumin
1 tsp dried chilli flakes
1 garlic clove, chopped
400g canned black beans, drained
20g chipotle paste
200g canned tomato frito
100ml Cold water
1 lime
125g cherry tomatoes, roughly chopped
220g canned pineapple, chopped (reserve the juice)
10g coriander, finely chopped
1 spring onion, finely sliced
Salt and Pepper
Preheat the oven to 220°C/ 200°C (fan)/ gas 7. Curl the tortillas into a U-shape and add them to an oven-proof dish. Drizzle with olive oil and bake in oven for 5 mins or until the tortillas are beginning to crisp. Once done, remove them from the oven and set aside.
Heat a drizzle of oil in a large, non-stick pan over a medium heat. Once hot, add the smoked paprika, ground cumin, chilli flakes, chopped garlic and drained black beans and cook for 30 secs
Add the chipotle paste and cook for 1 min. Add the tomato frito and 100ml cold water to the spicy beans and cook for 5-8 min or until the sauce has thickened.
Remove the spicy beans from the heat, squeeze in the juice of 1/2 lime and mix to combine. Gently crush the beans with a masher.
Divide the refried beans between the crispy tortillas and return the dish to the oven for a further 5 mins or until golden and crisp.
Combine the chopped cherry tomatoes, chopped pineapple, chopped coriander and sliced spring onion in a bowl. Add 1 tsp of the reserved pineapple juice, 1 tbsp olive oil and a generous pinch of salt and pepper and mix.
Cut the remaining lime into wedges. Top the crispy baked tacos with the pineapple salsa. Garnish with a lime wedge.
Plant-based Bacon, Potato and Pea Salad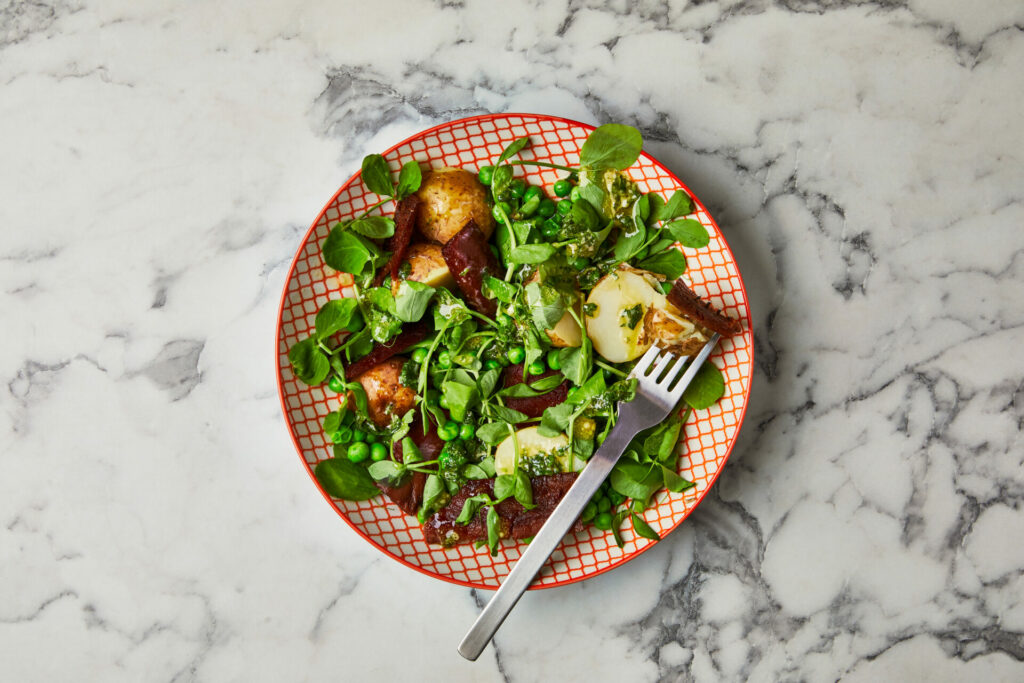 Serves: 2 Prep Time: 5mins Cooking Time: 15 mins
400g waxy potatoes
20g meat-free bacon rashers (suitable for vegetarian and vegan diets)
5g mint
50g pea shoots
5.5g Dijon mustard
15ml white wine vinegar
160g blanched peas
Microwave the potatoes in a bowl covered with cling film (pierce several holes in the top) for 4-5 min or until the potatoes are fork-tender .
Meanwhile, heat a drizzle of olive oil in a large non-stick over a medium heat. Once hot, add the meat-free bacon and cook for 2-3 min on each side or until golden and crispy.
While the bacon is cooking, strip the mint leaves from their stems and chop them roughly, discard the stems. Wash the pea shoots, then pat them dry with kitchen paper.
Combine the Dijon mustard, white wine vinegar, chopped mint, 1 tsp sugar and 2 tbsp olive oil in a large bowl. Season generously with salt and pepper and mix.
Once the bacon is done, remove it from the pan and chop it roughly Return the pan to a medium heat with the blanched peas and cook for 1-2 min or until warmed through.
Check if the potatoes are cooked and remove from oven. Cut any larger ones in half. Add the cooked potatoes, warmed peas, crispy bacon and half of the pea shoots (save the rest to garnish on top) to the Dijon & mint dressing and mix. Serve with the remaining pea shoots.
Chilli Lime Sweet Potato & Rice Salad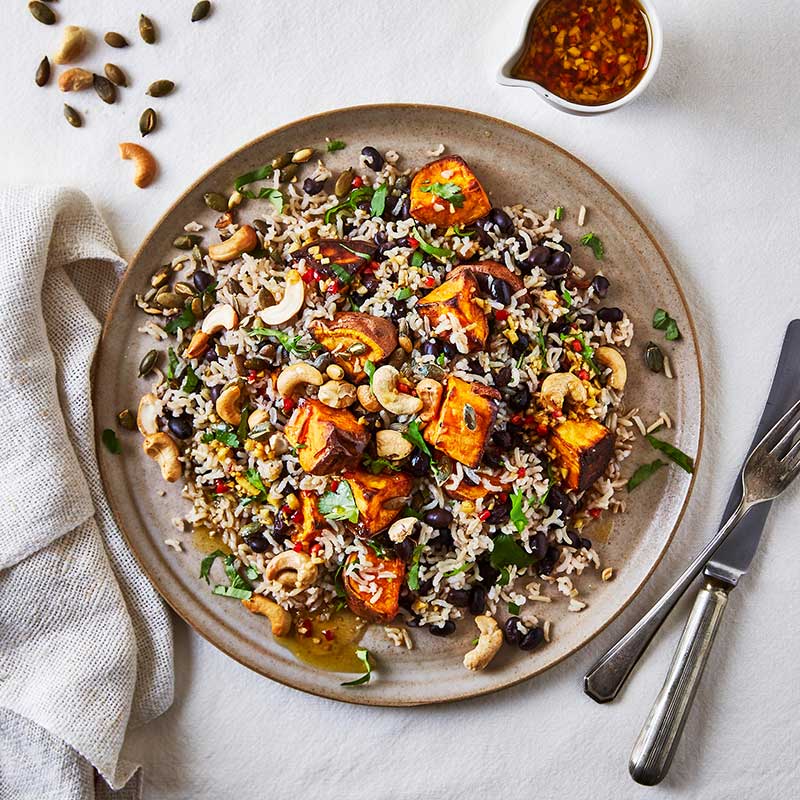 Serves: 2 Prep Time: 20 mins Cooking Time: 35 mins
1 sweet potato, chopped into chunks
5tbsp Olive Oil
Salt and Pepper
130g brown rice
Cold water
25g cashew nuts
30g pumpkin seeds
15ml soy sauce
1 garlic clove, chopped
15g fresh root ginger, grated
1 red chilli, deseeded and chopped finely
2 tsp brown sugar
1 lime
400g canned black beans, drained and rinsed
10g coriander
Preheat the oven to 240°C/ 220°C (fan)/ gas 9. Place sweet potato into a baking tray, drizzle with olive oil, season generously with salt. Bake in the oven for 25 min or until the potato is cooked through and starting to crisp.
Rinse the brown rice, then add it to a pot with plenty of cold water and bring to the boil over a high heat. Once boiling, reduce the heat to medium and cook for 15-20 min, or until it's tender with a slight bite.
While the rice is cooking, add the cashew nuts and pumpkin seeds to a separate baking tray. Bake in the oven for 7 mins or until slightly darkened in colour. Watch them constantly to make sure they don't burn. Once toasted, remove the toasted nuts and seeds and set aside to cool.
Combine the soy sauce, chopped garlic, ginger and chilli in a small bowl with 2 tsp brown sugar and 3 tbsp olive oil.
Roll the lime with your hand on a hard surface (to release more juice) and cut in half. Add the juice of the lime straight into the bowl and whisk it all together.
Once the rice is tender, add the drained black beans to the pot and cook for a further 4 mins.
Drain the brown rice and black beans and allow to steam-dry for 1-2 min or until cooled slightly, before returning them both to the pot.
Roughly chop the nut and seed mix. Add the roasted sweet potato, chilli lime dressing, most of the chopped coriander and the toasted nut and seed mix to the beany rice and mix together gently. Garnish with the reserved cashew nuts and remaining chopped coriander. You can even sprinkle with vegetarian or vegan cheese.
Vegetarian BBQ Halloumi With Apple Slaw And Chips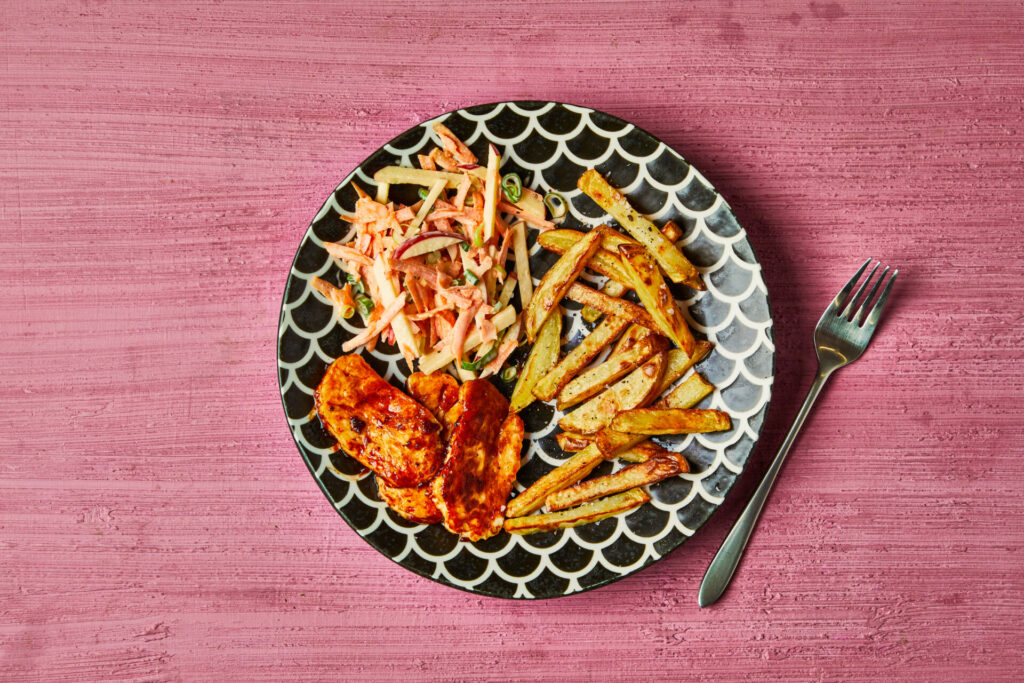 Serves: 2 Prep Time: 10 mins Cooking Time: 35 mins
3 white potatoes
Vegetable oil
1 spring onion, trimmed and sliced
2 carrots, grated
1 apple, cut into matchsticks with skin on
50ml mayonnaise
15ml white wine vinegar
200g halloumi
30ml tomato ketchup
15ml Henderson's Relish
15ml cider vinegar
1tbsp sugar
Preheat the oven to 200°C/ 180°C (fan)/ gas 6. Cut the potatoes (skins on) into chips. Place in a baking tray and drizzle with vegetable oil. Bake for 30-35 min or until the chips are cooked through and crisp.
Add the sliced spring onion, grated carrot and apple matchsticks to a large bowl. Add the mayo and white wine vinegar and mix.
Cut the halloumi into 6 slices. Heat a drizzle of olive oil in a large pan over medium heat. Fry halloumi slices for 1-2 min on each side or until golden.
Make a BBQ sauce by combining the tomato ketchup, Henderson's Relish (or any other vegetarian relish) and cider vinegar with 1 tbsp sugar in a small bowl.
Once golden, add the BBQ sauce to the pan with the halloumi and cook for a further 1-2 min or until the sauce has slightly thickened. Serve the halloumi with the apple slaw and chips to the side. Drizzle the remaining BBQ sauce from the pan over the halloumi.
Recipes courtesy of Gousto