The Board of Control for Cricket in India (BCCI) have decided to plant 500 trees across India every time a bowler bowls a dot ball in the ongoing IPL 2023 playoffs. 
While the IPL is usually associated with top batters smashing the ball into the crowd for a maximum six and scant attention is usually paid to the toiling bowler who delivered the ball.
But now the bowlers have a massive incentive to keep their opponent quiet.
Under the programme, the BCCI is partnering with major Indian investment company the Tata Group to plant 500 trees for every dot ball bowled during the four playoff games.
BCCI Replace Dot Ball With Tree
TV viewers who tuned in for Qualifier 1, between Gujarat Titans and Chennai Super Kings were alerted to the green initiative as a tree emoji was shown in place of the normal dots whenever a non-scoring ball was bowled on the scoreboard.
As Titans and Super Kings  were involved in a high-pressure game at the Chepauk, and audiences noticed the change for the first time in the edition, it led to curiosity all around.
It was later confirmed that IPL broadcasters will show a dot ball with a symbol of a tree instead during the four playoff games this season, to showcase the project.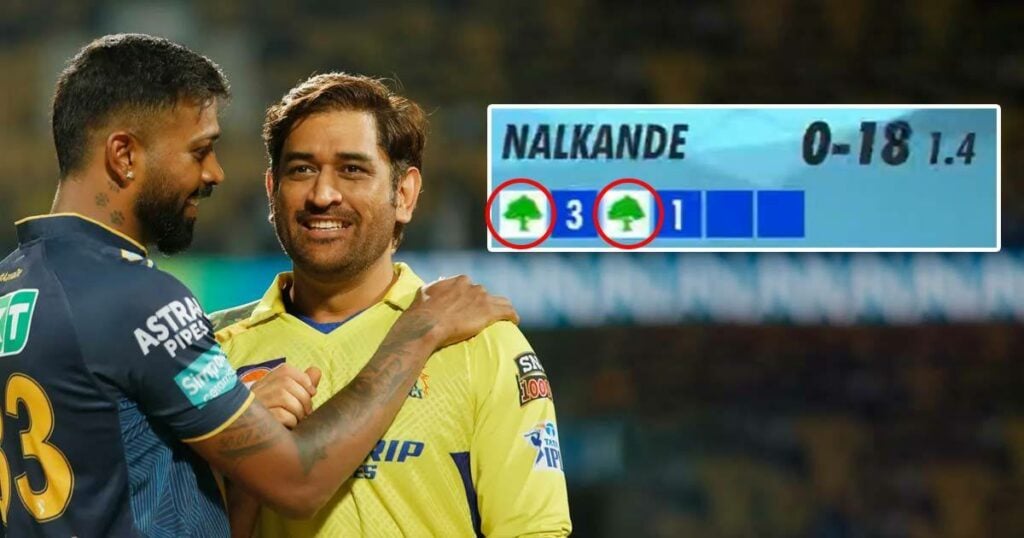 TV match commentator Harsha Bhogle explained the BCCI initiative and revealed that the step was a part of the BCCI green initiative.
The approach maximises the environmental impact, benefiting different ecosystems and communities. A total of 34 dot balls were bowled by the Titans when Super Kings batted while the Chennai based team bowled 48.
So, in total 82 non-scoring deliveries were registered – meaning 41,000 trees will be planted.
BCCI says it will carry out the tree planting campaign at various locations in India,  in order to distribute them as widely as possible.

For more current affairs head to our NEWS section.