Sitting around a tree adorned with twinkling lights and glittering baubles is the epitome of Christmas for most of us. It's a scene that could be straight out of one of our favourite festive movies – filled with nostalgia, family and joy.
But in reality the tree is often fake, covered with faux snow and littered with plastic and synthetic decorations that are destined for landfill where they will take hundreds of years to break down. Not such a merry picture now, is it?
So why not reset your festive aesthetic this year and go all out for a Green Christmas with eco decorations – after all, the Scandi sustainable look is trending and it does good as well as looks incredible.
That means you can step away from the plastic, and sparkly decorations, which only add to the mountain of waste created at Christmas – a whopping 30 per cent more rubbish is binned in the UK and 25 per cent more in the US over the festive week.
A staggering 500 tonnes of Christmas lights are thrown away each year in Britain alone, according to GWP, and 14 per cent of fake trees are ditched in any festive season.
Lights have a major impact on your Christmas carbon footprint so use LED powered sets which require 90 per cent less energy and ditch fake snow, which can be made out of finely ground polystyrene which has been named as a possible human carcinogen. Tinsel, meanwhile is made from PVC which is hard to recycle and is, according to Greenpeace, the most environmentally damaging plastic, posing problems for us and wildlife.
Instead of rushing to the nearest store to buy new baubles, why not dust off your old ones – they even come complete with memories of previous Christmas celebrations – source vintage ones, or make some out of scrap fabric or create edible decorations from gingerbread? You could go foraging in the woods for fallen pine cones if you're in the US or Europe or along the beach for seashells if you're in the UAE.
But if you want something unique to put on your tree this year we've found the cutest eco decorations without any glitter or plastic in sight.
Glitter-Free Sparkle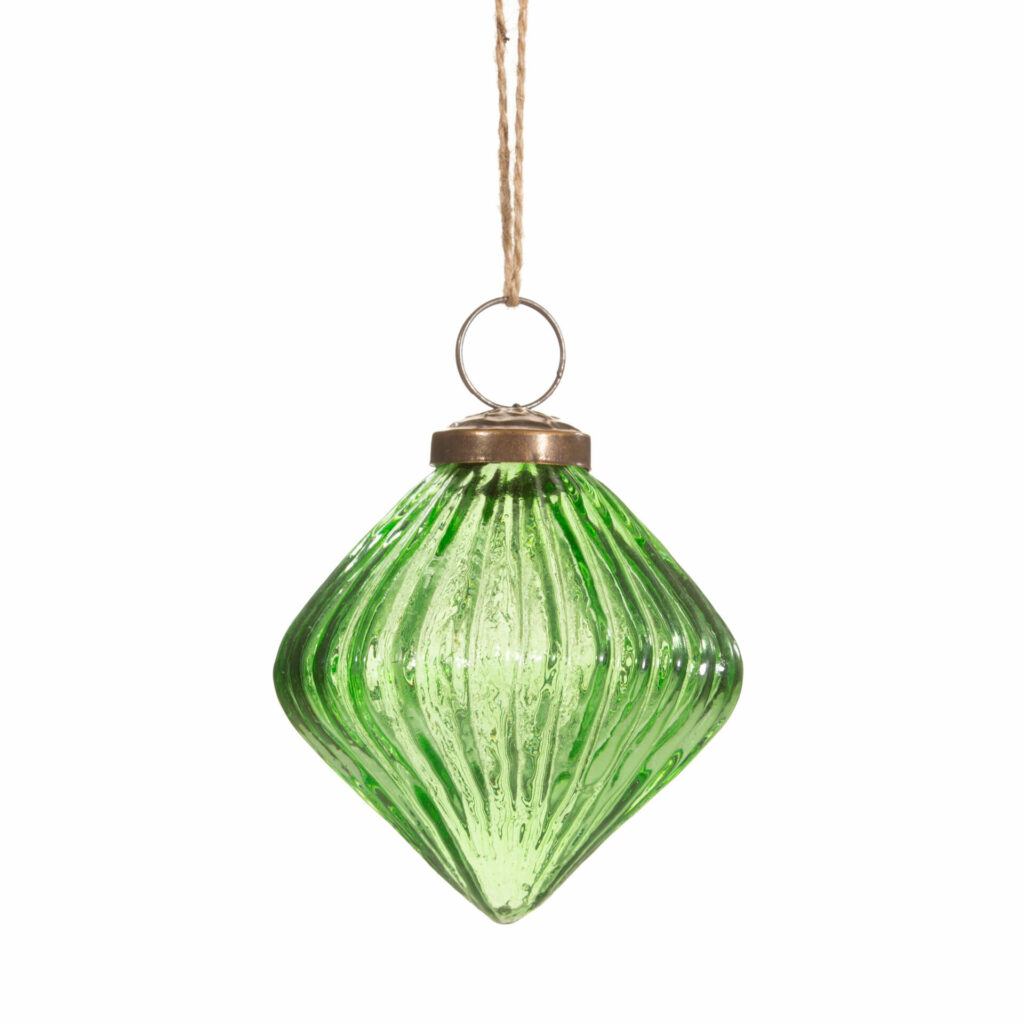 Who needs glitter when you can get all the sparkle you need with glass. As well as being fully recyclable, it will have your tree twinkling without the addition of any dangerous microplastic.
For a thoroughly festive vibe, we love this recycled glass diamond bauble from Sass & Belle, who have an entire collection of eco decorations we're hankering after. This one is a keeper.
Glass diamond bauble, £6, sassandbelle.co.uk
Scandi Snowflake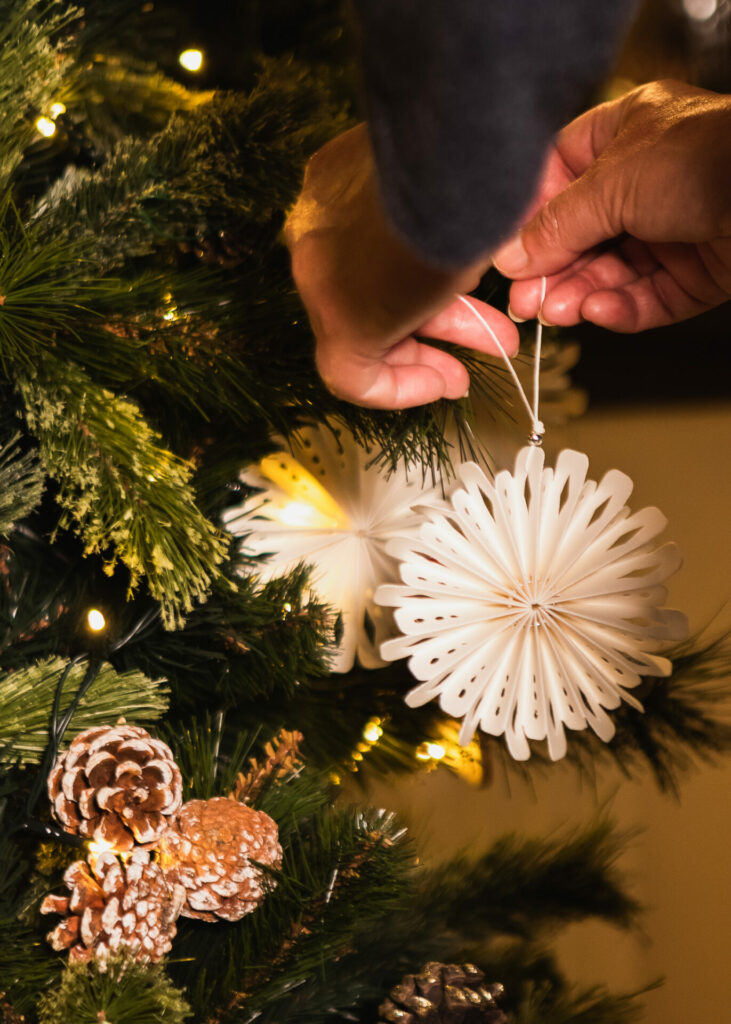 What better look at this time of year than the traditional wood and paper Nordic vibe for your tree? These Scandi-inspired snowflake decorations are handmade from FSC certified paper, and pleated and punched by hand.
Hang them using the cotton cord on the tree, scatter them over your Christmas table display or create instant and eco-friendly displays as part of your festive Scandi interior. They are easy to assemble and can be taken down and reused time and time again!
Mini hanging paper snowflake decorations, £14.95 for a pack of six, paperstarlights.com
The Sustainable Snowman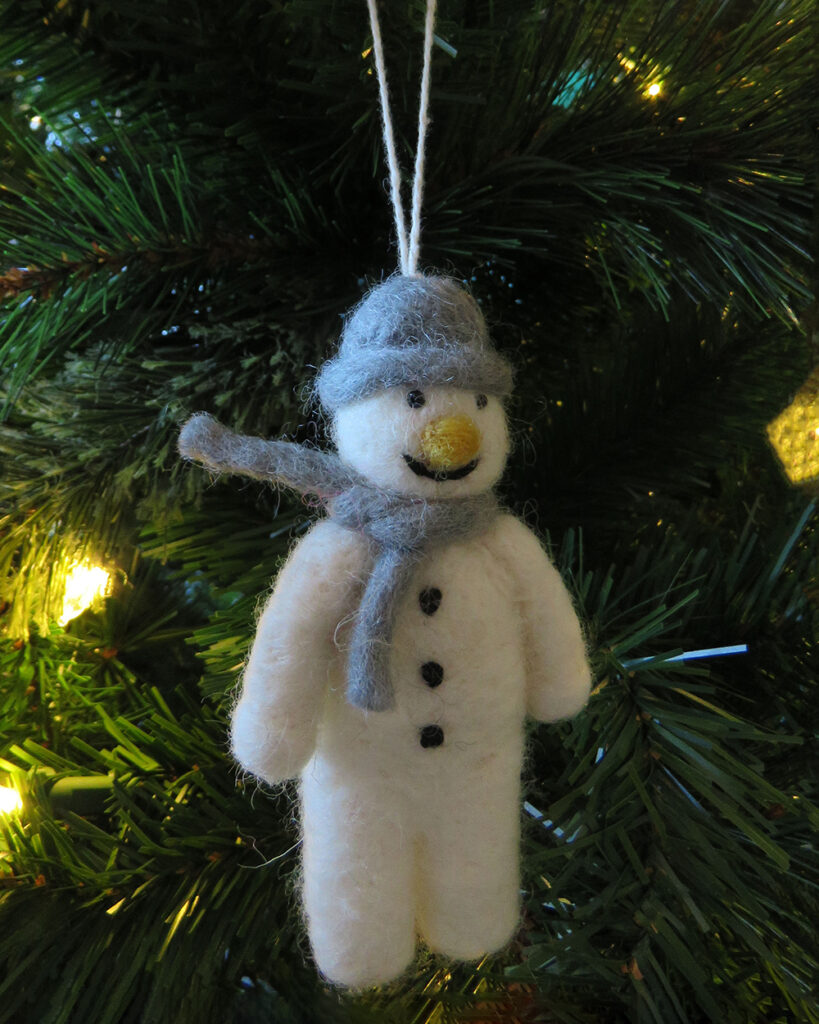 These cute snowman is handmade in Nepal by artisans working at a certified Fair trade company, Felt So Good, who guarantee a stable income and ensure fair prices are paid to them.
Made from 100 per cent sustainable, biodegradable wool, with no plastic or glue, this is the ideal tree decoration for those who care about the environment as well as creating a fun focal point on their tree. Snowman, £6.99, Sue Ryder

Plantable Decorations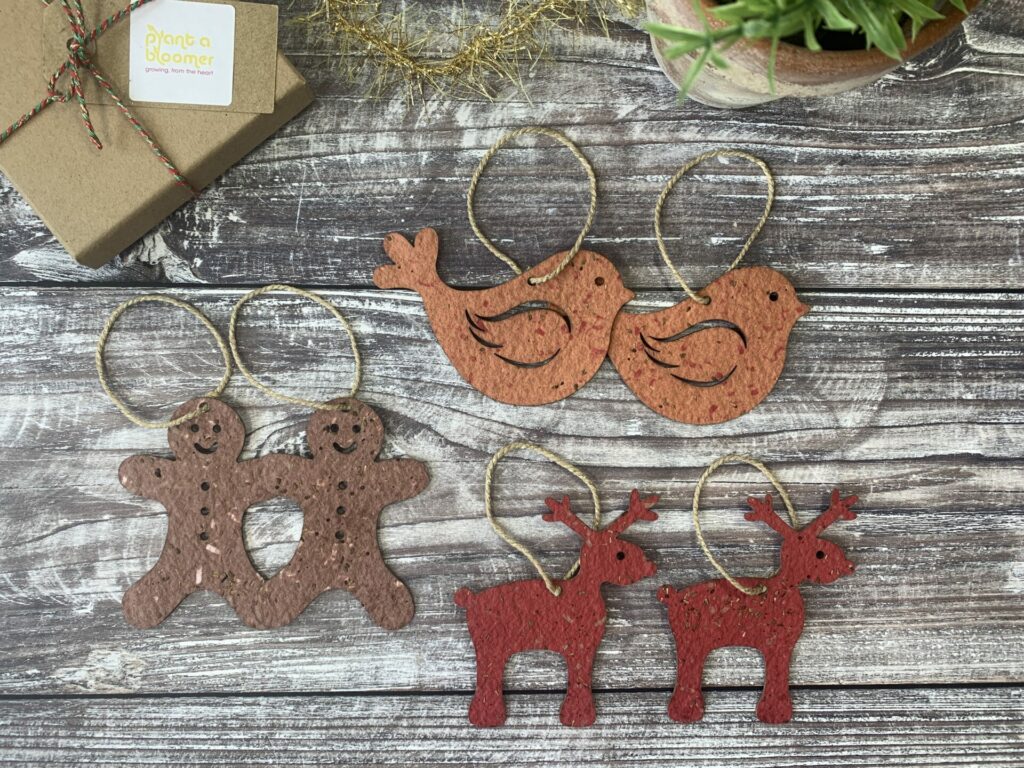 What can be more environmentally-friendly – and exciting – than a Christmas tree decoration you can plant afterward to grow wildflowers.
These amazing tree decorations are made from a special seed paper that contains wildflower seeds. The paper breaks down when it's planted indoors or outdoors and the seeds germinate to grow into flowers.
The set includes two reindeer, two robins and two gingerbread men decorations which will look fabulously festive on the tree and rather than packing them away you can plant them and watch the flowers grow. They're meant for children but they're so cute we want them too!
Children's Plantable Christmas tree decorations £30, plantabloomer.com
Best of British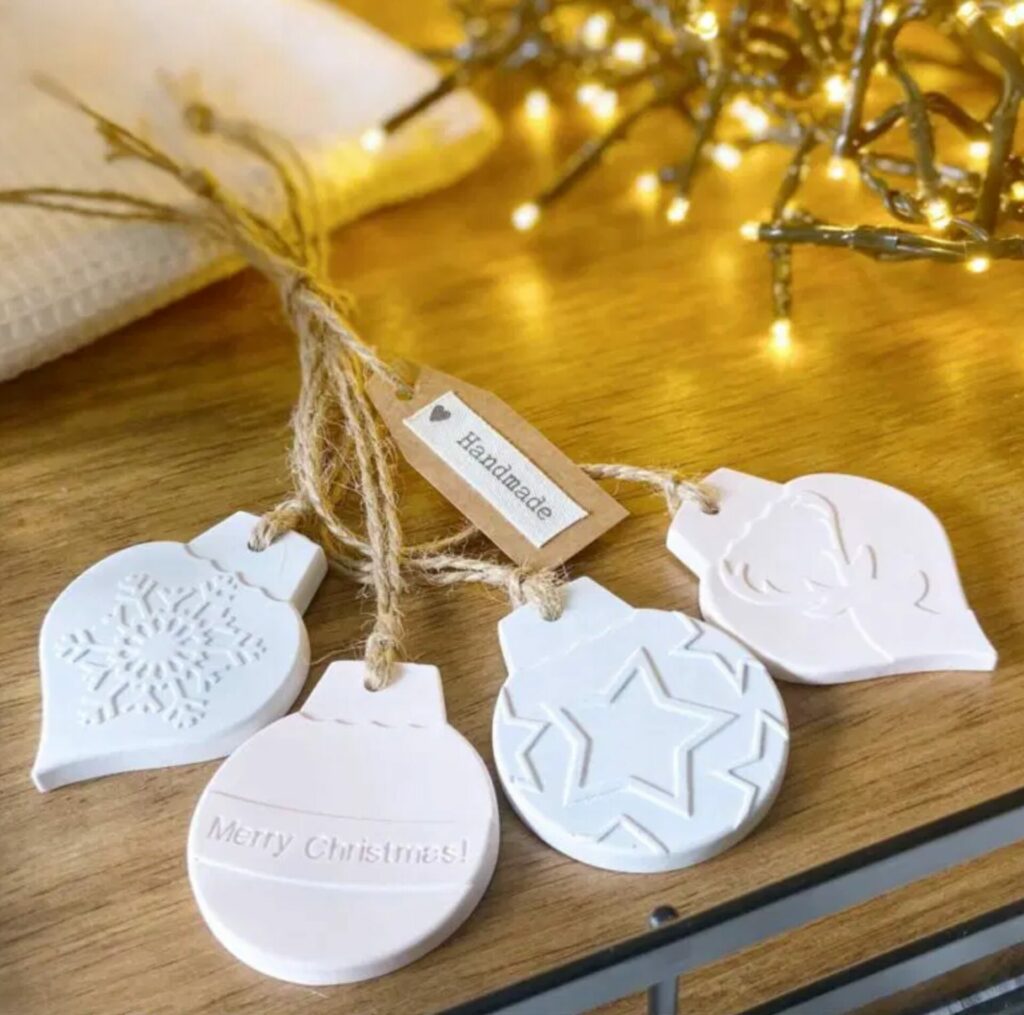 They may look Nordic but these handmade decorations are from The British Crafthouse and are fabulously festive. The snowflake, stag head, star and 'Merry Christmas' are crafted using eco-resin, which is a natural product and creates a tactile, rustic and handmade feel.
They come in recycled and recyclable packaging, too and will make a simple but stunning addition to your tree.
4 handmade Scandi festive tree decorations by Art by Helen Eason, £8.95, The British Craft House
The Festive Pug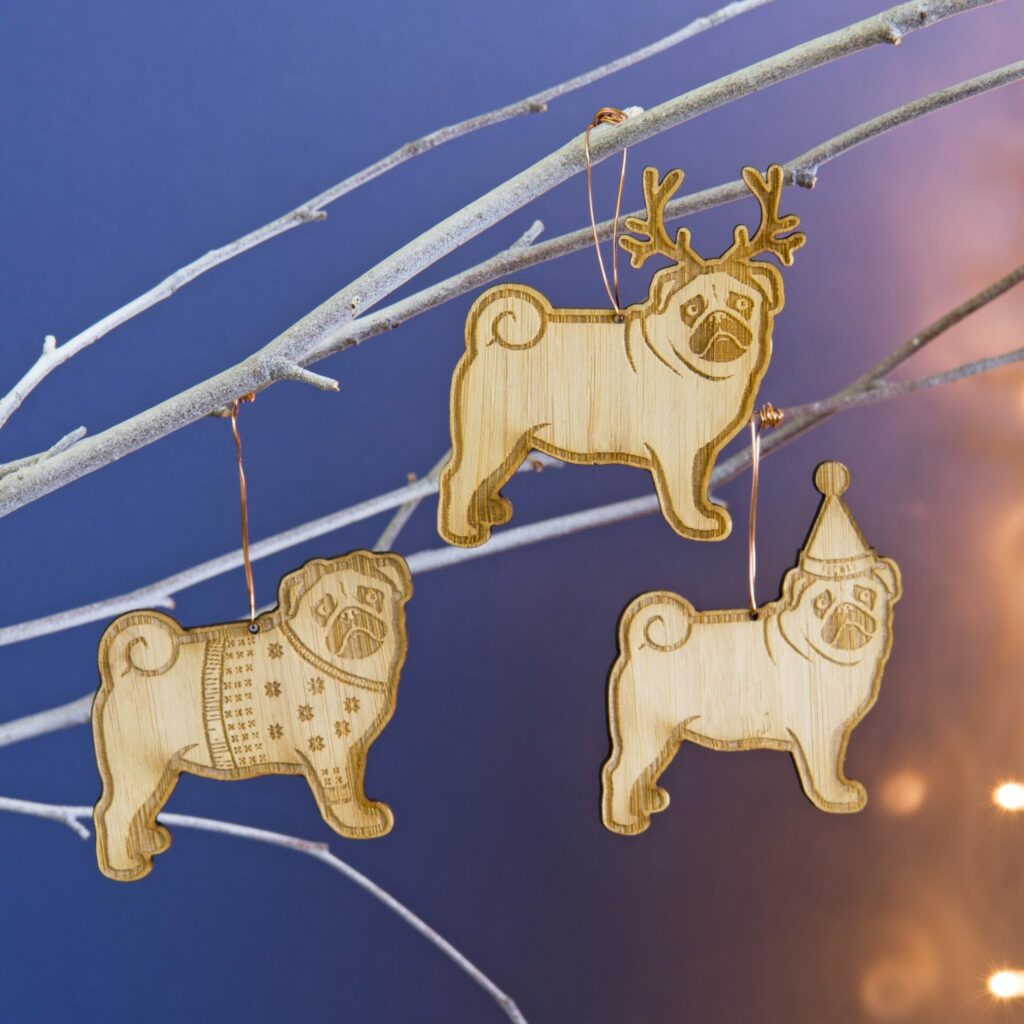 Celebrate Christmas in style with these adorable festive pugs. With six designs to choose from, each pug is made from eco-friendly and sustainable bamboo and because it is a natural material, the grain and patterns differ, making every decoration unique.
Children, pet lovers and – well everyone – will love these eco friendly decorations as a keepsake to keep their tree looking gorgeously glam. Each pug measures approximately Dimensions W7. 5cm x H6 – 8 cm, depending on the pug design chosen.
Christmas pug bamboo decorations, $5.45 each, Oakdene designs