The festive season is without a doubt one of the best times of the year, but sadly it is also one of the most wasteful, particularly when it comes to our gift wrapping choices. A 2017 study found that in the UK alone, 108 million rolls of gift paper are used over the festive season – enough to go around the world 22 times! The worst part, most of that wrapping paper can't be recycled.
If it's shiny or glossy then that means it is probably dyed or laminated and contains glitter and microplastics which cannot be accepted at recycling facilities. Switching to more environmentally- friendly alternatives is one of the simpler ways to reduce waste this festive season. Opting for kraft gift paper for example, which is biodegradable, is a great switch and it will also give your presents a rustic look – which is very on trend this year. Forage for foliage and add a few natural sprigs of fresh pine or holly for a super festive feel.
To help you avoid the rolls of non recyclable gift paper this year, we've taken a look at eco-friendly gift wrap ideas to use instead to make sure your favourite time of year doesn't cost the Earth.
Wrappr – Fabric Wrapping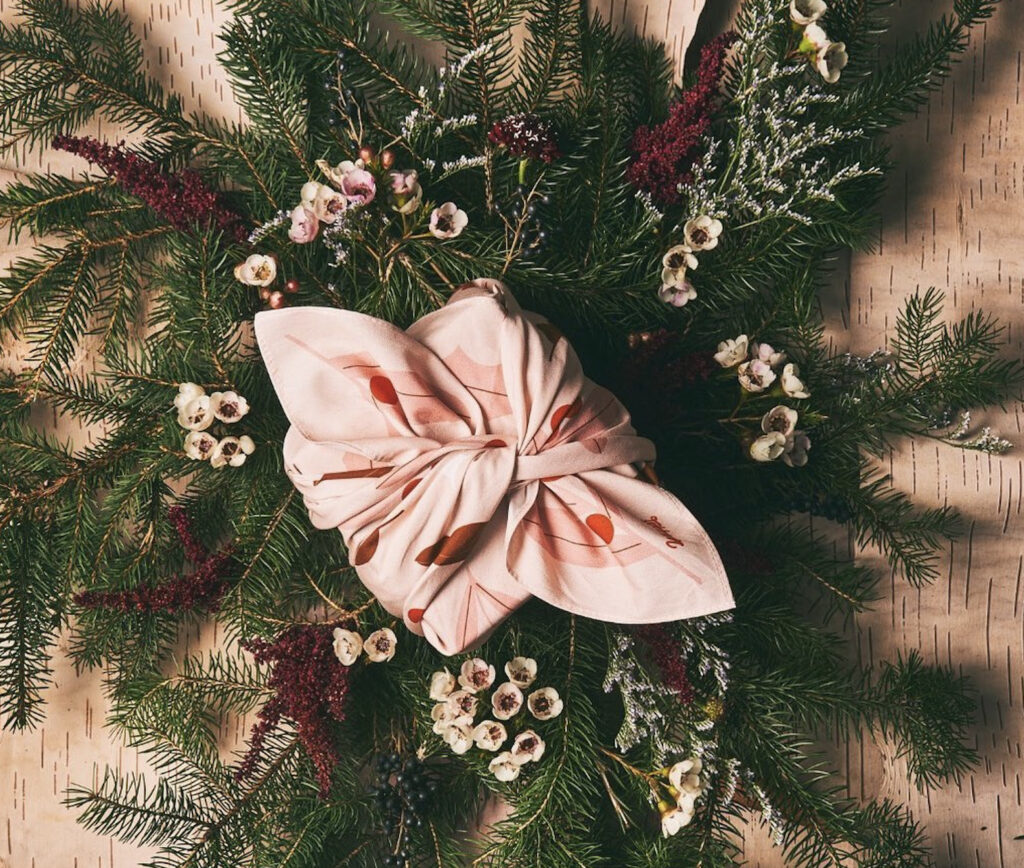 Inspired by the 1,200-year-old Japanese tradition of fabric wrapping known as Furoshiki, a sustainable alternative to gift paper, Wrappr employs artists to design beautifully detailed line of wraps. Their seasonal Gifts of Joy collection is inspired by winter plants like holly and poinsettias, and the sparkling of lights and snow. Made from recycled polyester, silk and certified organic cotton, they can be used to wrap a bottle, bouquet, or box which can then be reused time and time again. They are so stunning that they can even be repurposed into scarfs or hair accessories!
The Doodle Factory – Recycled Paper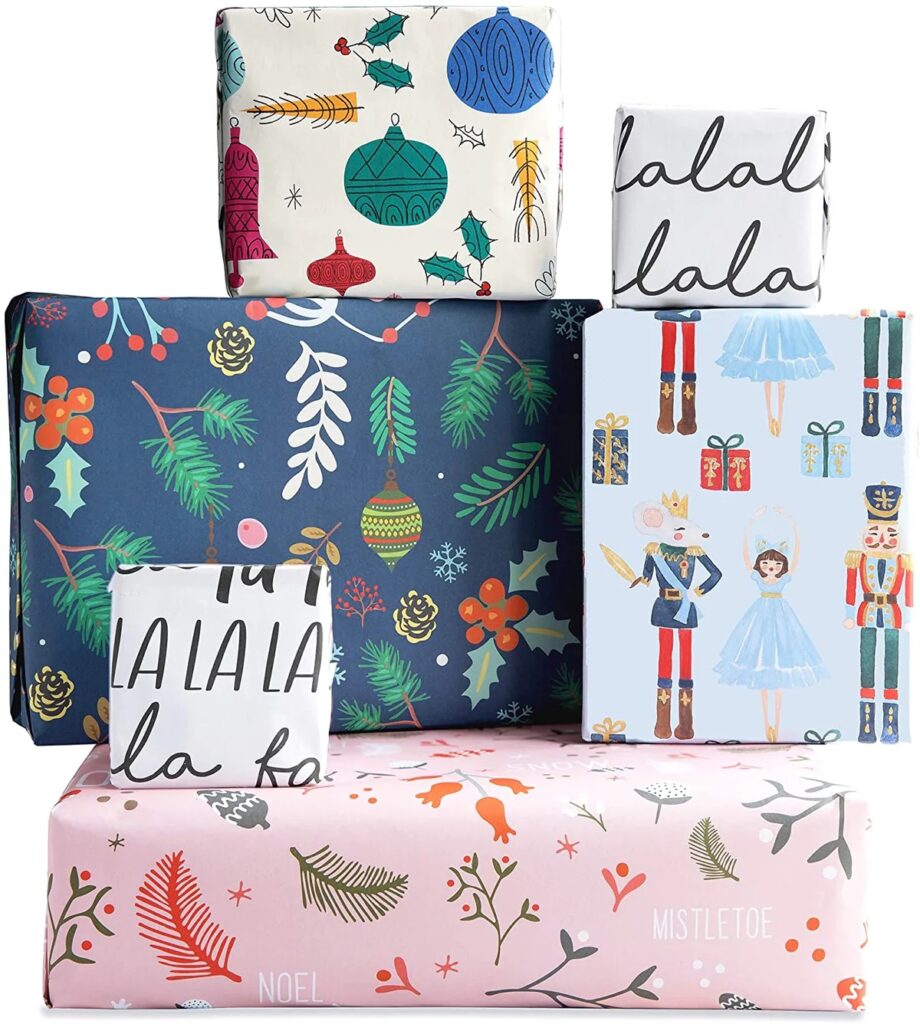 Hand painted and then printed on to luxurious recycled paper in London, this Doodle Factory gift paper is a perfect eco option for your presents this season. Available in a bundle of six recyclable sheets, you will be supporting a small independent business by wrapping gifts for your loved ones in this unique paper. Wrap, rip, recycle… sounds festive and guilt-free to us!
Christy Dawn – Upcycled Wrapping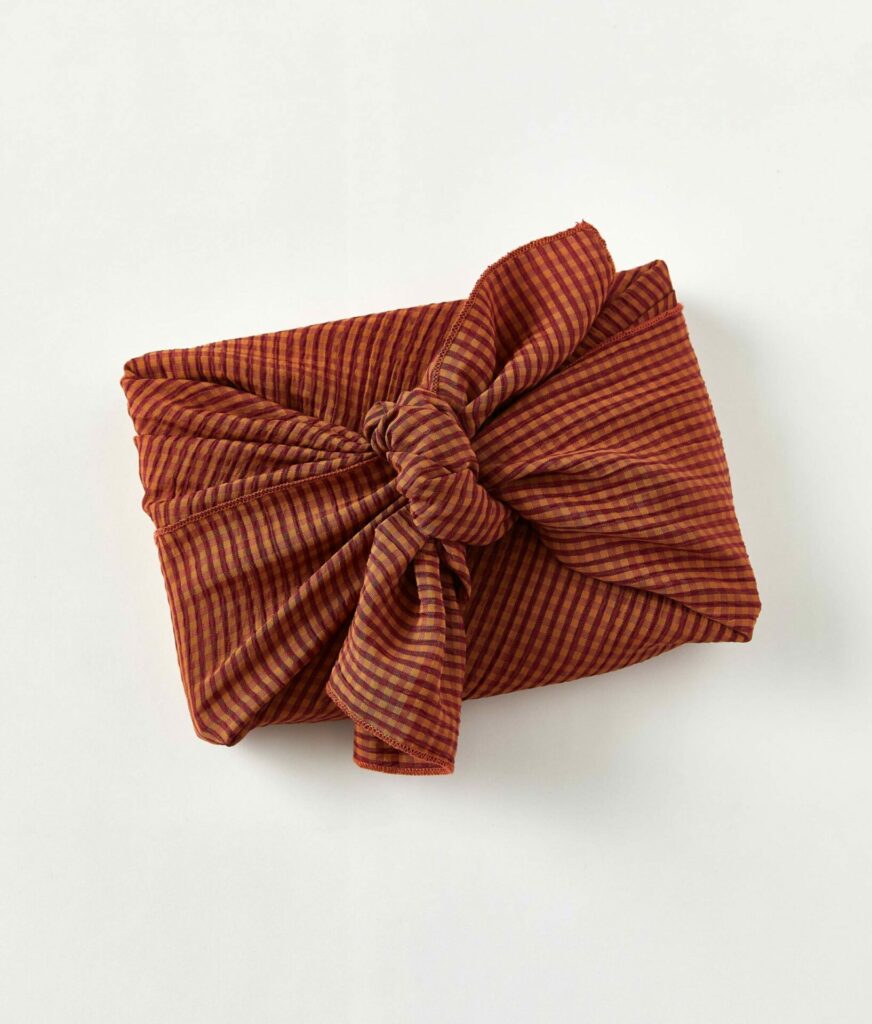 The simplistic but stunning wraps offered by regenerative fashion platform, Christy Dawn, are sewn in their Los Angeles factory using only upcycled deadstock fabric. Available in red gingham, black gingham and bisque, they would look beautiful with a simple knot and natural embellishment like pine tree, dried orange, or acorns. The perfect eco accessory for under your tree.
Re-Wrapped – Biodegradable and Vegan Ink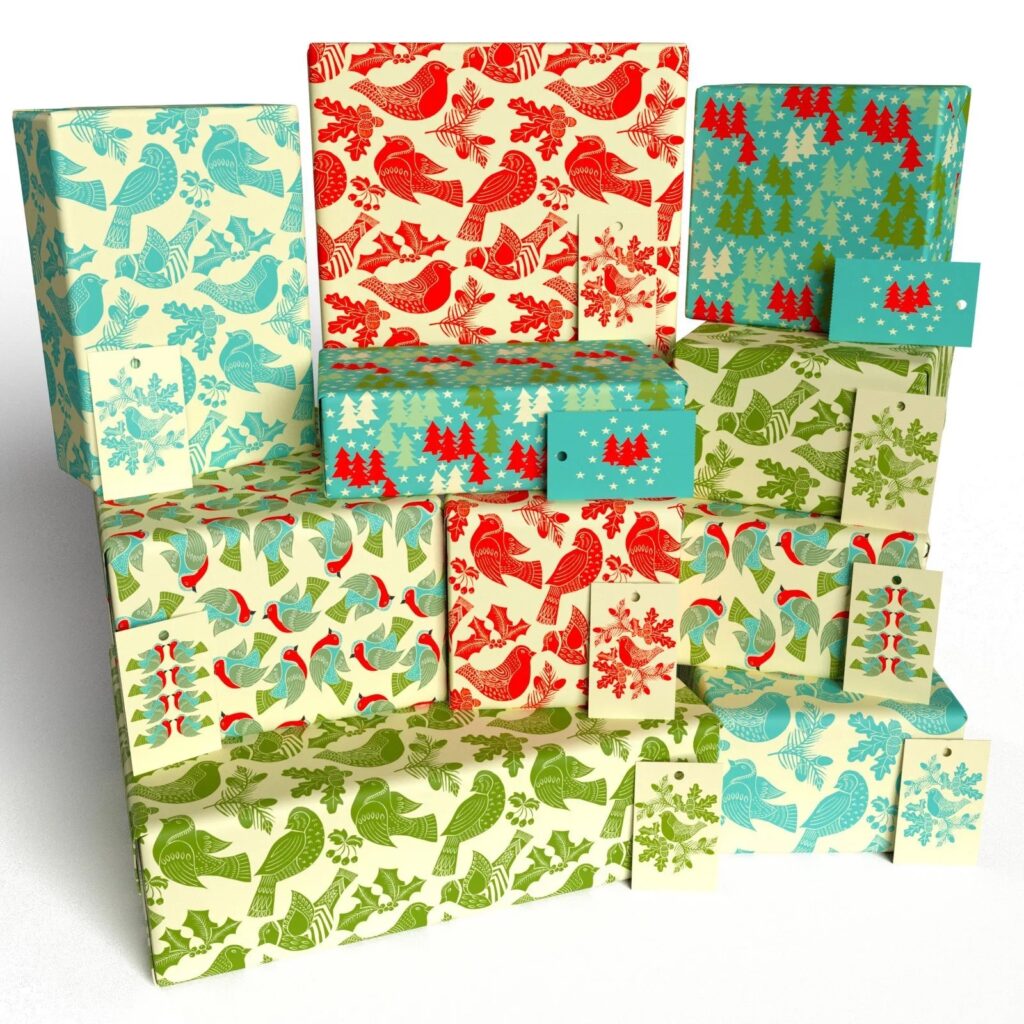 Re-wrapped, which was founded in the UK in 2011, specialises in designing and producing top quality wrapping paper made from 100 per cent recycled paper from unbleached post consumer waste. They even use environmentally-friendly vegetable based inks which means their products are vegan, pet safe, biodegradable and compostable.
Taking their eco credentials one step further, Re-wrapped are even set up with a website-hosting company that only use renewable energy while also powering their own operation with wind and solar energy.
The Little Market – Ethical Tote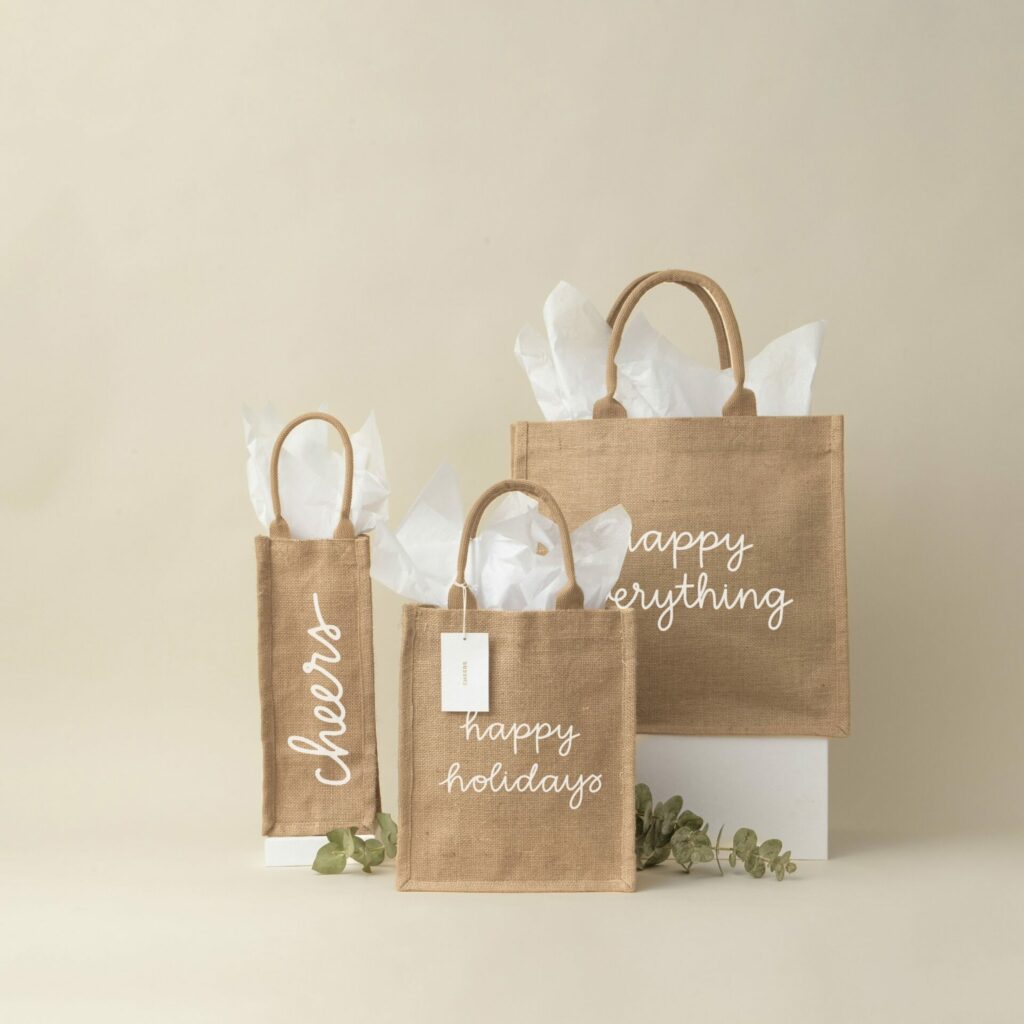 Celebrate the holiday season by passing on gifts in hand-sewn totes that give back. Made using traditional techniques by skilled artisan women from marginalised communities in Bangladesh, every purchase from The Little Market supports fair wages, skill development, and training. These burlap bags are so pretty and durable that they can be used over and over again for gifting, shopping and stylish storing.
Totes & Tokens – Re-Useable Gift Tags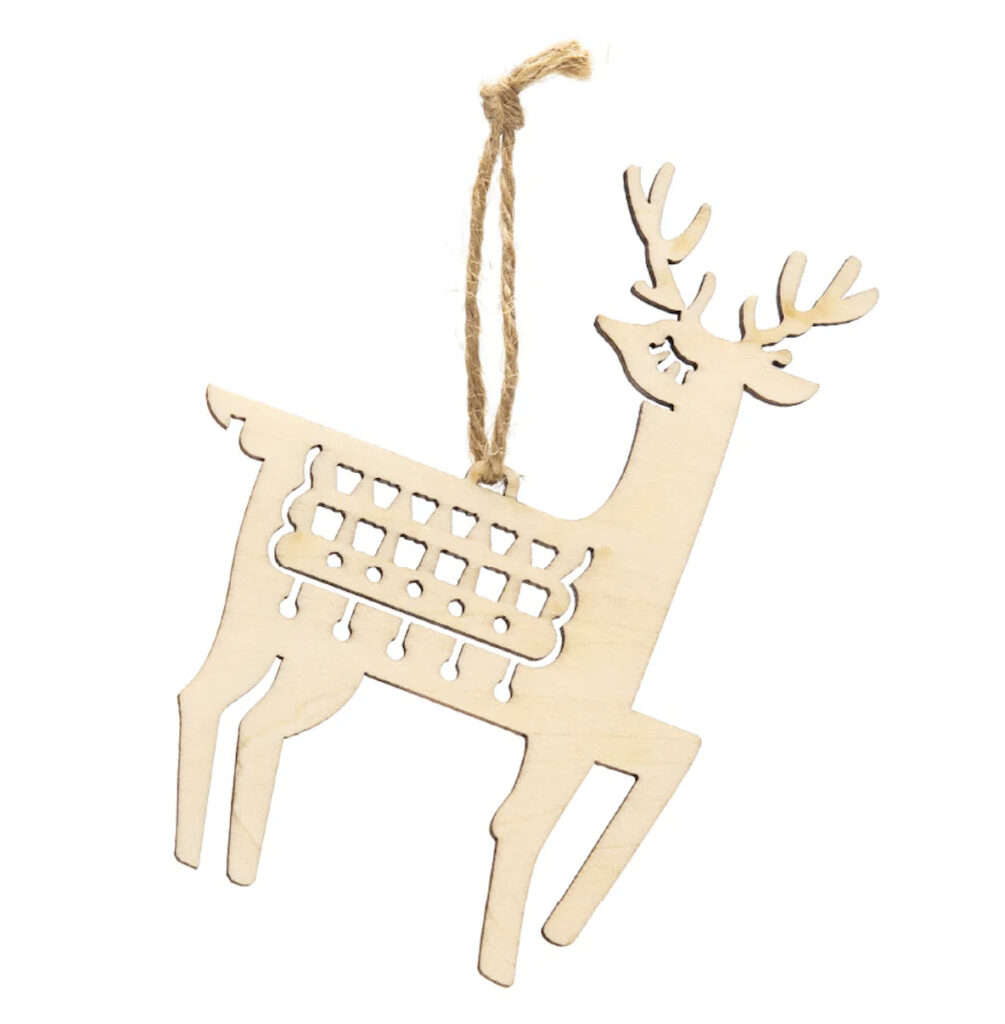 These stunning wooden decorative tokens are made in the UAE and inspired by Scandinavian folk designs. Perfect for decorating wrapped gifts instead of single-use bows, they can even be coloured by dipping into paint. This token can also be repurposed as a Christmas tree ornament, a bookmark or even as a key chain. All you need is a little imagination!
If you are planning on recycling the gift paper you receive this year – sadly you can't control that – then don't forget to remove the sticky tape, confetti, glitter, bows and ribbons etc as facilities cannot recycle gift wrap with any of those additional items still attached.