Forget a Valentine's night out at a packed, noisy restaurant. The way to your loved one's heart is with an intimate vegan or veggie candle-lit meal created just for them. Add in plenty of healthy and fresh plant-based ingredients that are renowned for putting the R into romance and this will be a Valentine's date night to remember. 
Valentine Vegan Asparagus Tempura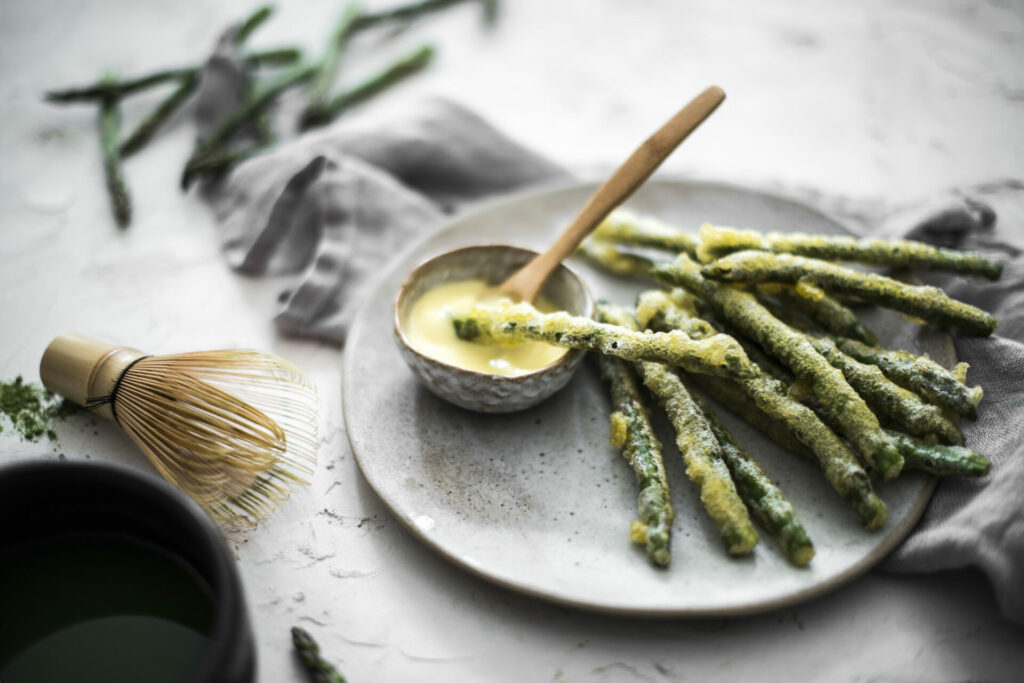 Serves: 2   Prep Time: 20 mins  Cooking Time: 10 mins
A source of Vitamin E, known for boosting passion, asparagus is also packed with antioxidants which fight free radicals and slow down ageing. They are also good for your overall health as they contain detoxifying compounds which protect against cancer.  
For the tempura
85g gluten-free flour
15g cornflour
3tbsp aquafaba
150ml ice water
1.5l vegetable oil
300g asparagus tips

For the dip
3tbsp aquafaba
1tsp lemon juice
1tsp white wine vinegar
1tsp dijon mustard
pinch of salt
pinch of pepper
180ml rapeseed oil
For the tempura
Mix together the gluten-free flour and cornflour.
Put the aquafaba into a bowl and whisk until it's foamy. Add the ice water and whisk some more. Now sift in the flour. Stir the flour into the mix, but do not over-beat – a few clumps are perfectly fine.
Pour a drizzle of oil into the wok (or a deep pan if you don't have one) and place on a high heat.
Immerse the asparagus tips into the batter about 5-7 pieces at a time. Drop the battered asparagus into the oil being careful not to crowd them. Fry for around 2 minutes or until lightly golden. Take the asparagus out of the wok using a slotted spoon and place onto kitchen paper to drain any excess oil.
For the dip
Put all the ingredients except the oil in a blender. Blend on a high speed until you have a creamy consistency. Now very slowly add the oil in a thin and steady stream. Keep blending until all is completely combined and you have a silky consistency. Place in a small bowl and serve.
Vegetarian Ramen with Soft Boiled Eggs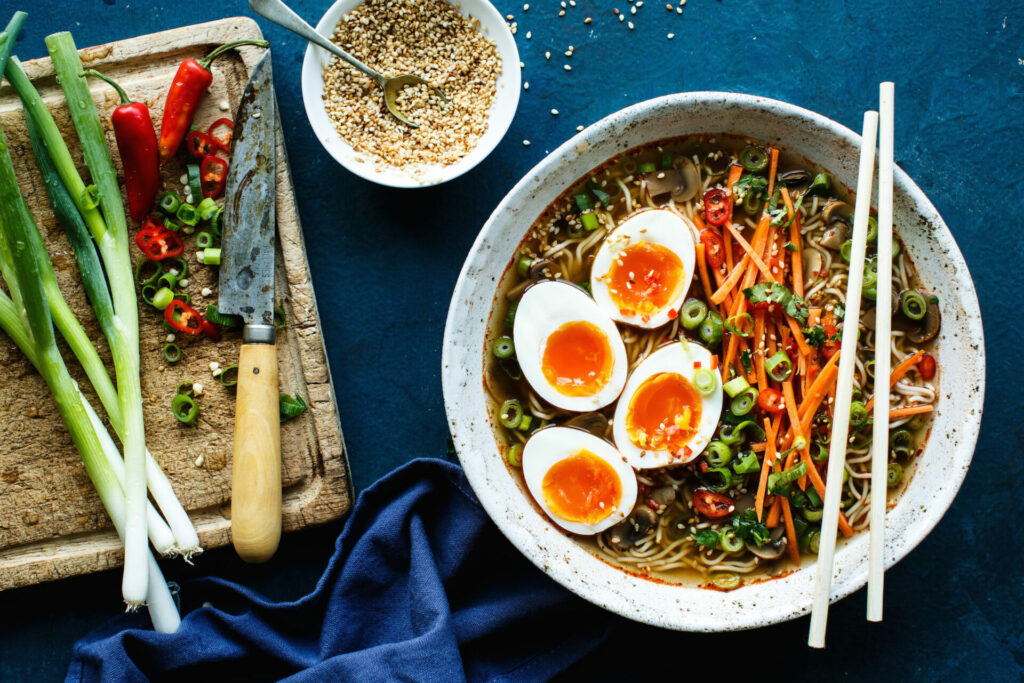 Serves: 2   Prep Time: 10 mins  Cooking Time: 20 mins
With their bright red colour and spicy taste, fresh chilies are known for turning up the heat in all matters of the heart. Scientists have proven they stimulate endorphins, the feel-good chemical, and make your heart race – the heady symptoms of love. 
100g of ramen noodles
600ml veggie stock
2 tbsp of tamari
1 tbsp of freshly grated ginger
4 tbsp of rice vinegar
1 tbsp of chili paste
2 crushed garlic cloves
½ tsp if Chinese 5 spice
1 tbsp of honey (optional – use agave nectar and maple syrup as vegan option)
100g of sliced button mushrooms
4 soft boiled eggs (use fried tofu as a vegan option)
1 carrot julienned
3 tbsp of chopped coriander
2 spring onions, finely chopped
1 red chilli, finely sliced
1 tbsp of toasted sesame seeds
Cook the ramen noodles in a pot of boiling water for 5 minutes then drain and leave to the side.
In a large pot place the stock, tamari, ginger, vinegar, chili paste, garlic, five spice, and honey. Let this simmer for 5 minutes then add the mushrooms and noodles and cook for a further 5 minutes.
While you are doing this soft boil the egg for around 6- 7 minutes. Then peel and slice in half.
Serve the ramen into two bowls, place the eggs on top and top with the carrots, spring onions coriander, fresh chili and sesame seeds.
Vegan Apple Olive Oil & Pinenut Cut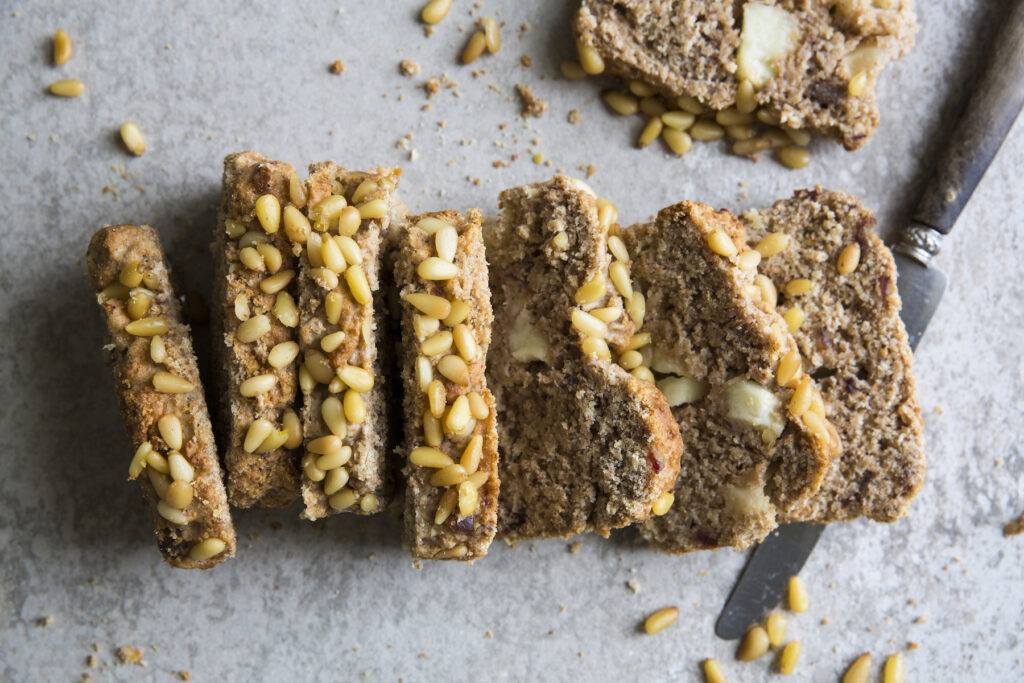 Serves: 2 – 4 Prep time: 30 mins Cooking time: 50 mins
Packed with energy boosting pine nuts, which are high in zinc, and healthy olive oil which the Greeks believed made men more virile, this is the ultimate love loaf. The mono and polyunsaturated fats in the olive oil are good for your heart, blood flow and hormones, too.
British celebrity chef Phil Vickery created this Mediterranean-inspired recipe which is healthy and beyond delicious. 'Before advent of natural sugar alternatives and decent egg replacers, this vegan and reduced sugar cake simply wouldn't have been possible,' he says.
2 medium Bramley apples (450g) peeled and cored (250g prepared)
50mls cold water
3 tsp (12g) egg replacer (I used Orgran's gluten free replacer)
90mls cold water
75g date puree – or whizzed up pitted dates
80g xylitol sugar alternative (available in stores as Total Sweet)
50mls extra virgin olive oil
220g wholemeal flour
4½ (14g) level tsp baking powder
50g pine nuts
Pre heat the oven to 160oC, gas mark 3. Line a 2lb loaf tin with a parchment loaf liner or equivalent. Place the apples into a small saucepan and add 50mls cold water. Place over a low heat and cook until pulpy, but not fully cooked, then cool slightly.
Mix together the egg replacer and 90mls cold water well. Put the date puree, xylitol and oil into a mixing bowl on a machine and beat until smooth. Add the egg replacer and water and mix in.
Now mix together the flour and baking powder. Place the apple pulp into the date, oil, xylitol and egg replacer and mix well.
Add the flour and baking powder mix and beat together very quickly. Mix well, but don't over mix or the end sponge will be tough and chewy.
Spoon into the prepared loaf tin and spread out evenly before sprinkling over the pine nuts. Cook for 45-50 minutes or until well risen and cooked through.
Remove and cool on a wire rack for at least 20 minutes then lift out and cool completely before cutting (with no egg you have a more fragile sponge).