There are few UAE landmarks that are more iconic or impressive than the Sheikh Zayed Grand Mosque, and few hotels with a better view of its shimmering white and gold domes than the Fairmont Bab Al Bahr, Abu Dhabi.
Perched on the banks of the Abu Dhabi Grand Canal, the destination offers fabulous vistas of the mosque's majestic silhouette, including from the rooms, the restaurants, the beach and even from the gym.
Committed to sustainability
However, while the stunning setting, huge and stylish rooms and long palm-fringed pool are simply wondrous, what makes this well-established hotel stand out from the crowd is its commitment to sustainability.
It doesn't just use it as a buzz word either.
Some efforts, such as plastic-free toiletries and plentiful plant-based dining options, are obvious from the moment you check in, while other initiatives are bubbling away behind the scenes. 
Most notably, the recent installation of four atmospheric water generators from homegrown technology company Eshara Water. – that have the amazing ability to turn air into water.
While the bottling plant operation isn't quite yet up and running, very soon it will produce an incredible 4,000 litres of clean and purified water per day. This will be dispensed into glass bottles and used across its rooms and suites, and offered for free in the restaurants.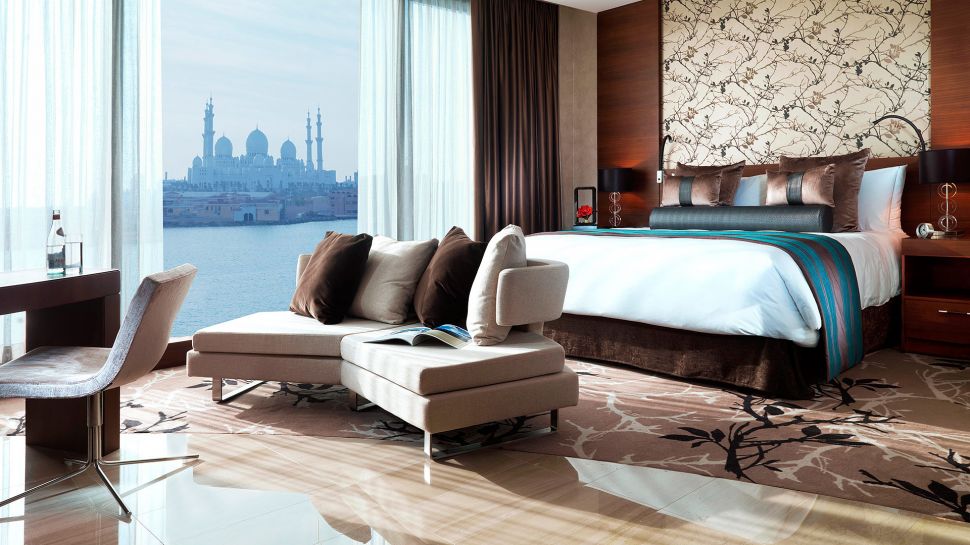 Along with its ambition to become an entirely single-use plastic free establishment, the kitchens use dozens of locally sourced ingredients, and all food waste and used oils are recycled, too.
Community Focus
At the heart of the Abu Dhabi community, the pool and beach is popular with day visitors as well as hotel guests. Watersports are available for an extra cost, and little ones have their own kids' club.
A serene setting far removed from the noise of Downtown Abu Dhabi and towering skyscrapers of Dubai, the abundance of fish in the nearby canal is proof of the clean and unpolluted waters.
If you can tear yourself away from the golden sands and the Olympic-length outdoor pool, the Mangroves National Park is just a ten-minute drive away.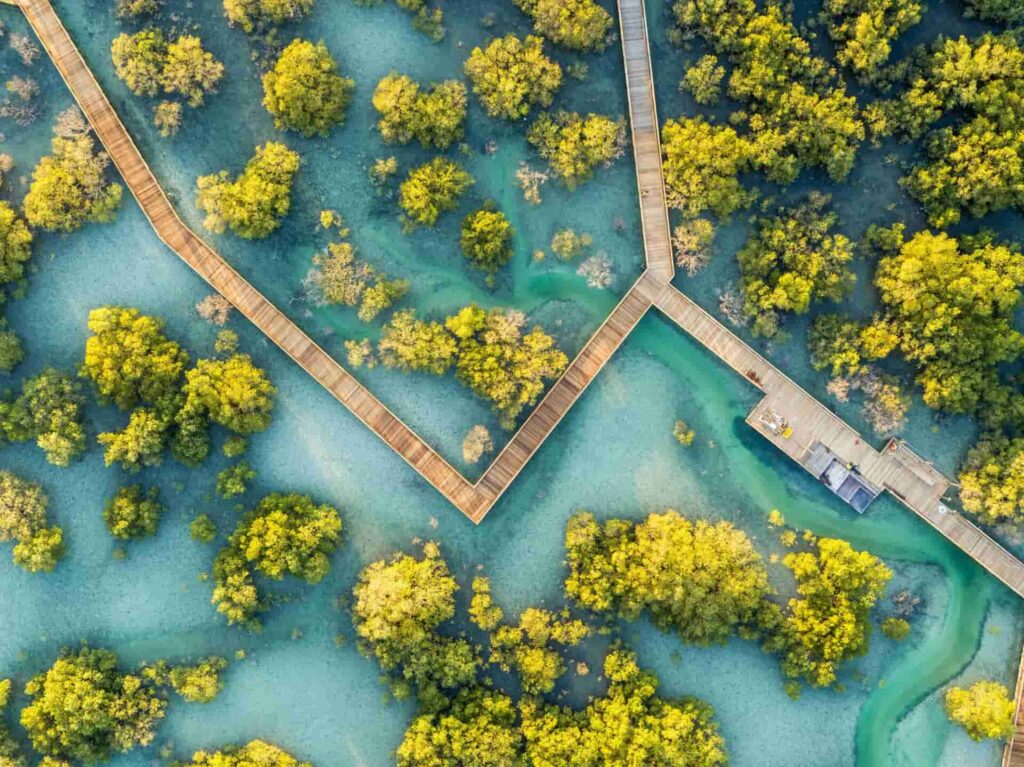 Head there for sunrise or sunset, rent a kayak and get lost in the maze-like labyrinth of trees that is frequented by dolphins, crabs, fish and many more wonderful species.
Fare at the Fairmont Bab Al Bahr
While it clearly deserves its five-star status, the Fairmont Bab al Bahr is relaxed and unpretentious, particularly when it comes to dining. Saturday brunch is a laid-back affair that encourages you to come in straight from the pool and dine in your beach gear, creating an atmosphere that's welcoming and inclusive.
Offering plenty for those on a various meat-free diets, the brunch buffet spans everything from simple, yet delicious authentic Italian specialties to traditional Arabic mezze and wholesome veggie roasts. The sweet tomato and creamy mozzarella caprese salad is a dream, while the saj and manakish breads, prepared right in front of you upon ordering, ensure maximum freshness and minimal waste.
Breakfast includes a choice of plant-based yoghurts and milks, alongside fresh fruits, piles of homemade pastries and much more. Amongst the many other onsite restaurants, you can enjoy casual bites in the huge garden of the Bridges Bar, and artistic Japanese creations at Cafe Sushi. 
The Grand Canal or Khor Al Maqta 'between the bridges' area is an often-overlooked part of Abu Dhabi. However, with competitive rates, quiet surroundings and a location that puts you within almost throwing distance of the Grand Mosque, not to mention a twenty-minute drive from the Louvre Abu Dhabi, Qasr Al Watan and the city's other top attractions, Fairmont Bab Al Bahr is restorative and culture-infused escape that has a lot to offer. 
For a quick 'daycation', the Fairmont Bab Al Bahr Saturday brunch includes pool and beach access until the end of June, with packages priced from Dh295.
Rooms per night start from Dh650 for two people. For reservations visit the fairmontbabalbahar.com