Why are so many kids' clothing options drowning in logos, embellishments and glitter? Shopping for your little ones, either online or in department stores, can often results in an array of items on less than desirable materials, embellished with loud, cringeworthy logos such as 'Smile', 'Be Kind', 'Mummy's BFF' or super heroes and yes, princesses.
As a parent, it can be easy to fall into the fast fashion trap. Kids grow fast and it can feel like you're buying new clothes all the time. In addition to this, kids' clothing can damage easily from outdoor play and activities. Parents can't be blamed for tending towards cheaper options when they they think they'll wear holes in them quickly. But really kids will wear holes in them quickly because they are cheap clothes.
While there is a perception that many sustainable brands are more expensive, it can be worthwhile to think quality over quantity when it comes to kids' clothing. Quality lasts longer. Eco-friendly fabrics are softer, stronger and can last for years meaning you won't have to continue buying new clothes all the time. With the right care, these clothes can be handed down generations rather than being dumped in landfill after a few active uses.
Eco-friendly kids' clothes are also kinder to your child and the planet. They are often made with natural dyes instead of harmful synthetics and chemicals, they use materials from natural or recycled fabrics that require significantly less to no chemical treatment, they use less water, less energy and no fertilisers or pesticides to grow.
So, read on to discover seven of the most eco-friendly, ethical and sustainable kid's clothing that will have your little one's looking and feeling first in class.
Mori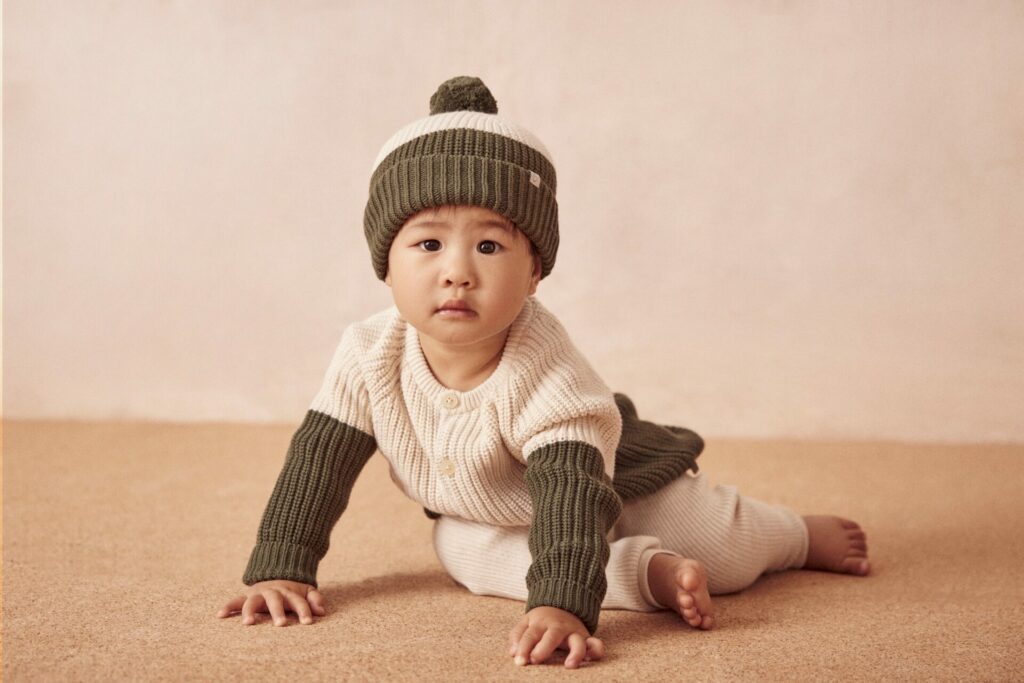 Launched in 2015, Mori use the softest organic fabrics manufactured in trusted factories to produce high quality, long-lasting and sustainable baby and kids' clothing. As well as being kind to the planet, their fabrics are gentle on young skin. Their signature fabric – a unique blend of 30 per cent organic cotton and 70 per cent bamboo, is used across MORI to create sleepwear, daywear and accessories. Whilst many clothing brands use additional chemicals to stabilise their bamboo-based products, MORI has developed its signature fabric without any chemicals. REPREVE Nylon (made from pre-consumer textile waste that would otherwise go to landfills) is used in the brands swimwear range.
Jackalo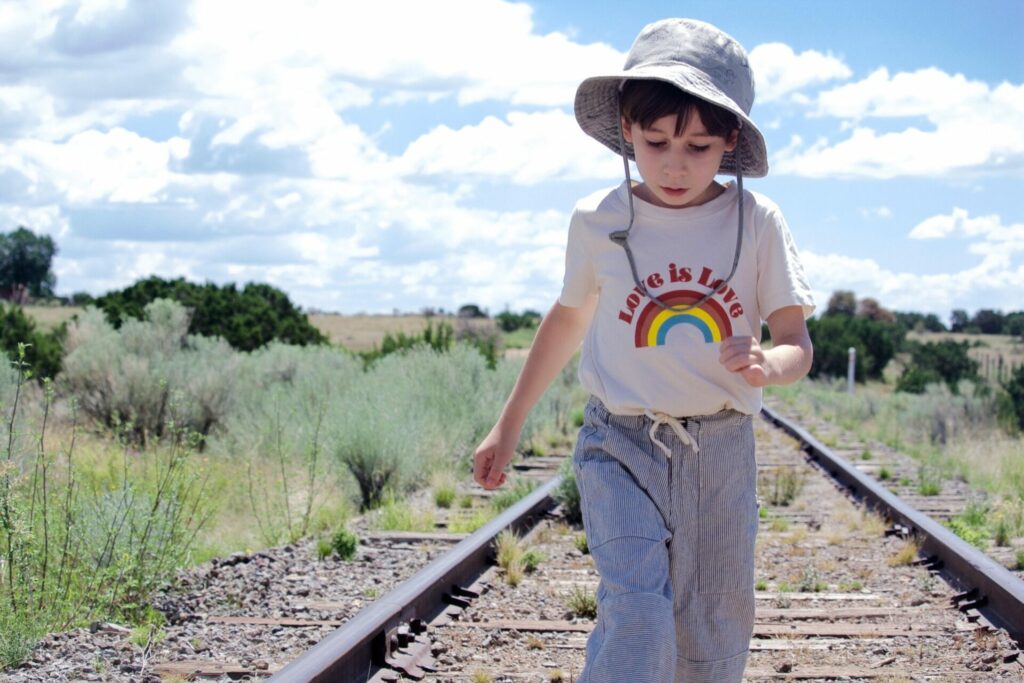 'Strong enough for active kids, gentle on the environment.' Founded by mother and long-time environmentalist Marianna Sachse, Jackalo strives to bring back old-fashioned quality to kids' clothing. As a family-run company, the brand believes in limiting the impact all of us have on the Earth for our children. They place huge importance on environmental sustainability in their manufacturing practices including energy-efficient factories, recycling all scrap fabric and supporting a culture of repair and reuse.
Their tradeUP initiative encourages outgrown Jackalo clothing to be returned in exchange for a $15 discount on your next purchase. They then place them on their site for resale at a discount. This keeps quality kids' clothing out of landfill whilst offering affordable options to more families.
Little Emperor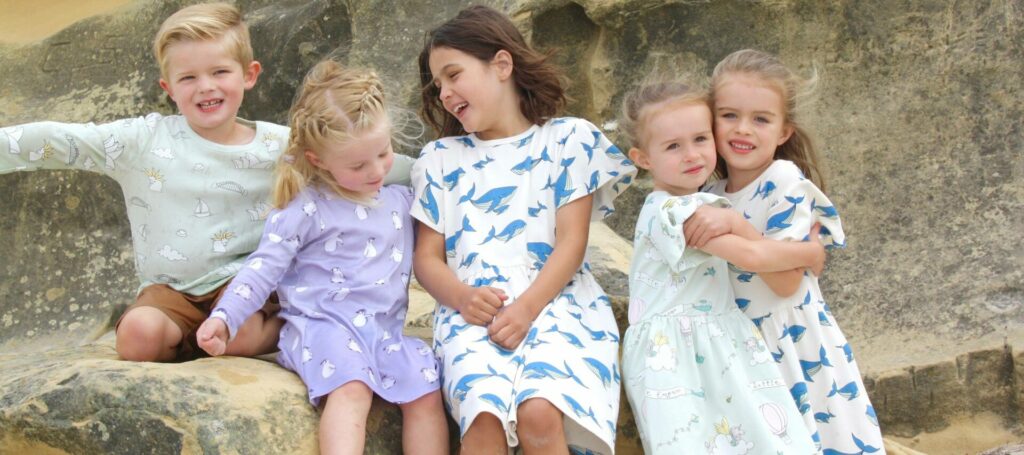 Little Emperor creates unique, functional, affordable and hardwearing clothing for children choosing GOTS (Global Organic Textile Standard) certified organic cotton as their fabric of choice. The brand (named in honour of the near threatened Emperor Penguin) is a member of 1 per cent for the Planet, meaning 1per cent of sales are donated to environmental non-profits, helping protect the penguin's home. Clever eco-friendly touches in their packaging include orders sent in organic cotton Little Emperor mini pillowcase keepsakes as well as swing tags printed on 100% per cent recycled paper using vegetable based inks. In addition, in order to eliminate waste, they retain their cotton fabric cut-offs and sew them together to make blankets.
Little Green Radicals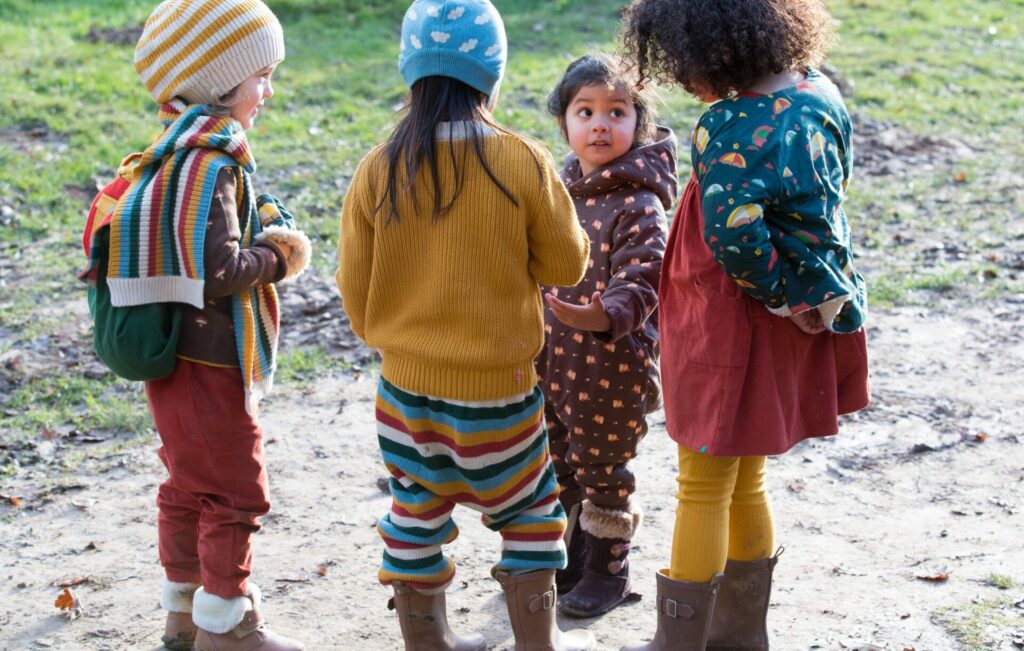 Little Green Radicals is an award winning, brightly coloured, often unisex baby and kids' clothing brand founded in London in 2005. They believe kids should play and have fun in comfortable clothes that are ethically made and free from harmful chemicals. The brand was one of the first companies to use Fairtrade Certified Organic cotton (since 2002) to make baby and children's clothing. All Little Green Radicals clothing is organic and certified by GOTS (Global Organic Textile Standard), and carries the Fairtrade logo. High social and ethical standards right through the production chain have made this fabulous clothing brand a worldwide success.
Bodi Loves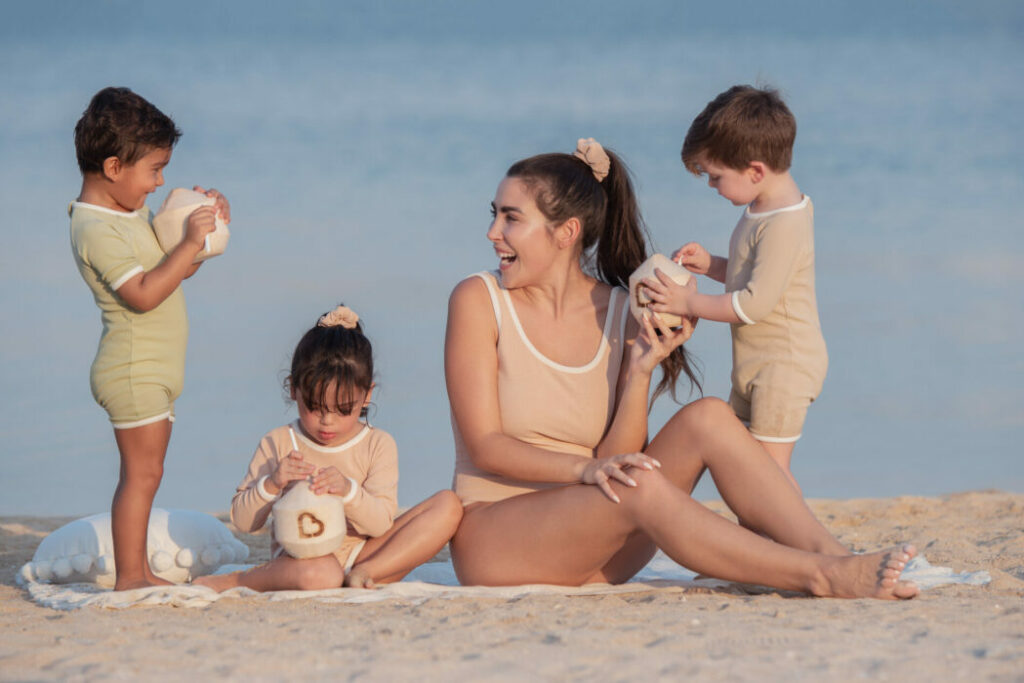 UAE based Bodi Loves elevates children's swimwear and essentials into a new realm of sustainable, attainable luxury. Moving forward from the days of mismatched and bright prints, Bodi Loves focuses on a softer, stylish neutral palette of high-quality matching pieces for all ages, genders and stages. Along with the added benefit of UPF 50+ protection in their swimwear and spun from REPREVE sustainable yarn with no harmful substances, each piece from their collection comprises of comfort and full protection.
Wild Fabrik
A great home-grown UAE based company, Wild Fabrik is an online destination featuring over 1000 affordable products including kids' clothing from small eco businesses globally, offering sustainable and fashionable solutions. In particular, their matching 'father and son' swim short sets made from recycled plastic in an array of colourful designs have been a massive hit! Additional children's beach attire includes organic sustainable beach ponchos, authentic Panama hats and sunglasses made from recycled plastic. All their packaging is made from compostable or biodegradable material.
The Giving Movement
A home-grown UAE based brand launched in 2020 that gives back. The Giving Movement creates sustainable and organic sweats, joggers, t-shirts and athleisure for children as well as adults while partnering with charities. The brand is quickly making recycling the new fast-fashion. The brand uses GRS-certified recycled nylon and FSC-certified organic biodegradable bamboo. With zero-waste, local and limited production, the label also donates AED15 per item sold to Dubai Cares and Harmony House, India.