The time has come to take down the Christmas tree and pack the decorations away for another year.
But while studies show that real Christmas trees are more environmentally friendly than fake ones, it's essential that you still recycle them responsibly and don't let them end up in the dustbin.
Even though trees are biodegradable, they won't help the environment by sitting in landfill waiting to decompose. Recycling your tree reduces greenhouse gas emissions, and enables your tree to give back to the earth as compost, firewood or made into a gratitude tree.
Christmas trees are only recyclable, however, if they have had all of their decorations removed and haven't been sprayed with any chemicals such as fake snow. There are some biodegradable snow options available, so next year, be sure to check the label before spraying.
Thankfully, the UAE offers a number of quick and easy ways to give your tree a second lease of life so take the opportunity to give one last gift to the planet—and recycle your Christmas tree.
UAE Christmas Tree Recycling Options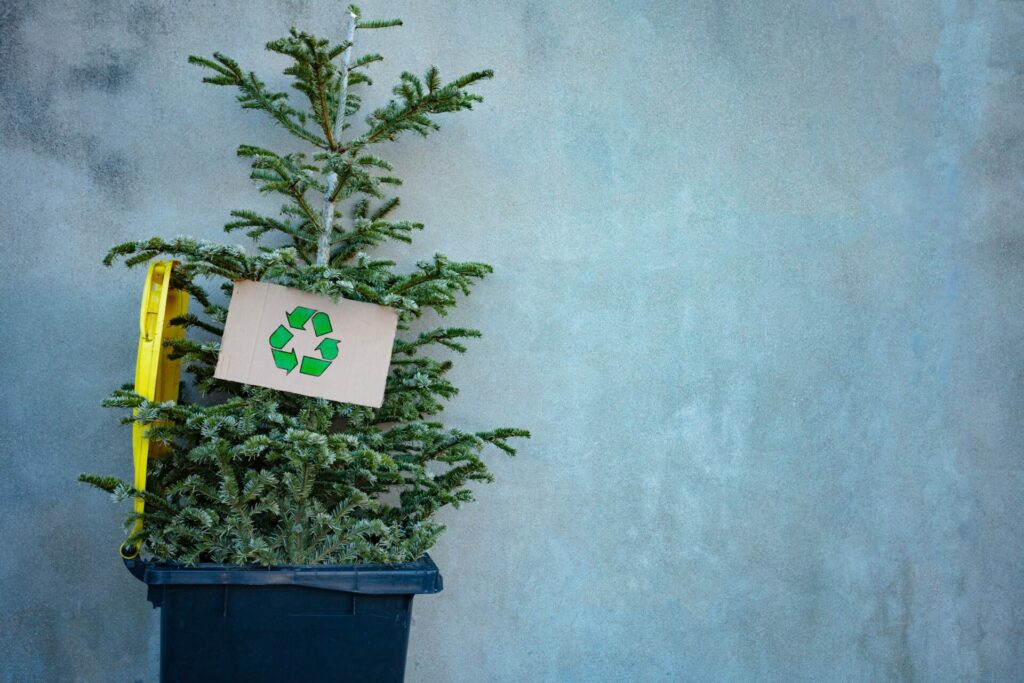 ACE UAE
ACE UAE has partnered with circular economy platform Yes Full Circle to relaunch its popular Tree-cycle campaign. All Christmas trees dropped at the hardware store will be turned into compost and then donated to local schools.
The service is totally free of charge and applicable on any Christmas tree, whether you originally purchased it from ACE or not.
Just drop your tree at the Dubai Festival City branch, or the one at Yas Mall in Abu Dhabi before January 31.
Kibsons
The popular farm-to-kitchen fruit and veg suppliers will come and pick up trees purchased from them for free and recycle them into firewood.
You can arrange tree collections via the 'Return & Recycle Services' section of the 'My Accounts' page.
Natura Tribe
Natura Tribe, Dubai's most sustainable nature-inspired playgroup, is incorporating old real Christmas trees into a range of fun and wholesome activities, including whittling sessions, fire making and creating 'gratitude trees'.
The organisation is asking residents to drop their festive trees at the woodland-inspired Natura Tribe Village at Al Barari, or they can come and pick them up from your home for a small fee.
Spinneys & Waitrose
Both Spinneys and Waitrose supermarkets have partnered with Tadweer, Abu Dhabi's waste management centre, to offer a free Christmas tree recycling service.
All you have to do is strip your tree and drop it at any Spinneys or Waitrose store across the UAE before Sunday, January, 15.
It will then be composted to create natural fertiliser for local farms at Tadweer's organic waste composting facility.
ReLoop
Those living in Dubai, Abu Dhabi or Sharjah can arrange to have their real Christmas tree picked up from their doorstep and recycled through homegrown recycling app ReLoop.
The leaves, stems and thin branches are converted into compost, while the thick trunk is cut down into wood that can be utilised in various different ways.
First-time ReLoop users can redeem a free trial, and after that it costs AED 25 per pick up, or AED 69 for four per month, including for electronics, plastics, metals, glass, clothes, paper and cardboard.
Alternatively, trees can be dropped at the ReLoop recycling facility in Al Qusais, free of charge.
At home
Alternatively, there are a number of ways that you can recycle your tree at home.
Chop it into small pieces for your next desert campfire or barbeque, or shred it into mulch to spread on your garden. Mulch increases water retention, boosts nutrient levels, deters pests and generally improves the overall quality of soil.
It's even possible to create your own biochar, the carbon-rich substance that is known for promoting plant and soil health, by chopping up your tree and burning it in a cone pit or drum.