A gigantic metallic orb placed amid mounds of garbage, in piles of plastic waste and at cramped traffic intersections, plays witness to man's devastation on planet Earth in a series of thought-provoking black and white images, snapped in some of the most polluted cities of the world: Kolkata, Mumbai and Pune, in India.
Taken by celebrated photographer Max Vadukul, the images are part of an exhibition aptly titled The Witness: Climate Change, currently being showcased at Fondazione Sozzani gallery in Milan, Italy.
The exhibition that runs until January 8, depicts 20 large format images devoted to the environment, and climate crisis in some of the world's most polluted spots. 'I document human behaviour and what I wanted to do was to take something ugly like garbage and make it beautiful, so that people would look at it closely and then think, "maybe it is just not they who need to change their behaviour but me too. I am the change,"'Max tells The Ethicalist.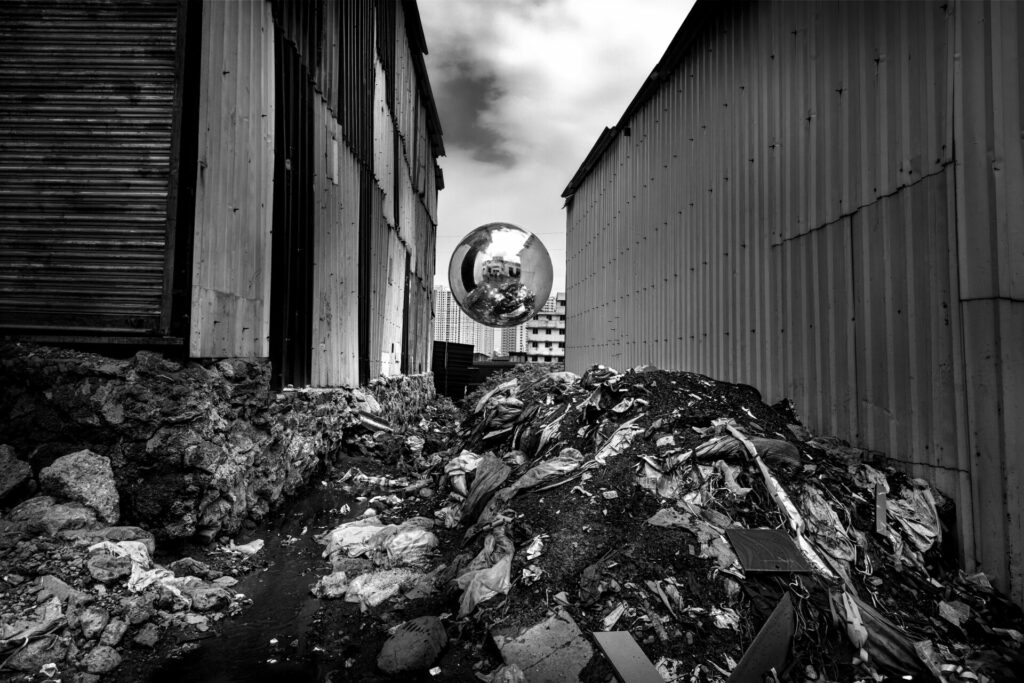 Renowned for his reportage style, the British photographer of Indian descent is well known for his longstanding career with some of the world's best-known publications including The New Yorker, Vogue, W magazine and Rolling Stone. His lens has captured a slew of celebrated names, the likes of Mother Teresa, Mick Jagger, Brad Pitt, Donald Trump, Aretha Franklin, Bruce Springsteen and Amy Winehouse, among many others.
Max became interested in focusing on the environment back in 2018 when GQ India, a well-known men's fashion magazine, commissioned a photo essay for its 10th anniversary issue. 'They wanted me to step out of the box and do something on sustainability and pollution in India,' he says.
Polluted Cities
Along with the magazine's team, Max scouted for potential locations and finally zeroed in on them in and around Mumbai and Kolkata. Both destinations are among the top 20 most polluted cities of the world in terms of air quality (in fact 18 out of the top 25 polluted cities are in India).
Max's employs his signature style of 'taking reality and making it into art' in The Witness project. One of the first shots was taken at a train station in Mumbai capturing an image in motion, as hordes of passengers spilled out of a packed local train.
In yet another image, shot at a waste recycling unit outside Mumbai, a bare-chested man sits soaked in sweat on a pile of polythene waste, taking a break from his job of cleaning used bags. While one of his hands covers his face with a sheet of plastic, the other balances the huge menacing orb.
'I watched him all day, pretty much in this place, just thumping on the plastic sheets with his feet, until the dirt came off. Garbage is big business, worth billions of dollars. I wanted to show the murky reality behind this industry,' Max says.
After completing the photo essay for the magazine, Max went back to India at his own expense in 2019 to take more photographs in polluted cities.
Post COVID, a chance conversation with Carla Sozzani, an Italian magazine editor and gallerist, led to the pictures being curated as an exhibition at the gallery in September 2022.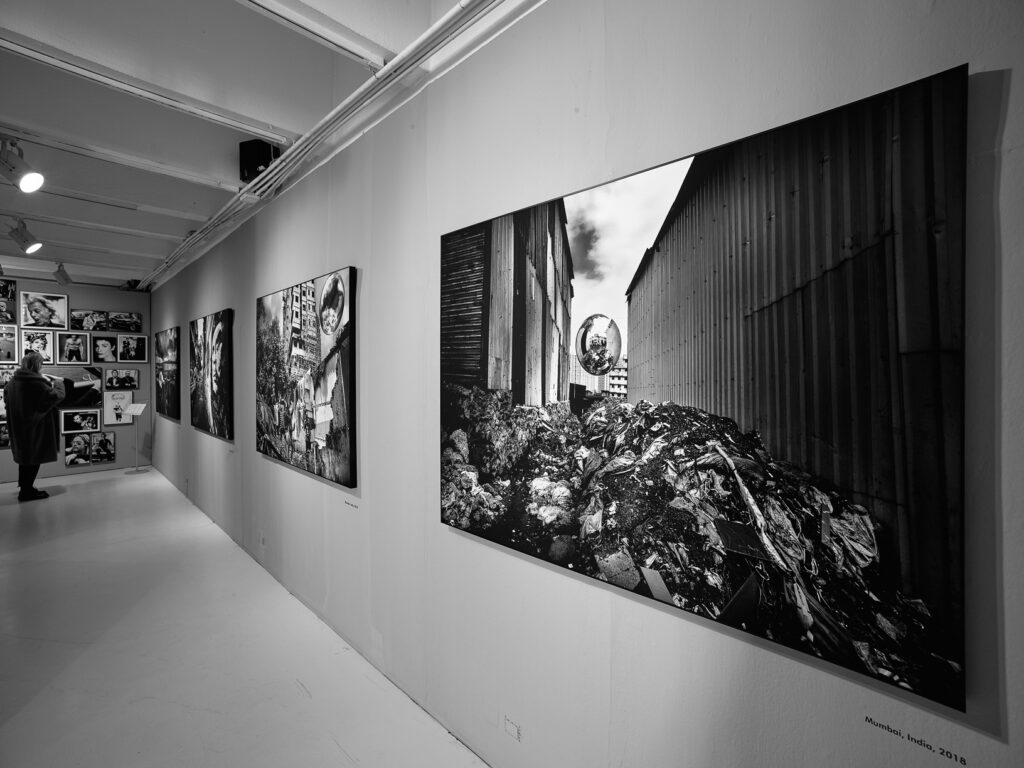 Through this showcase, Max has tried to show how we are losing some of the most beautiful places in the world due to our lack of attention, awareness and action.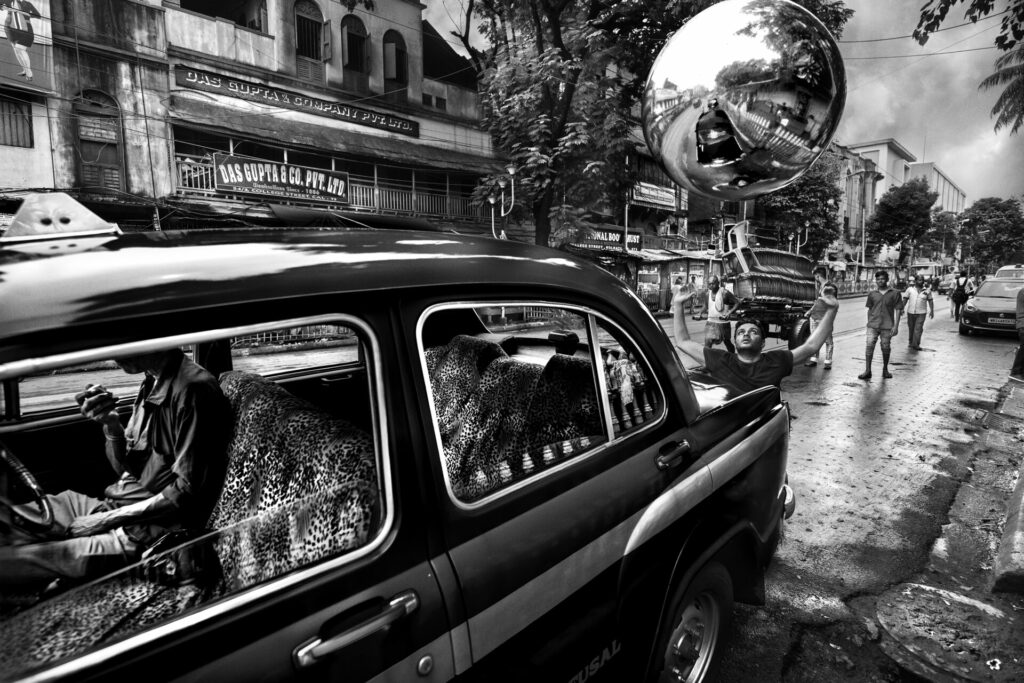 In yet another shot framed at the exhibition, Max captured a smoke billowing taxi at a busy traffic intersection in India, against the backdrop of a man pulling a loaded wooden cart, juxtaposing two extremes of our current reality.
In a flower market, his lens zoomed in on a group of young rag pickers at a dump of decaying blooms. 'In the morning, the flower market was full of marigolds, bright orange, absolutely stunning, ' Max says, 'but by evening, it had become a messy pulp. The young boys and girls working on this mound looked happy and content, oblivious of the stench and dirt around them.'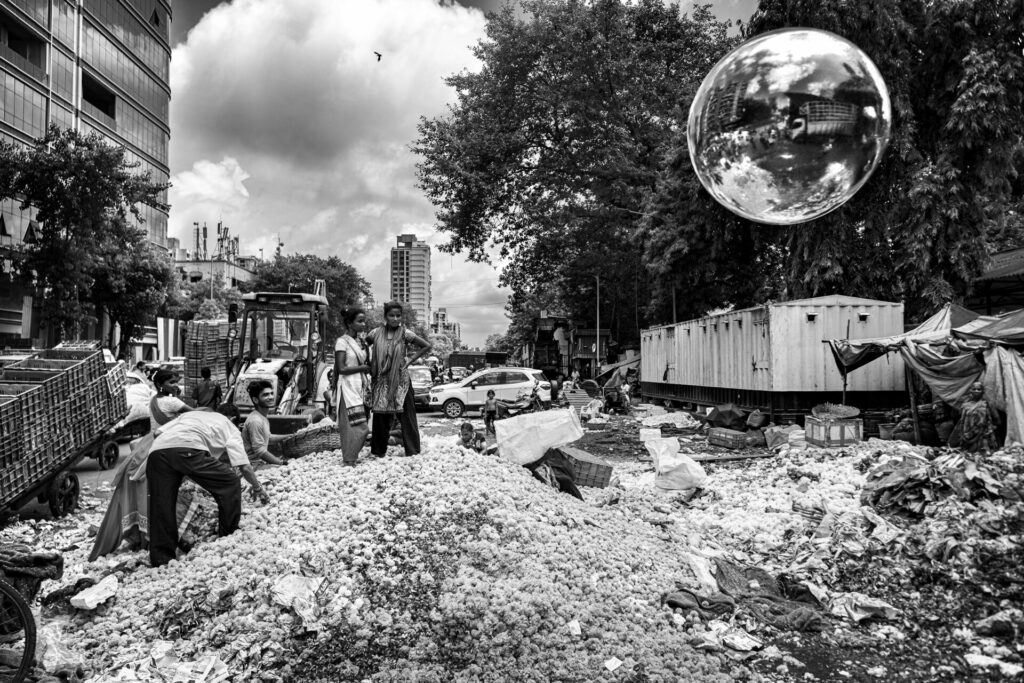 In all of Max's images in the series, the colossal orb is featured, sometimes suspended from above, at times placed between alleys, acting as a silent observer of life.
The Witness
'The project is called The Witness and the orb acted as one,' Max reveals. 'Its role can be interpreted in whatever way the viewer wants to. To me, it could be God, who has come down to punish us or an alien visiting the planet. I wanted to use it as a tool, to draw the viewer into the environment conversation.'
Indeed, his multi-layered images from the world's most polluted cities trigger curiosity and raise some disturbing questions about the slow erosion of the planet.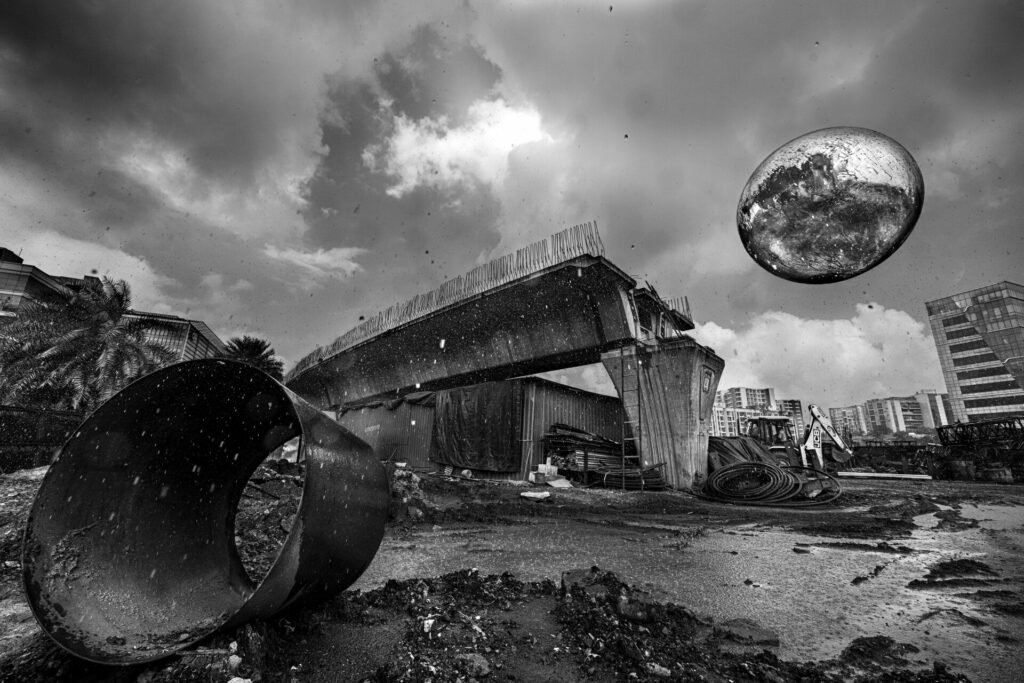 The figures are alarming. According to the United Nations Environment Programme (UNEP), approximately 300 million tonnes of plastic waste is produced every year but only nine percent is recycled; the vast majority accumulates in landfills or remains in the natural environment.
At the same time, methane from garbage in landfills poses a serious threat to nature. Data from satellite-mounted detectors taken in 2020 showed high methane levels over polluted cities in India, Pakistan and Argentina. A landfill in Mumbai, for instance, puts out 9.8 tonnes of methane per hour.
'This photo series has certainly made me more aware of this degenerating situation,' Max says. 'I believe, the planet might survive, but not us human beings. I'll probably be dead by the time the real effects of climate change take over, but thinking ahead for future generations is crucial.'