When the heat is on, chill out about serving a tasty lunch or dinner with a delicious salad. These are all light, simple to make and work as a main dish or a side – and best of all they're packed with watercress which is one of nature's finest ingredients.  
Watercress contains more than 50 vital vitamins and minerals, and remarkably, gramme for gramme, carries more vitamin C than an orange, more calcium than milk, more folate than a banana and more vitamin E than broccoli.  
It's also a good source of plant iron which, because of the high levels of vitamins A and C it contains, is converted into a form of iron that the body can easily absorb more readily than in other veg that don't possess such good levels of either vitamin, making watercress a 'must' for all vegans and vegetarians.
So, whip up a watercress-based salad that will wow your friends and family – and your tastebuds – with these four beyond simple recipes. Bon Appetit! 
Orange, Watercress & Fennel Salad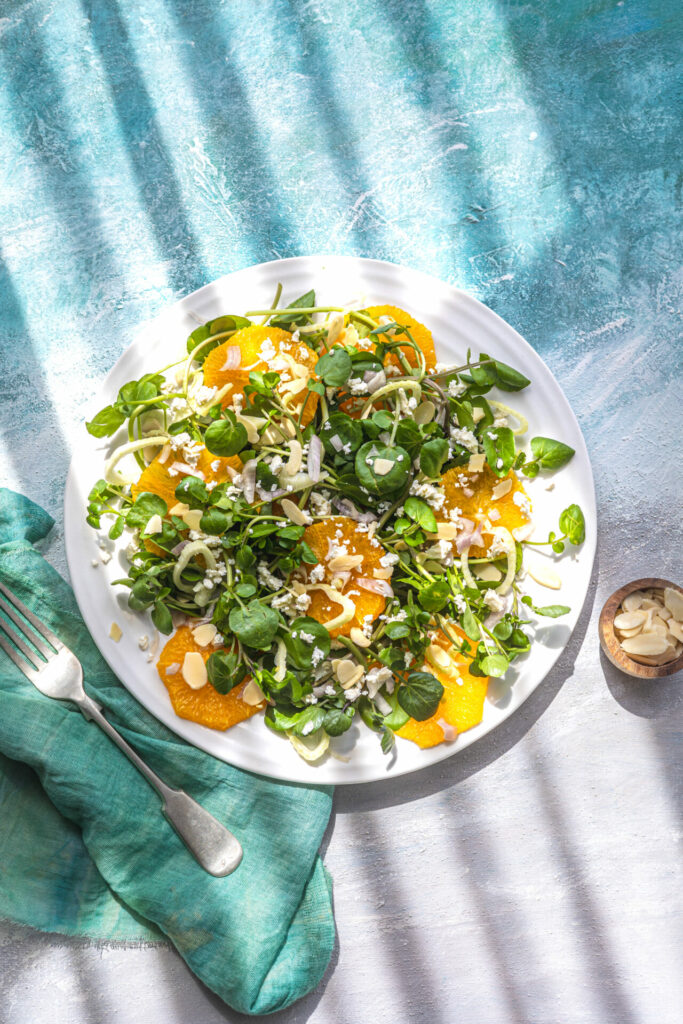 Vitamin C is an essential vitamin, meaning your body can't produce it so it has to be consumed. It has many roles and has been linked to impressive health benefits, such as strengthening our immune system and may help lower blood pressure.  
Prep time: 10 mins Serves: 2 as a side or starter 
50g watercress
1 large orange, peeled and thinly sliced
Bulb of fennel, finely sliced
1 shallot, finely chopped
30g feta, crumbled
Flaked almonds
Arrange the watercress, orange, and fennel on a plate.
Sprinkle with the finely chopped shallot, feta and flaked almonds.
Asparagus & Watercress Salad with Parmesan Sauce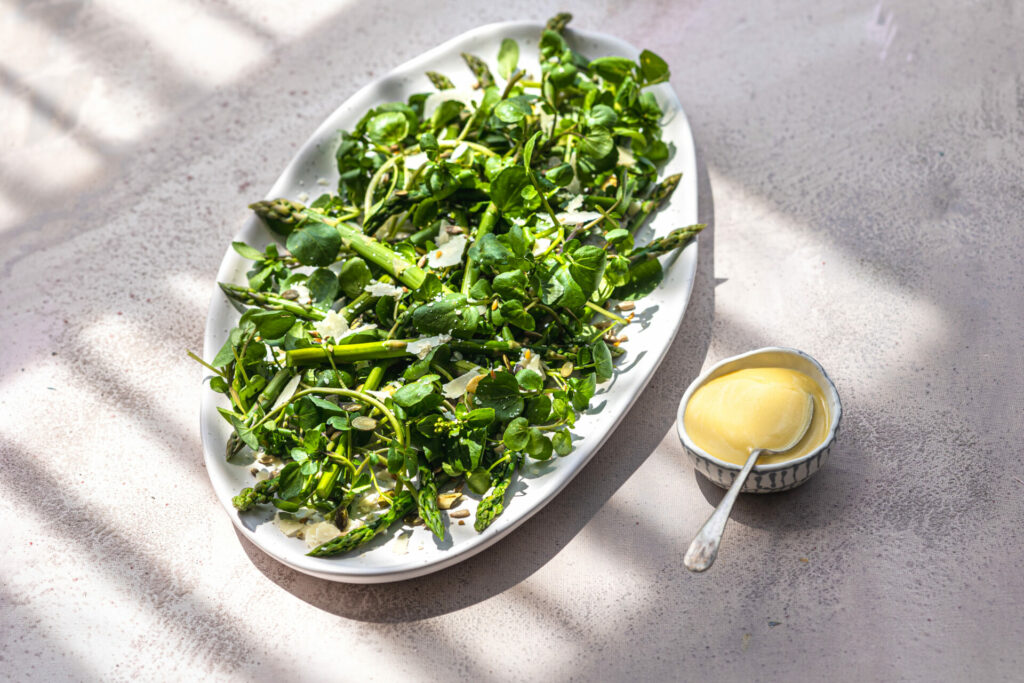 Asparagus and watercress are good sources of folate, antioxidants and fibre – with every mouthful you know this vibrant green dish is doing you good!
Prep Time: 10 mins Cook time: 5 mins Serves: 2 as a side  
100g Asparagus tips
40g watercress
Parmesan, flaked or grated
Mixed seeds
For the dressing:
1tsp Lemon Juice
1tbsp Dijon Mustard
1tbsp Olive Oil
Pinch black pepper
Cook the asparagus in boiling water for a few minutes, until the tips are vibrant green. Remove and allow to dry and cool.
Make the dressing by combining all ingredients and stirring.
Arrange the salad ingredients on a plate, sprinkle with the grated cheese and mixed seeds before drizzling with the dressing.
Watercress, Beetroot & Goat's Cheese Salad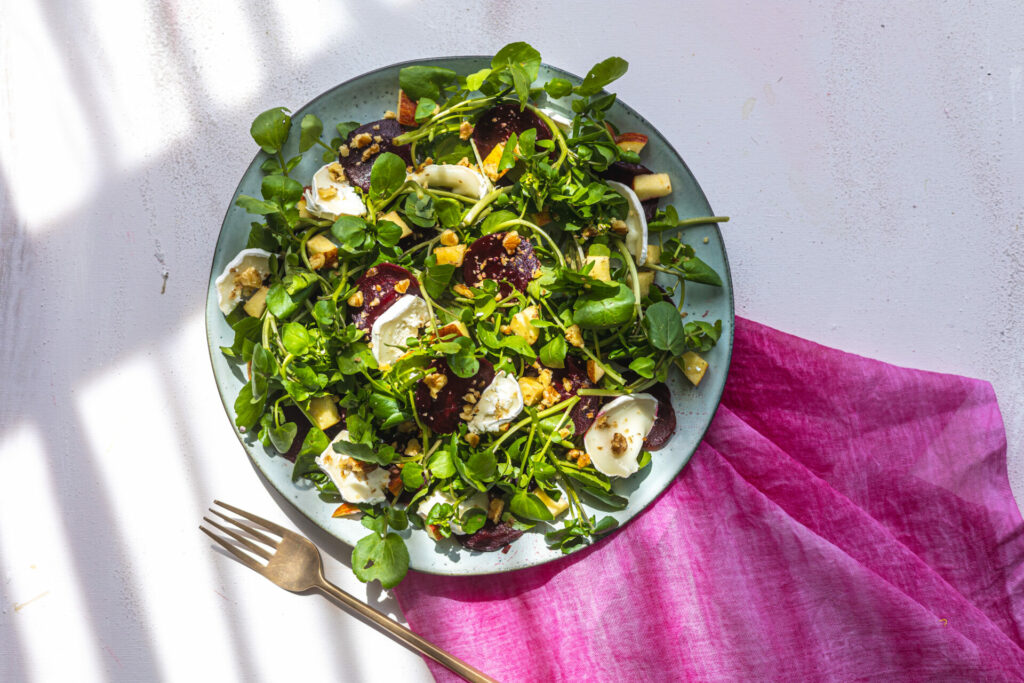 Both beets and watercress are packed with nutrients and minerals, but they also contain a high concentration of nitrates, which can help lower your blood pressure levels and can lead to a reduced risk of heart disease and stroke.  
Prep Time: 10 mins Serves: 2 as a side or starter 
40g watercress
1 or 2 beetroots, thinly sliced
1 apple, chopped
20g goats cheese, sliced
10g walnuts, crushed
Arrange all salad ingredients on a plate before sprinkling with walnuts.
Watercress & Tomato Salad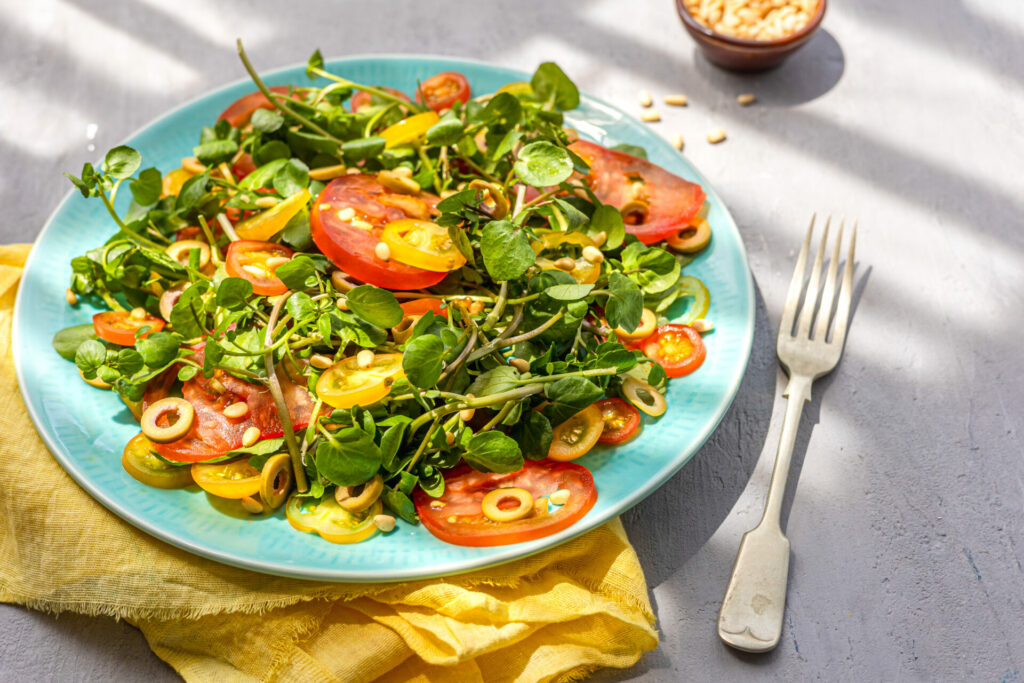 Tomatoes are the major dietary source of the antioxidant lycopene, which has been linked to many health benefits including reduced risk of heart disease and cancer. 
Combine tomatoes with watercress, which has also been scientifically proven to play a role in the fight against cancer, by combatting the DNA damage that contributes to its development, and you have one super-healthy and delicious plate in your hands.
Prep time: 10 mins Serves: 2 as a side or a starter 
40g watercress
100g mixed tomatoes, sliced
30g olives, pitted and sliced
10g toasted pine nuts
Good quality olive oil
Salt & pepper
Arrange all the ingredients on a plate before drizzling with olive oil. Season to taste with salt and pepper. Serve with a soft cheese such as buffalo mozzarella or burrata. Mmmm!
For more salad recipes, visit www.watercress.co.uk