Michelin Stars are awarded as a testament to a venue's culinary creations and guarantee guests a first class fine dining experience, where the food takes centre stage. The Michelin guide was founded by Andre and Edouard Michelin – also the founders of the world famous tyre company – who wrote a useful guide for motorists full of tips on which places to visit, how to change a tyre and so on. The popular guide soon expanded into including places to stay, which ultimately led to the inclusion of restaurants, and thus the Michelin Star was born.
Among the thousands of Michelin starred restaurants around the world today, a select few have gone above and beyond to offer fine food in a settling like no other. These gastronomic gems not only stand out from the crowd because of what's on the plate but where and how it's served too, ensuring that diners leave the restaurant with a heart full of joy and a belly full of food.
Here are our pick of the world's most unique Michelin star restaurants you need to visit.
Flying Sauces, Soneva Fushi, The Maldives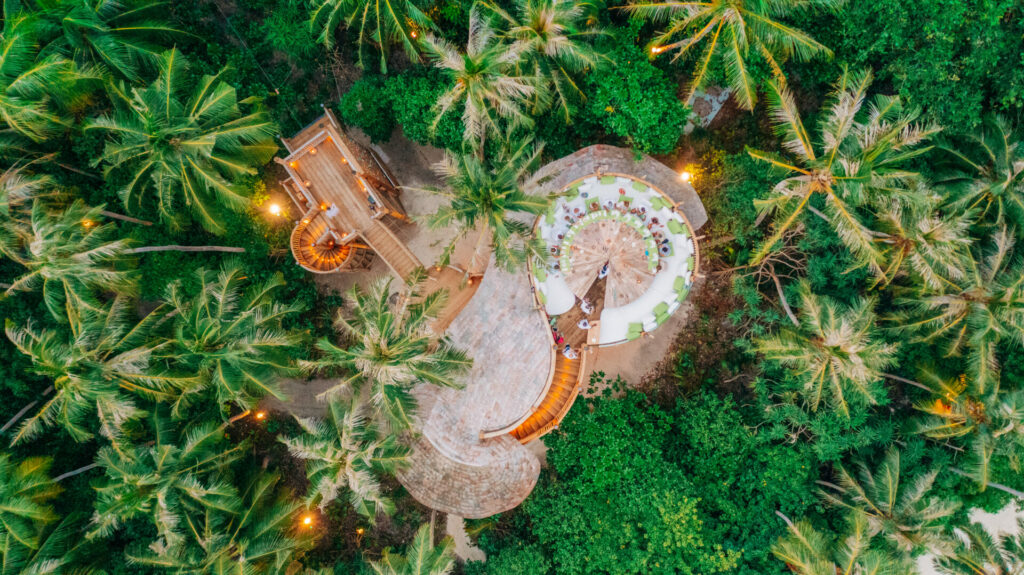 The Maldives isn't only home to crystal clear water and white sandy beaches – it's also where you'll find the world's first zip line fine dining restaurant. The stunning one-of-a-kind venue is located a whopping 12 metres above the ground, giving diners stunning views of the Indian Ocean. To add to the experience, it takes around an hour of zip lining across the island to reach this incredible location. All the excitement of the journey will leave you feeling hungry, so when you finally arrive you're ready to tuck into a memorable Michelin starred meal.
The ever-changing menu, currently from renowned Chef Tim Raue, offers unforgettable vegan dishes using fresh local ingredients – with a German twist. The topinambur served with sautéed spinach and truffle sauce is a flavourful favourite, and worth shouting from the treetops about.
Under, Lindesnes, Norway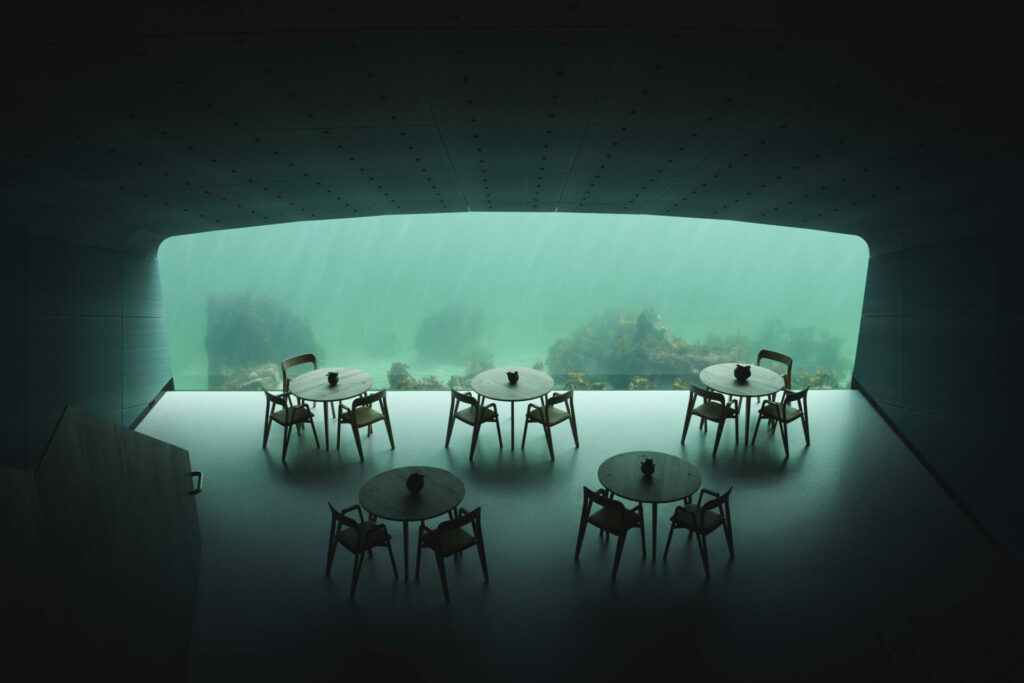 This rather strange-looking restaurant allows you to dine five metres under the sea, bringing you close to nature as you eat. Under takes diners out of their comfort zone for an unforgettable dining experience with only a glass wall separating your table from the ocean's wildlife. Marine life is plentiful surrounding the restaurant and would otherwise remain unseen if it wasn't for Under's unique experience.
The peculiar angled structure, half submerged in the North Atlantic, was developed to give diners a different way of appreciating the relationship between land and sea. One of the jewels in the crown of this southern-Norway wonder is the ice cream sandwich made using pineapple-weed ice cream and gele buckthorn kombucha, which you can enjoy as part of a sensational 18-course tasting menu, made using only the finest Nordic ingredients.
Nerua, Guggenheim Museum, Bilbao, Spain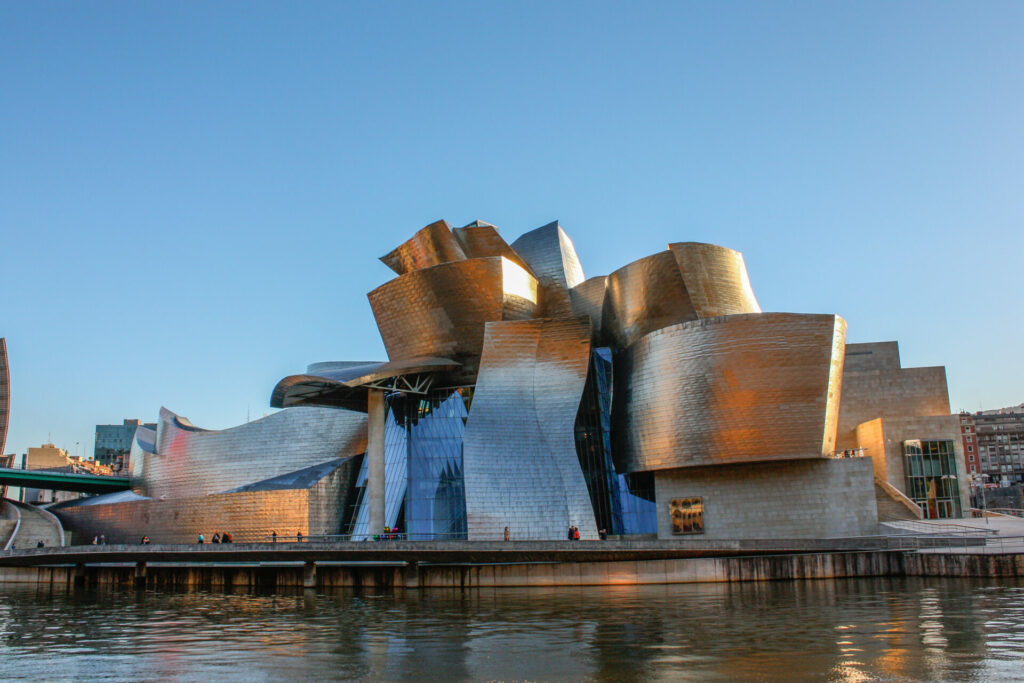 Not only are the walls of this iconic building covered in works of art, the plates are too. People come from far and wide to visit Spain's Guggenheim museum as much for the food as its priceless pieces. To maximize freshness and quality of the products, Nerua's delicious Michelin Star menu changes with the seasons.
So when you've finished looking at the exceptional exhibitions, which have included masterpieces from the likes of Picasso and Salvador Dalí, around the spectacular titanium, glass and limestone structure, it's time to take a load off and enjoy a Michelin masterpiece. The famous roasted eggplant with 'makil goxo' is one of the best-selling dishes on the menu, that's so beautifully crafted with local ingredients it should be in a gallery of its own.
Georges Blanc, Vonnas, France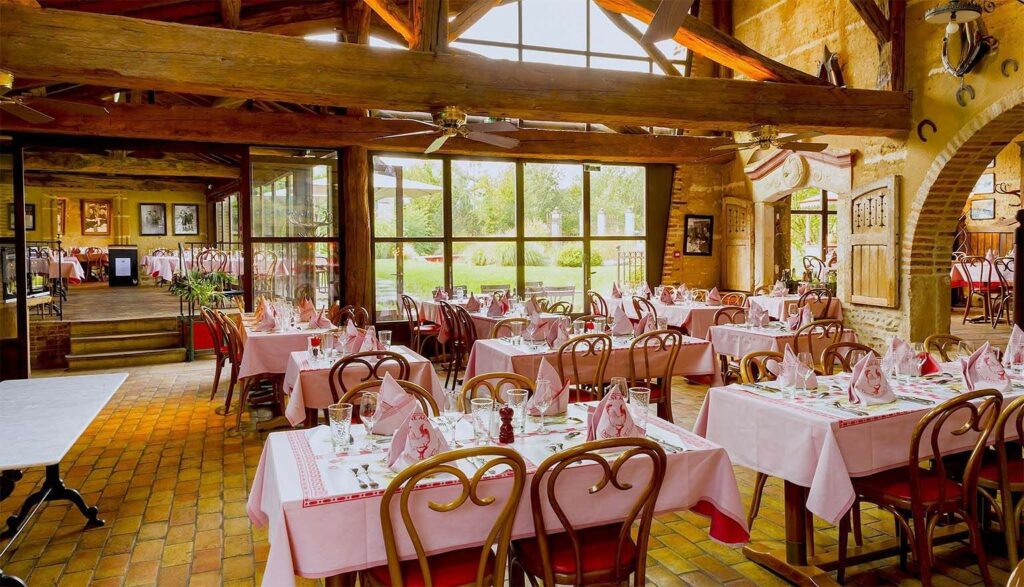 History buffs will be keen to dine at this spectacular 3x Michelin Star venue, in Vonnas, having achieved its first Star way back in 1929 – making it the oldest Michelin-Starred establishment in the world. Not content with just one, the restaurant has proudly notched up two more stars since 1981.
The French venue sits among a number of other fine dining restaurants in what's known as the Vallée de la Gastronomie or 'Valley of Gastronomy', making it a unique community of foodies, not seen anywhere else in the world. The traditional dishes are locally sourced and change with the seasons for year-round freshness. The menu is the brainchild of Georges Blanc who combines flavour, colour, texture and aromas to construct unforgettable dishes that pay homage to 150 years of French tradition.
Lowe, Dubai, UAE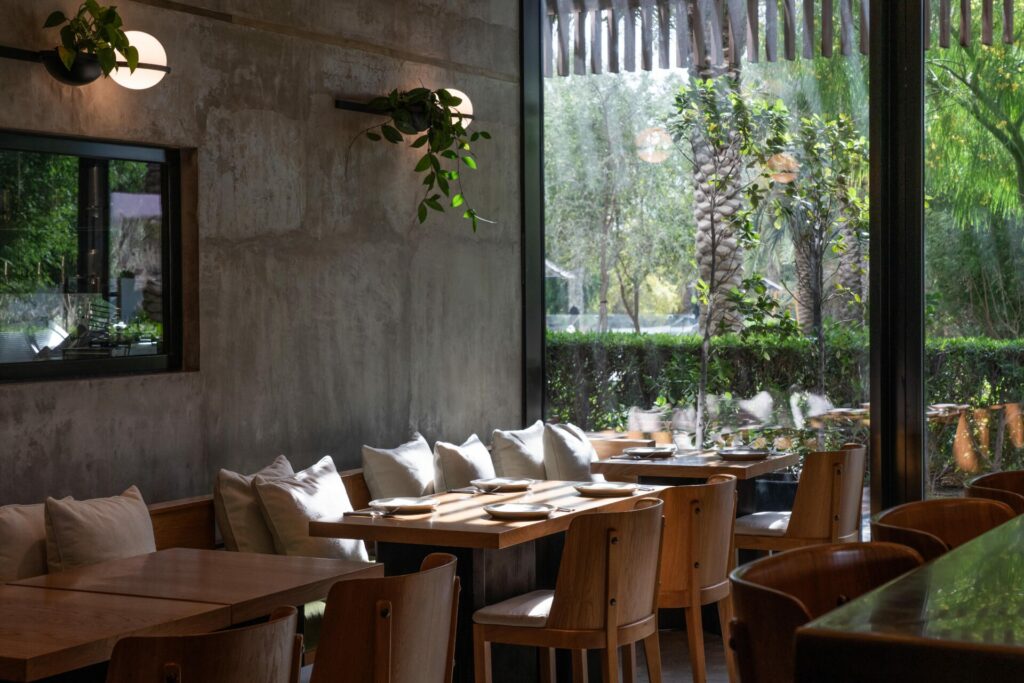 Officially the UAE's first green Michelin Star restaurant, Lowe was recognised in 2022 by Michelin for its sustainable practices and was the only establishment in the country to be awarded the sought-after green leaf last year. This is thanks to its zero-waste approach which sees all of Lowe's vegan dishes made up of leftover produce.
Located at KOA Canvas, a luxury, hidden hideaway in Al Barari, Lowe attracts diners from across the emirates with its array of guilt-free food choices, including the delightful black pepper miso aubergine with tofu cream. Another fan favourite is the charred cauliflower with golden raisin chimmi, spiced cashew and coriander yoghurt. Lowe has also become a popular breakfast spot, thanks largely to its incredible honey and ricotta crumpets, which are the perfect way to start any day.
The Bell, Oxfordshire, UK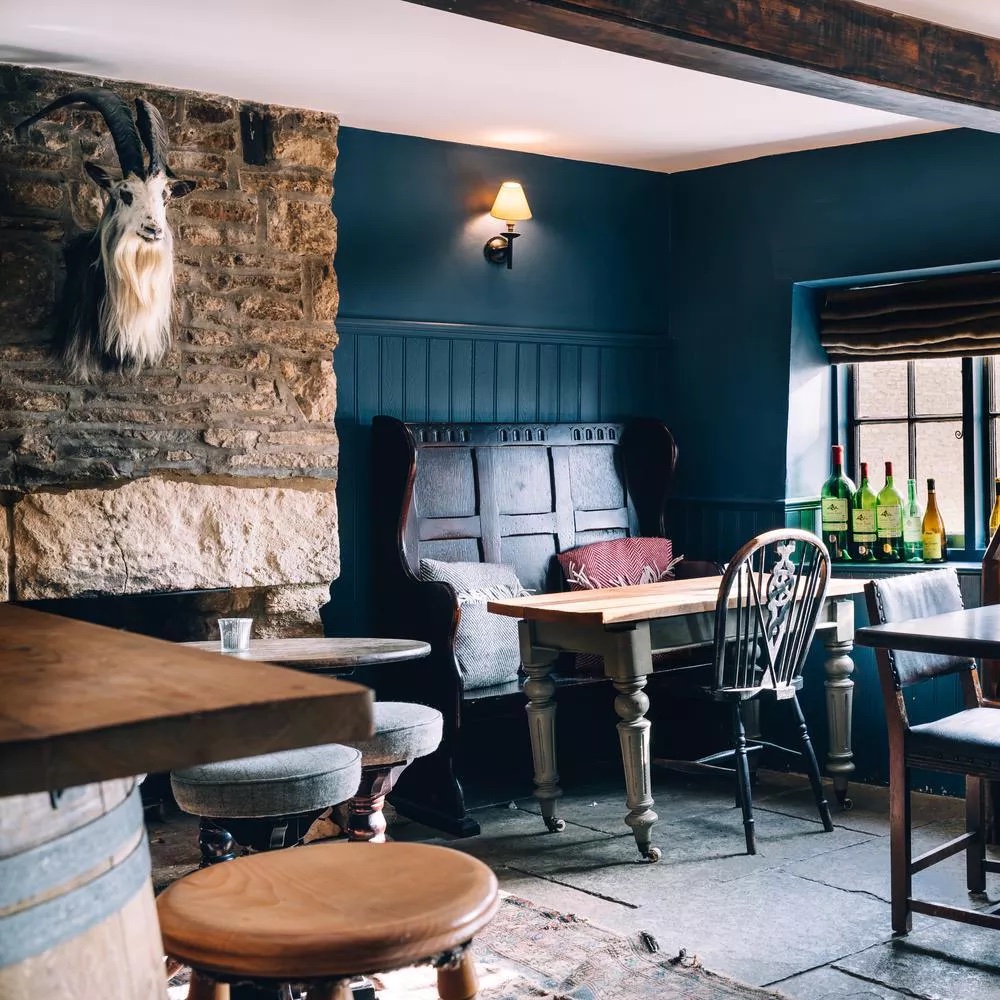 This 16th Century Tudor building in Langford, Oxfordshire has retained its oldie-worldie charm and it's easy to see why it has become a venue of choice for weddings, concerts and community gatherings – as well as serving some of the UK's most desirable dishes. Prices in the 17th Century started at 1p (AED 0.0034) for a plate of food and also included a night's stay!
Thanks to its storied history it has become one of the most unique Michelin Star restaurants in the world. Locals and staff regale guests of wartime tales, including how The Bell was used to dispatch Horses in 1914 to battle in the First World War, all while diners enjoy a feast from the changing seasonal menu. The sweet chili halloumi wrap, and pickled BBQ fennel with black olives are two top choices. Regulars usually finish off the meal with the mouth-watering vanilla brulee with local berries.
(Sketch) The Lecture Room & Library, London, UK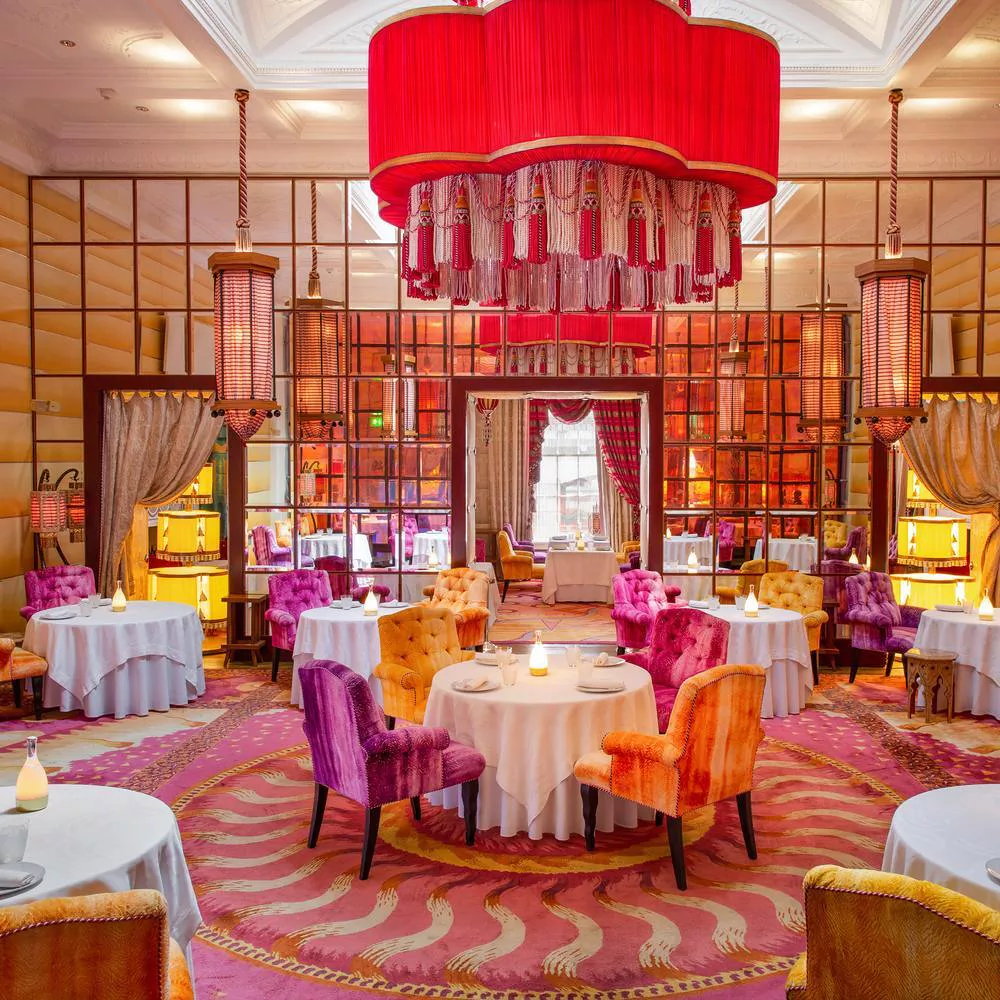 Sunglasses at the ready! You'll find few fine dining eateries around the world as brightly decorated as this one-off venue. Known as an '18th Century house of fun' you can't help but smile as you enter this chamber of colour. As you'd expect with any Pierre Gagnaire restaurant the standards here are exceptional with dishes flying out of the kitchen, each seemingly better than the last.
The Swiss chard, sage and mushroom quiche is a must try along with the red bell-pepper confit in summer aromatics, served with tomato soup. If that's not enough, the star of the tasting menu is the petit violet artichokes bavaroise, seaweed & yuzu jelly, crunchy radish with verjus. After sampling this delectable food you'll leave shining as bright as the walls.