As a little girl, entering the enchanting expanse of my parents' attic never failed to evoke feelings of reverence and awe. Equal parts sweltering and spellbinding, it was in those familiar, fibreglass walls that I first discovered my passion for vintage fashion. Each time I ascended the creaky staircase, I felt as though I was stepping through a secret portal and into a realm of timeless treasures. Amid stacks of dusty decorations and rows of forgotten fabrics, the occasional vintage gem would reveal itself, enticing me with its echoes of the past.
The magnetic appeal that vintage finds hold over the fashion community is universally recognized. For fashion enthusiasts, few experiences rival the excitement of sifting through Goodwill bins or scouring the internet in search of a particular piece, only to strike gold by unveiling a vintage Versace vest or a sought-after Gunne Sax dress. But these classic creations might just serve a purpose that transcend clothing collections; they present a unique solution to the environmental concerns that fast fashion has fueled. Exploring the sustainability of vintage clothing and its positive influence on personal style reveals a pathway to fostering more conscious and meaningful choices in the world of fashion.
With an annual consumption of 79 trillion litres of water and the generation of more than 92 million tons of solid waste, the environmental toll of the fashion industry is both harrowing and undeniable. As awareness regarding the detrimental impacts of fast fashion has spread, so too has the call to implement more ethical options in the world of fashion. Compelling case studies and popular documentaries like The True Cost have illuminated the damaging ecological effects and unsustainable nature of fast fashion, imploring the public to take action against these all-too-prevalent practices.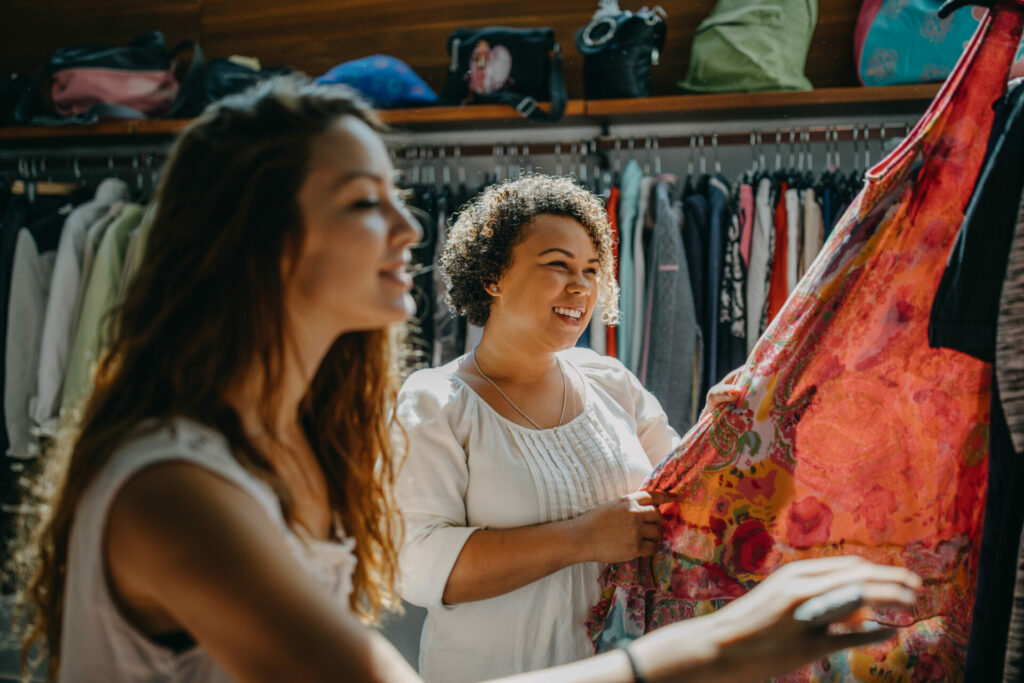 In many ways, these appeals have fulfilled their purposes. Boasting an average annual growth rate surpassing 8 per cent and a projected surge of 5.6 times in ethical product demand, the allure of sustainable solutions has never been stronger. Yet, in a culture that has grown increasingly cavalier about issues such as waste, pollution, and exploitation, a formidable journey lies ahead. Vintage fashion offers a glimmer of hope on an otherwise lacklustre path.
The Sustainability of Choosing Vintage
The very foundation of fast fashion relies on the unceasing cycle of clothing production, resulting in the excessive consumption of water, energy, and raw materials. Textile waste, chemical pollutants, and carbon emissions emerge as direct consequences of this fast fashion paradigm.
Choosing vintage pieces significantly reduces the demand for clothing production, helping to alleviate the environmental burden caused by resource–intensive production processes. By actively choosing to purchase vintage over new, you abstain from supporting exploitive practices that not only wreak havoc on the planet, but that also contain catastrophic consequences for every living being that calls it home.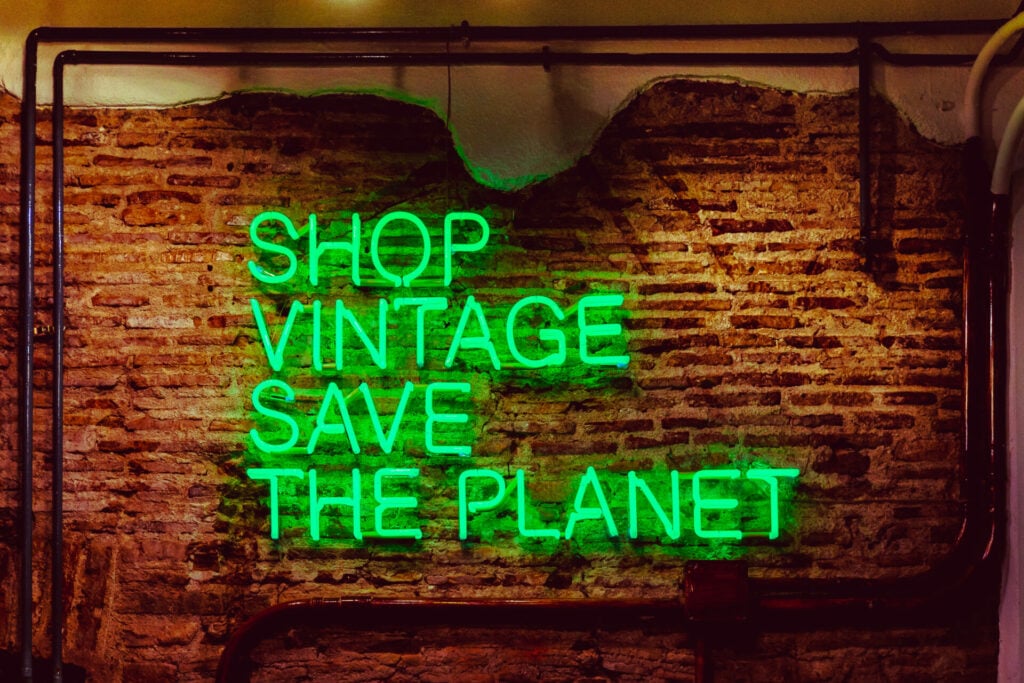 Moreover, vintage pieces often exhibit superior craftsmanship and durability, mitigating the constant need to replace worn-out garments—a common fate for fast fashion items. By embracing vintage shopping, you're opting for quality over quantity, a sustainable choice that yields advantages for both the world and your wallet.
The positive ripple effect of choosing vintage goes beyond the immediate fashion sphere. By disengaging from the fast fashion cycle, you are sending a clear message to the industry and setting the standard for what consumers demand. This, in turn, causes companies to rethink their manufacturing practices and prioritise ethical alternatives.
Vintage Clothing and Personal Expression
Not only does vintage consumption reduce your fashion footprint, but it also allows for more originality within the realm of personal style. Rarely will you find somebody sporting the same pre-loved leather or hand-me-down denim as you. Turning to vintage pieces for fashion inspiration is the perfect way to infuse your style with a unique flair and cultivate creativity within your wardrobe.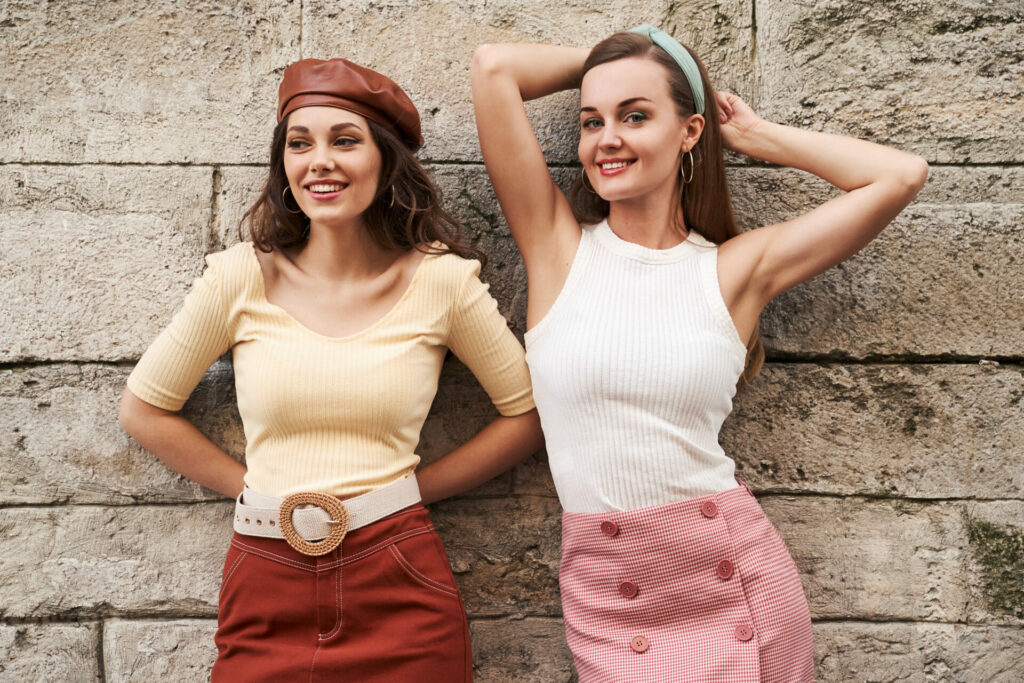 When you don garments from days gone by, you're ensuring that your looks stand out from the mass-produced fads of fast fashion. By blending pieces from different decades in accordance with your preferences, your style evolves from a mishmash of random elements into a reflection of your identity and an extension of your essence.
Navigating the Vintage Market
With the advent of online marketplaces such as thredUP and Ebay, vintage clothing has become more accessible than ever before. Whether you're on the hunt for a distinct design or just casually browsing, using keywords and filters to refine sizes, colors, and prices makes finding pieces that suit your style and budget a breeze.
While online marketplaces offer convenience, the allure of traditional brick-and-mortar shops remains irreplaceable. Flea markets, thrift stores, and vintage outlets exude a treasure-hunt ambiance and a sensory shopping experience that no digital interface can replicate.
In a culture grappling with the consequences of constant consumption, vintage fashion emerges as a beacon of hope, offering a tangible way to reconcile style with sustainability. Each piece of clothing carries with it a history of choices—choices that echo across time and resonate far beyond the wardrobe and into the world. Will your choices weave a narrative of meaningful change?