The festive season is upon us! Tis the season for decking the halls, eating mince pies, wrapping gifts, Christmas parties and spending time with loved ones. But sadly, the festive season is also the season of mass consumerism. At this time of year it's tempting to pick up a shiny new piece but buying a dress that will likely only be worn once is not a sustainable solution to the industry's enormous waste problem.
This time of year, sequins are a go-to material, giving a wow factor to any outfit but there is a dark side to these small shiny discs. Similar to microbeads found in skincare, these embellishments are often made from PVC, a flexible and highly durable plastic which means they can sit in landfill for thousands of years and never decompose. Frightening research from Oxfam shows that 1.7million sequinned items are binned after the Christmas party season but won't ever biodegrade going from loved to rejected after just a couple of wears. If something sparkly is a must-have, opt for embellishments made of glass beads instead.
Luckily however there are plenty of eco-friendly sequin-free festive options out there – whether that's investing in a sustainable brand, buying second-hand or vintage or renting a show-stopping number that's sure to get heads turning.
Glossing over the fact that the most sustainable party dress you will wear this season is one that is already sitting in your wardrobe – the following brands are a great ethical option if a new party is a serious requirement. Remember though – a new party dress is for life, not just for Christmas.
Palem, Derya Dress, AED650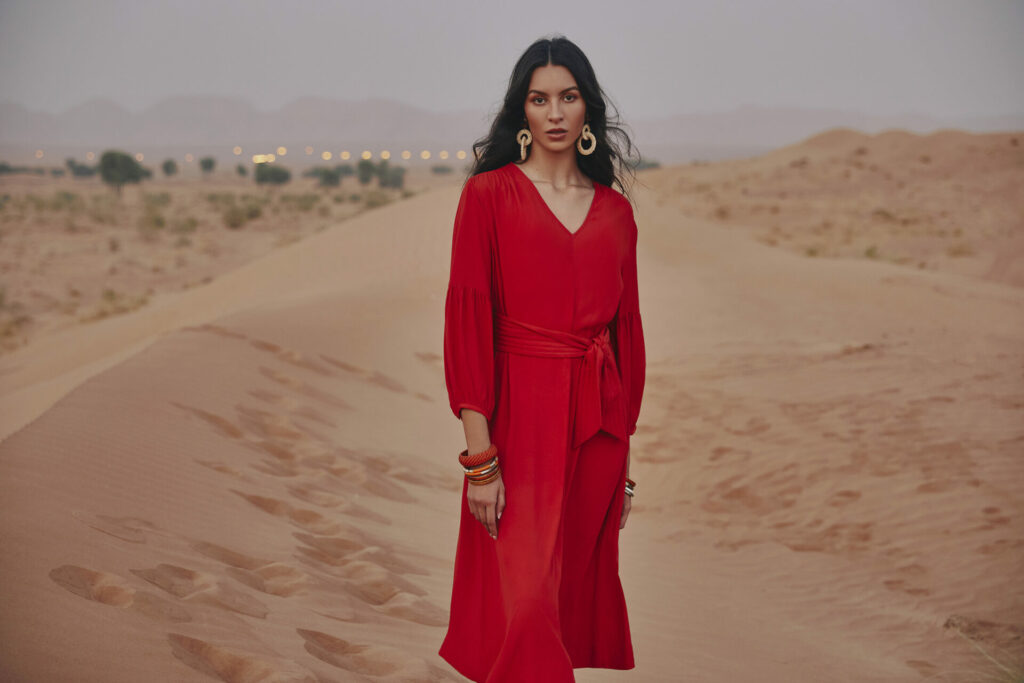 Slow fashion is the name of the game for eco-friendly French fashion brand Palem which has a store here in the UAE as well as an online presence. Using natural and artificial materials made from vegetable fibres, Palem's unique stylish pieces bring elegance and refinement to their collections. An ideal fit for the UAE climate as well as classic additions to your wardrobe we think the Derya Dress would be a perfect fit for any festive occasion. A red feminine ankle-length dress with a delicate V-neckline and statement sleeve, would be a stunning festive party option.
Reformation, Hermia Dress, AED 710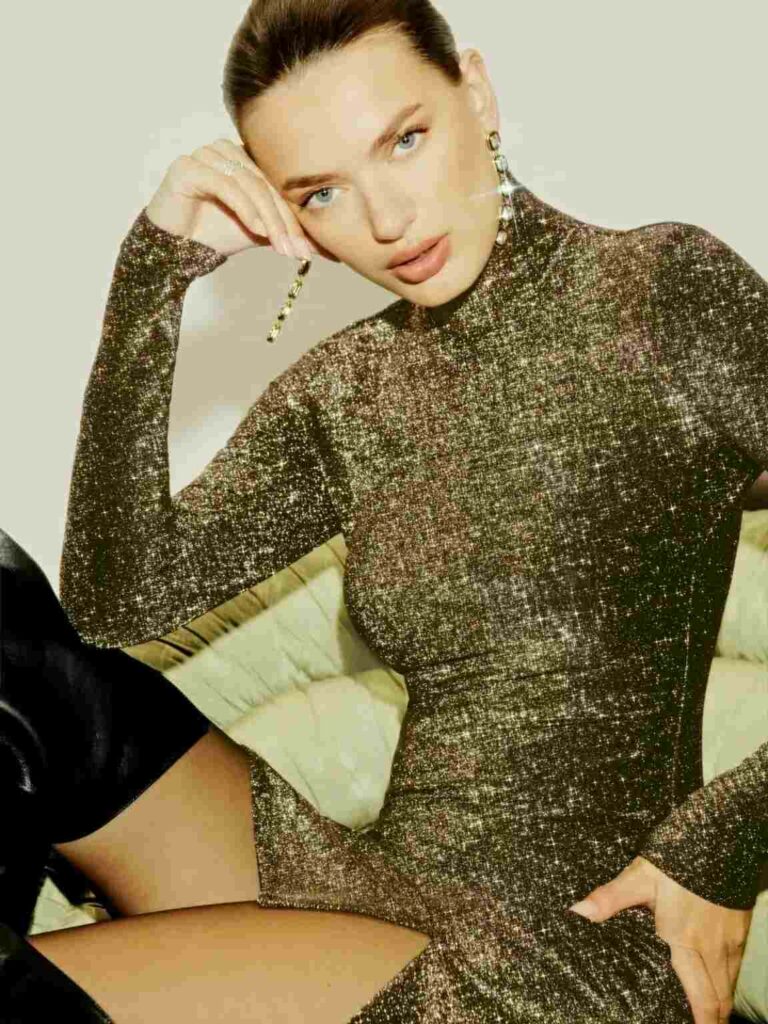 With a massive focus on sustainability, Reformation began in 2009 selling vintage clothing out of a small Los Angeles storefront. Creating a safe, healthy and fair working environment for their teams is of utmost importance to the brand whilst their products are made from rescued dead stock fabrics and repurposed vintage clothing. Limited editions of each product are made to keep their production less wasteful and their stylish pieces exclusive. Reformation is committed to investing in future-focused solutions, which is why they are a certified Climate Neutral company and will be Climate Positive by 2025.
A fabulous party dress to focus on from Reformation includes the Hermia dress made from leftover factory sparkle knit otherwise destined for landfill.
Boden, Tulle Sleeve Midi Party Dress, Onyx Green, AED645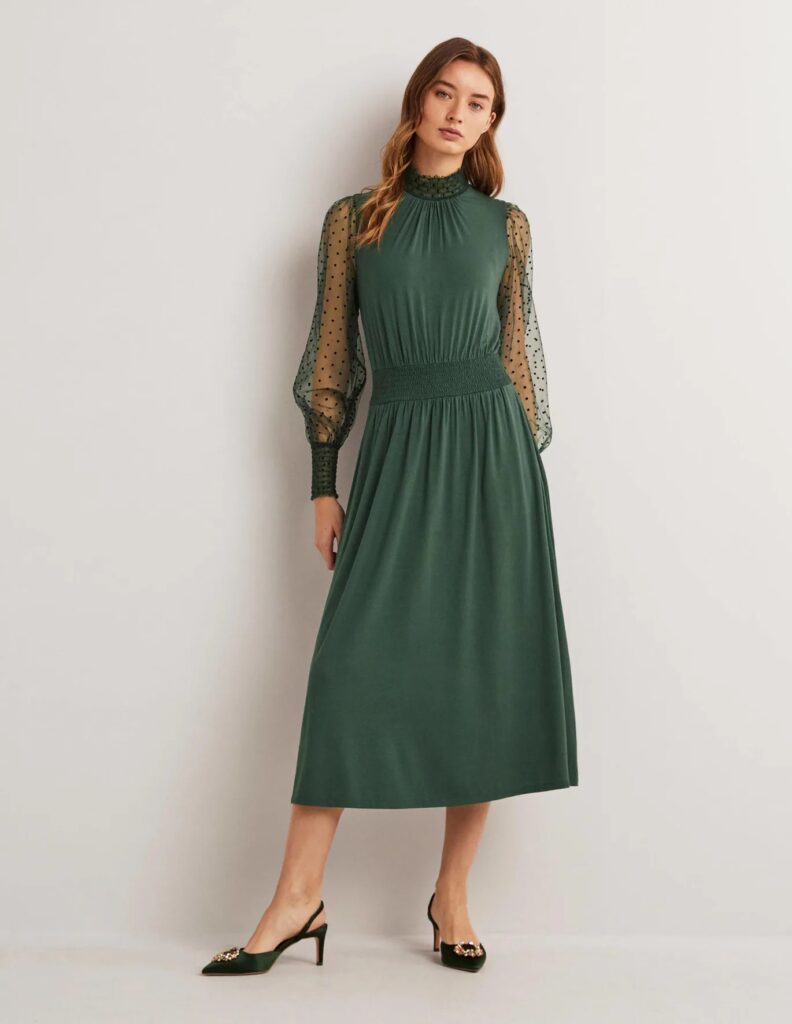 Boden has made some impressive pledges towards sustainability over the coming years. By the end of 2023, this popular British brand has vowed to phase out new polyester across all departments and will only be using recycled polyester where necessary. By 2025 all their swimwear will be made from recycled fabrics and 100 per cent of their lines will be made from sustainable viscose.
Not only are they championing sustainability but they have a Pass It On scheme which sees well-worn Boden items donated to charities who distribute them where needed or sell them on to start new lives, in new wardrobes. So far they have donated 30 tonnes of clothes to countries in urgent need. For every item you donate back to the scheme, you'll be rewarded with AED20!
This tiered maxi, which is also available in black and plum, is made with 95 per cent eco friendly fabrics Lenzig and Ecovero, derived from sustainable wood and pulp and known as the slow fashion version of silk. We think the tulle sleeves take it to the next occasion-ready level.
Wolf & Badger, Eloise Silver Wrap Dress, £248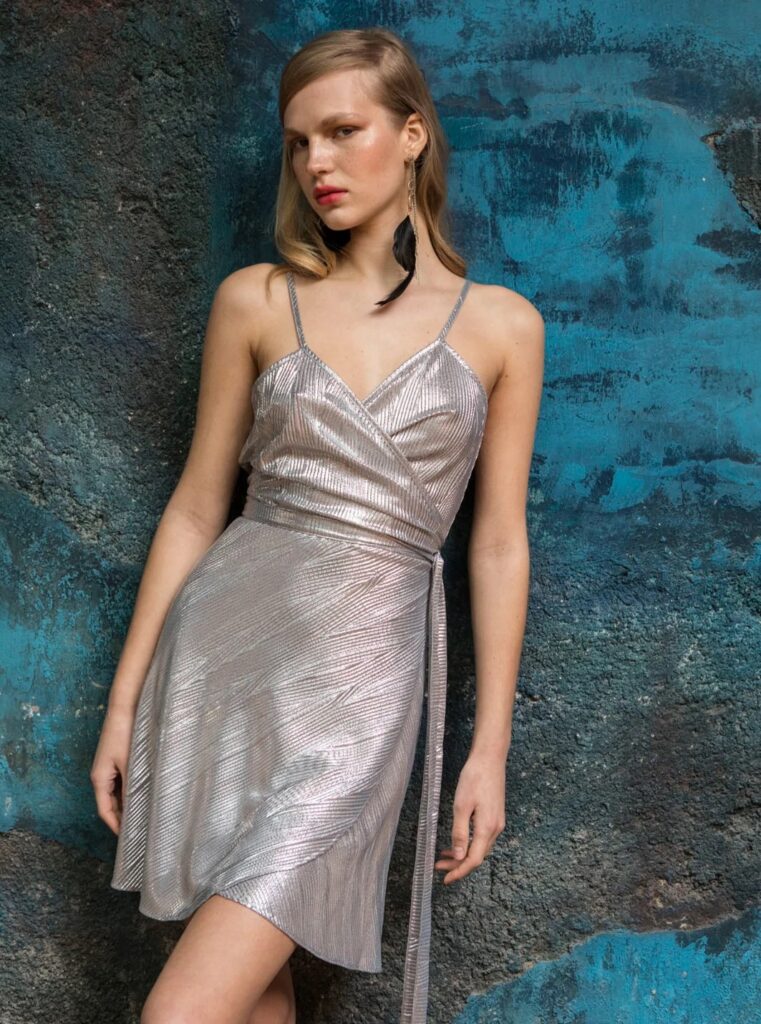 Wolf & Badger is the B Corp certified home to more than 2000 independent brands from around the world, built upon the age-old pillars of skill, craftsmanship and quality. It's a fantastic platform, which provides an effortless way to find sustainable and ethically produced fashion without compromising on quality and design. A drop down filter on the site includes a sustainability focus where you can choose which elements mean most to you from non toxic dyes to loving mother earth.
One of the many sequin free party dress to shop here is the Roses are Red 'Eloise Wrap' mini dress made ethically in Greece. All pieces by the designer are created by the founder, Ioanna Tsigarida, and handcrafted from 3 Greek artisans in the studio in Athens. Match it with high heels, strong jewellery and popping makeup to create a stunning festive look.
Stella McCartney, Sequin Knit Mini Dress, AED5,355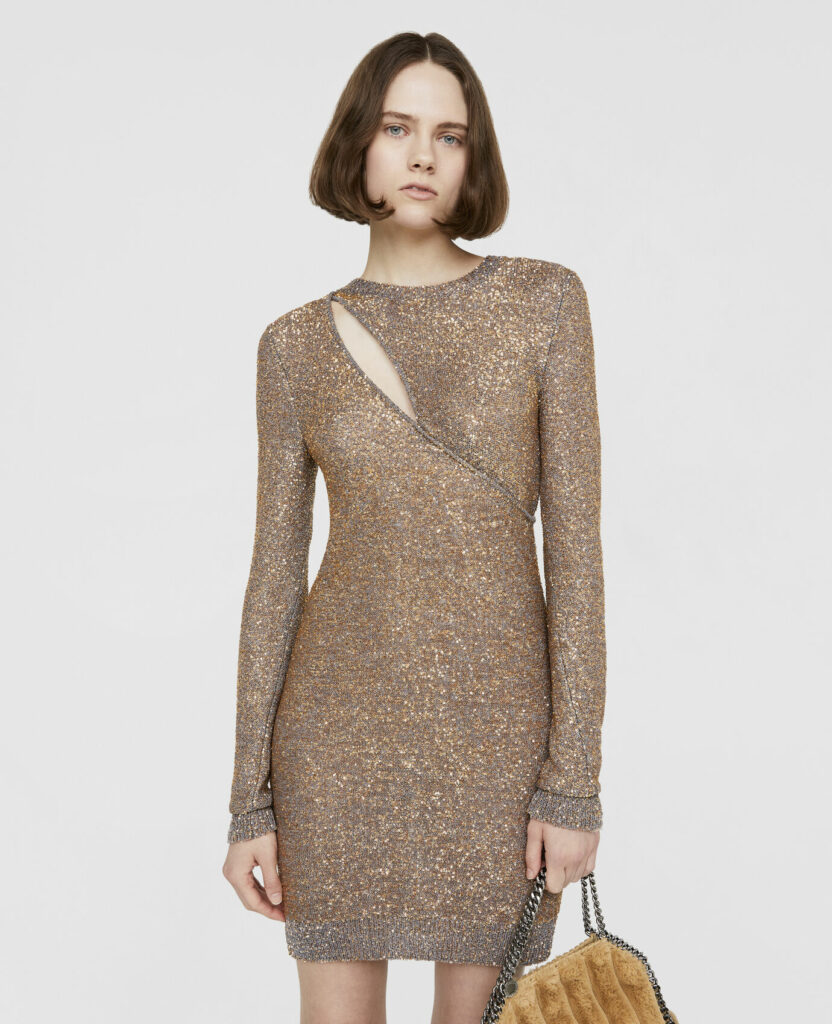 Ok, so we said no sequins but trust sustainable fashion pioneer Stella to come up with an eco friendly alternative that contains no PVC. A member of the Ethical Trading Initiative since 2012 and following the UN guiding principles on Business and Human Rights, Stella McCartney has been heralding the slow fashion movement long before it became a buzz word. Just consider the fact she was using recycled bottles in her collections over ten years ago…
Thanks to using synthetic materials that come from recycled sources such as ECONYL® regenerated nylon – which is made from waste fabrics such as carpets and fishing nets removed from the oceans – Stella has stopped over 10 tonnes of nylon making its way to landfill. The brand are also vegan and cruelty free never using leather, feathers, fur or skins.
Festive pieces that really caught our eye were the Sequin Knit Mini Dress and the Diamond Choker Mini Dress. You'll have your colleagues turning their heads in either of these!
Monsoon, Wendy Dress, AED 1,230.00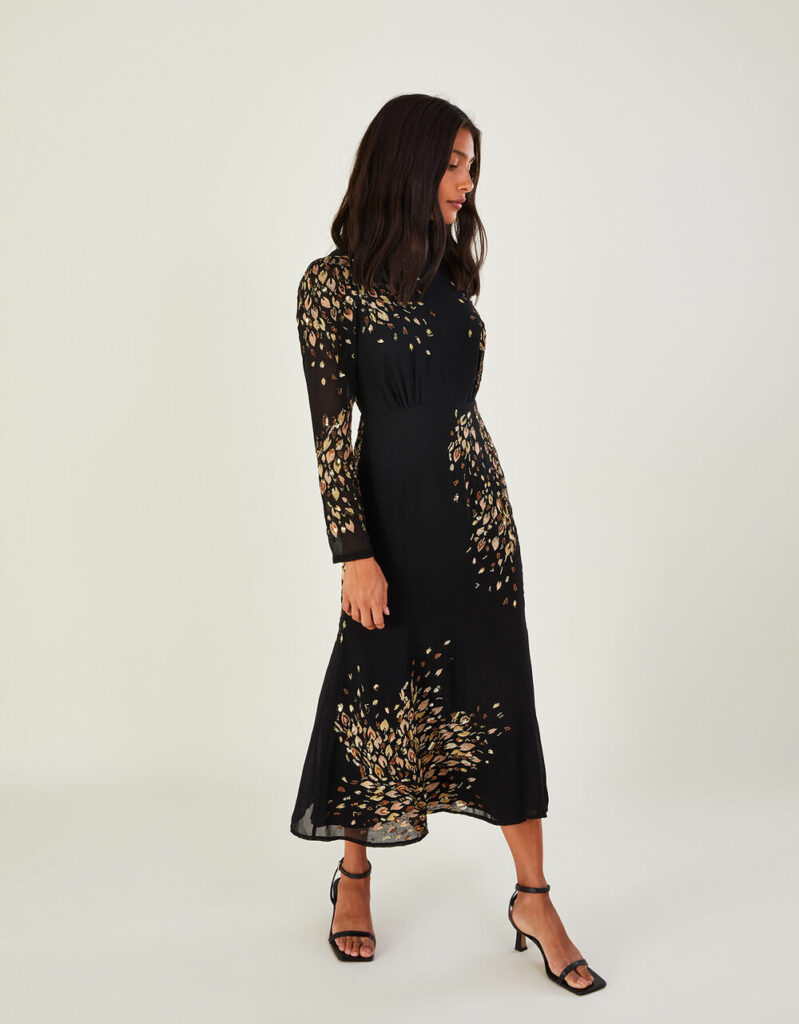 Most people are familiar with the clothing, accessories and lifestyle brand Monsoon that has been a staple fashion brand particularly on the UK high-street since the early 1990's. As a founder member of the Ethical Trading Initiative (ETI), they have been at the forefront of driving sustainable improvements in working conditions and livelihoods. In addition, the Monsoon Accessorize Trust has been supporting women and children education projects for over 20 years in Kabul, most recently committing to fund a school for children in Bamiyan with a large carpet weaver community.
There are so many festive party dresses to choose from at Monsoon – check out the Wendy embroidered midi-dress in recycled polyester black from their S.E.W Sustainable range.